These Are the Most Bizarre Things Jaden Smith Ever Said
There are plenty of examples of well-adjusted, down-to-earth children of celebrities. Though it's not a hard and fast rule, typically the most 'normal' Hollywood kids are the ones who are kept out of the spotlight. But even that's no guarantee.
Any conversation about reasonable celebrity kids is not likely to include Jaden Smith. The son of A-list actor Will Smith and Jada Pinkett-Smith, Jaden grew up in the bizarre world of Hollywood, and it shows.
He's an actor and a musician, plus a bit of a philosopher. But perhaps the most intriguing aspect of Jaden Smith, 21, is the collection of exceptionally strange things he's said over the years.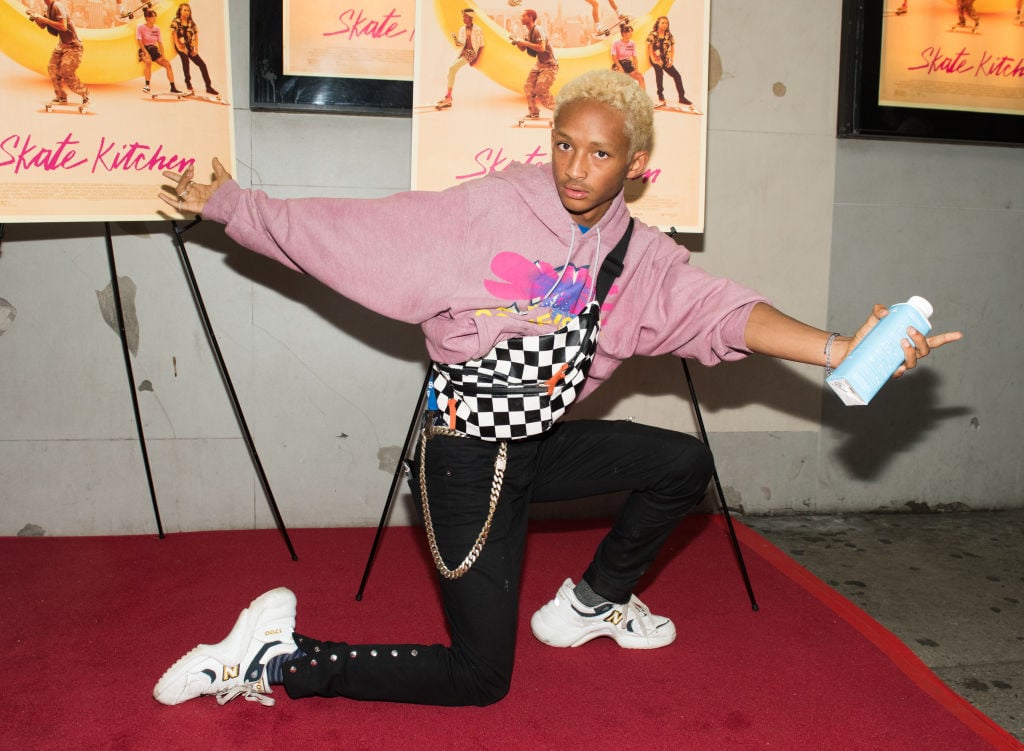 Jaden Smith never had a normal life
Born on July 8, 1998, Jaden Smith crew up in Malibu among the rich and elite. He began acting in his youth while appearing opposite his father in the 2006 film The Pursuit of Happyness.
Smith has spoken about the strangeness of his childhood and how his isolation made it difficult to make friends. "People treat me like I'm not a normal human so much, that you start to believe [it], like, 'Am I not a normal human?'" he explained in a Dazed interview. "I didn't always get to hang out with normal people when I was young. So being older and being able to hang out with the big kids and play with normal people is fun."
He attended New Village Leadership Academy before leaving to be homeschooled by his parents.
Smith has the weirdest tweets
Jaden Smith has a sizable Twitter following and that's where he drops most of his unconventional 'wisdom'. It's unclear if his 8 million followers are there for truth bombs or just to make fun of the actor/rapper.
Here are some of the most bizarre things Jaden Smith said, which sound a lot like a failed foray into philosophy:
"If Everybody In The World Dropped Out Of School We Would Have A Much More Intelligent Society."
"If Newborn Babies Could Speak They Would Be The Most Intelligent Beings On Planet Earth."
"If A Cup Cake Falls From A Tree How Far Away Will It Be From Down. #Jupiter"
"There Is No Nutrients In Our Food Anymore Or In Our Soil OR IN OUR WATER."
"Trees Are Never Sad Look At Them Every Once In Awhile They're Quite Beautiful."
"When You Live Your Whole Life In A Prison Freedom Can Be So Dull"
And finally: "How Can Mirrors Be Real If Our Eyes Aren't Real"
Jaden Smith has a unique outlook on life
It's clear that Smith is a deep thinker — though most of his observations are more than a little confusing.
In a New York Times interview, Smith said, "It's proven that how time moves for you depends on where you are in the universe. It's relative to beings and other places. But on the level of being here on earth, if you are aware in a moment, one second can last a year. And if you are unaware, your whole childhood, your whole life can pass by in six seconds. But it's also such a thing that you can get lost in."
Later, he confirmed his life goals. "I have a goal to be just the most craziest person of all time," he explained to the NYT. "And when I say craziest, I mean, like, I want to do like Olympic-level things. I want to be the most durable person on the planet."
Sounds like he's well on his way.