These 'Breaking Bad' Stars Are Friends Forever and Fans Can't Get Enough of Them
Bryan Cranston and Aaron Paul are the definition of friendship goals.
Any show that has a long run is bound to have close friendships develop among the cast and crew. Doing the work of performing together day after day forges incredibly tight bonds.
As close as friends may be on set during filming, however, when shows conclude life gets in the way and actors often move on to new projects and new connections.
There are some rare friendships that exceed expectations and endure long past convenience, and it's those friendships that really get fans in the feels. Though it's been years since the conclusion of Breaking Bad's fifth and final season, Aaron Paul and Bryan Cranston have such a friendship.
Aaron Paul views Bryan Cranston as a mentor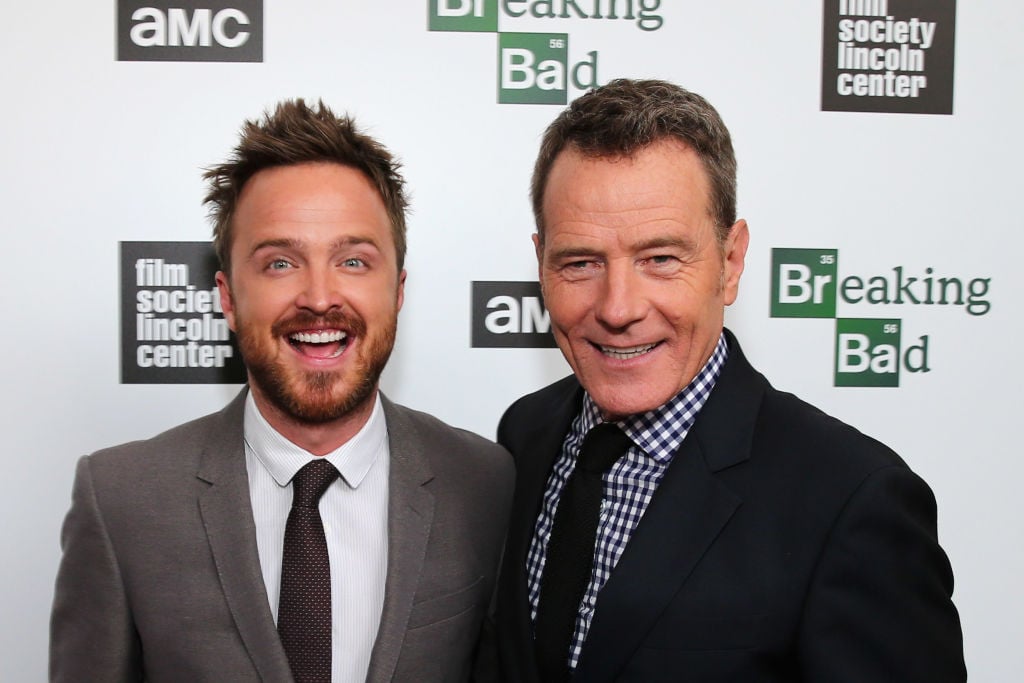 Paul speaks highly of Cranston in each and every interview he's in. Paul not only respects Cranston as an actor but as a kind and supportive leader on set and in life, who knows when to be responsible and when to be "immature" and have fun.
In a recent interview with Entertainment Weekly, Paul spoke about the evolution of their friendship: "I knew a guy, Chris Masterson, who worked with him for years on Malcolm [in the Middle], and he said look, run to whatever set Bryan's on because he's just the greatest guy to work with and you'll absolutely love him. So we instantly became pretty close. But by the end of the first season, I realized that this guy is my mentor."
The two went on to become great friends. Paul still can't help but gush: "He's the best. He's the best."
Fans still love Aaron Paul and Bryan Cranston's friendship
We could call what Paul and Cranston have a bromance, but really, they are far beyond that. They aren't just buddies infatuated with each other for a short time, they are in it for the long haul and fans are in love.
One Twitter user wrote: "The fact that Aaron Paul and Bryan Cranston are still friends. Best friends in fact. Makes me cry."
This Twitter user remarked: "Aaron Paul and Bryan Cranston are definitely friends that kiss each other on the lips." A reply to the tweet added: "After cry screaming into another mans face several times on screen I suppose a kiss on the lips live is #nbd."
It's comments like these that showcase just how close fans know the two friends to be, and though they probably don't literally kiss each other on the mouth, it's not hard to see that they share a lot of platonic love, and it's refreshing.
So much so it lead this Twitter user to pose a very interesting question: "why can't there be a television show of bryan cranston and aaron paul just being good friends in real life"?
While that particular reality show may not be in the pipeline, they have been working together on other ventures.
Dos Hombres Mezcal and 'El Camino'
Cranston and Paul have gone into business together, and unlike their characters Walter White and Jesse Pinkman's illicit substance "blue sky", their product is on the up and up. The two partnered together to create their own brand of mezcal, Dos Hombres. F
ans that miss seeing them together on the show can now enjoy posts and promo shoots full of the two sipping Dos Hombres and checking out agave farms in sunny locales.
The two friends also got to work together one more time on set in Netflix's El Camino: A Breaking Bad Movie. When asked how this new filming experience compared to the last days on the Breaking Bad set back in 2013 Cranston said that at the time of the filming the last episodes, it was sad because it was uncertain how close everyone would remain after wrapping.
By contrast, he said of El Camino, "This time, Aaron is still a friend, we've got the mezcal business together, we celebrate birthdays and other things together… A large part of the reason that Aaron and I started the mezcal business is because we missed each other on a day-to-day basis."
Paul said of the experience: "It was nice to zip on these skins, these characters that completely changed our lives forever. You know, I talk to him every day. I really do."
These two give us a picture of a positive, supportive friendship that we can all aspire to.