These Memorable 'Toy Story' Quotes Were Improvised By Tim Allen and Tom Hanks
Toy Story is one of the most beloved Pixar franchises. Tom Hanks and Tim Allen brought to life the unforgettable characters of Woody and Buzz Lightyear. The first installment was the highest-grossing film of 1995 and significantly impacted the future of computer-animated movies. There have since been three sequels, with Toy Story 4 hitting theaters in 2019. As it turns out, some of the most memorable moments of the film were improvised by the experienced actors, much to the delight of audiences.
'Toy Story' utilized ground-breaking technology
When Toy Story was in development, many thought it was ambitious. Director John Lasseter was tasked with creating the first full-length animated theatrical release that would be 100 percent computer-generated.
According to Wired, Pixar animator Eliot Smyrl explained that perfecting dialogue in animation is tedious. He explained, "for an 8-second shot, it takes about a week to fit the facial expressions to the soundtrack." Smyrl said, "It's not just getting the mouth to line up, it's getting it to look like that particular character is really emoting it."
"We'll watch videos of Tom Hanks and Tim Allen recording the dialog," he continued. "We work closely off the attitudes of the actors for cues."
Tim Allen and Tom Hanks added lines that weren't in the 'Toy Story' script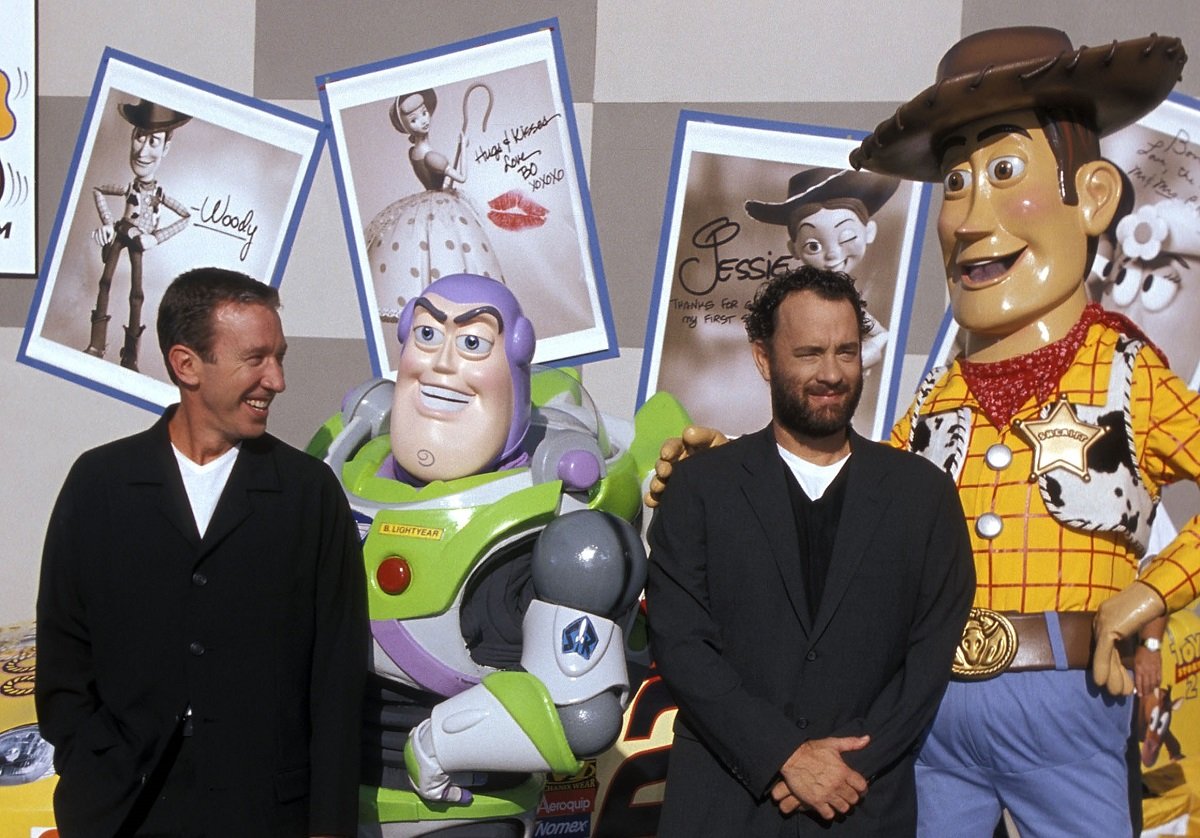 For comedians, improvisation comes easy and is part of their nature. Such was the case with Allen and Hanks in Toy Story. One of the most memorable scenes of the film occurs when Woody (Hanks) and Buzz (Allen) are trying to find Pizza Planet to reconnect with Andy.
As Woody tries to explain to Buzz that he is a toy and not a real space ranger, Allen goes off script and replies, "You're a sad, strange little man – and you have my pity." According to CBR, the popular meme is still a top Google search more than 25 years later. But this caused more work for those behind the scenes.
Another improv moment happened when our favorite space ranger lost it after putting on women's accessories to have tea with Hannah, Sid's sister. As he flops his arm on the floor, he cries to Woody, "Did the hat look good? Tell me the hat looked good." While the line was not in the original script, Allen explained, "It was hysterical and they left it in."
Hanks also sprinkled some improv into his dialogue. According to MsMojo, when Woody tried to convince his friends that Buzz was OK, he put on a puppet show and pretended to shake his friend's hand. Hanks ad-libbed the line: "Hey Buzz, let's show the guys our new secret best friend's handshake." Woody then slaps Buzz's disconnected arm, saying, "Give me five, man."
Animators don't like when voice actors ad-lib
"When I would ad-lib, it's not a happy moment for the animators," Allen once said (via Cinema Blend). "They'll go, 'Oh god, that was funny, that was funny…' which means they have to go back and reanimate it."
Because of the complexity of animation, voice actors are encouraged to closely follow the script and not improvise. However, when you are a veteran comedian, that is sometimes difficult to do.
Over the years, as technology advanced, the process became more complex and expensive. With attention to every detail came compromise. And when Toy Story 4 came out, the voice actors were told to closely follow the script.
According to Forbes, the Toy Story franchise has grossed more than $3 billion in box office sales worldwide. Despite sticking to the script most of the time, the characters and their classic friendship will remain steadfast in the hearts of Disney fans.
RELATED: Tom Hanks Taught Tim Allen the Right Way to Do Their 'Toy Story' Voices for Real Kids