These Photos Prove Meghan Markle and Camilla Parker Bowles Really Are Thick as Thieves
Meghan, Duchess of Sussex and Camilla, Duchess of Cornwall are two members of British royal family who are on good terms with each other.
Well, maybe not this week in light of Meghan supposedly violating an agreement she and Camilla had about royal engagements but overall, the two seem to be friendly. As the saying goes, a picture is worth a thousand words and ahead we have three pictures showing Meghan and Camilla enjoying each other's company. 
While Meghan and Prince Harry, Duke of Sussex complete their final round of engagements as senior members of the British royal family before they officially step down at the end of March 2020, some reports have claimed Camilla might've encouraged their exit.
They say the Duchess of Cornwall is close with Meghan which makes sense considering the 38-year-old is said to get along very well with Charles, Prince of Wales, her father-in-law. While spending time with Prince Charles, Meghan probably got to know his wife, Camilla, too. From the photos, it's easy to see Meghan and Camilla have a good report, so good the Duchess of Cornwall might've indeed encouraged Meghan and Harry to step back from life as senior royals.
Meghan Markle and Camilla Parker Bowles laughed when a bee interrupted Prince Harry's speech 
In Meghan and Harry's first official event following their royal wedding, they attended the Prince of Wales' 70th Birthday Patronage Celebration at Buckingham Palace on May 22, 2018.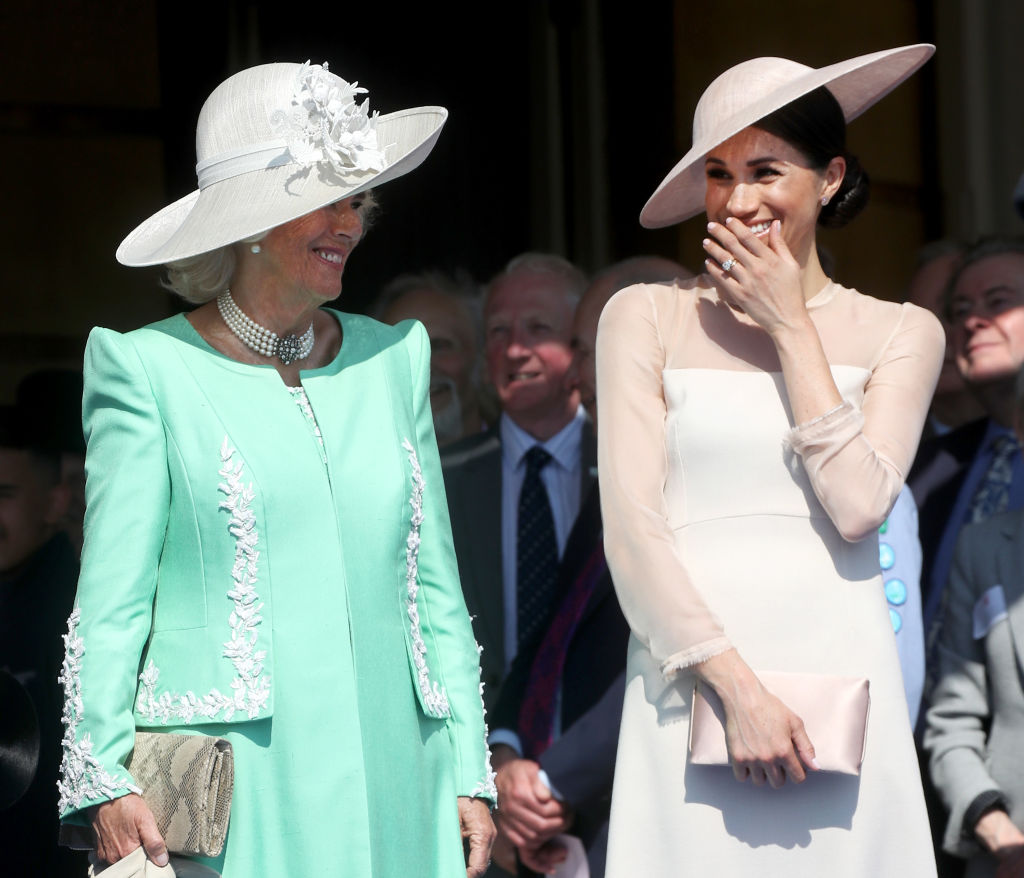 While Harry gave a speech about his father, a bee got a little too close for comfort. He swatted the bee away before apologizing to the audience saying "that bee really got me." Meghan, standing on the stage next to Camilla and Charles, started giggling along with her in-laws and the crowd. Cameras, of course, captured the moment which can be seen above. 
The Duchess of Sussex and the Duchess of Cornwall chatted at the Royal Ascot in 2018
Very active in her first 100 days as an official member of the British royal family, Meghan (along with Prince Harry) attended the first day of the Royal Ascot on June 19, 2018, along with others including Camilla and Charles.
At one point, royals were mingling at the event while cameras snapped pictures. Among them were the Duchess of Sussex and the Duchess of Cornwall engrossed in conversation (below). To Meghan's left is Harry with the Prince of Wales surely not too far away at the day's festivities.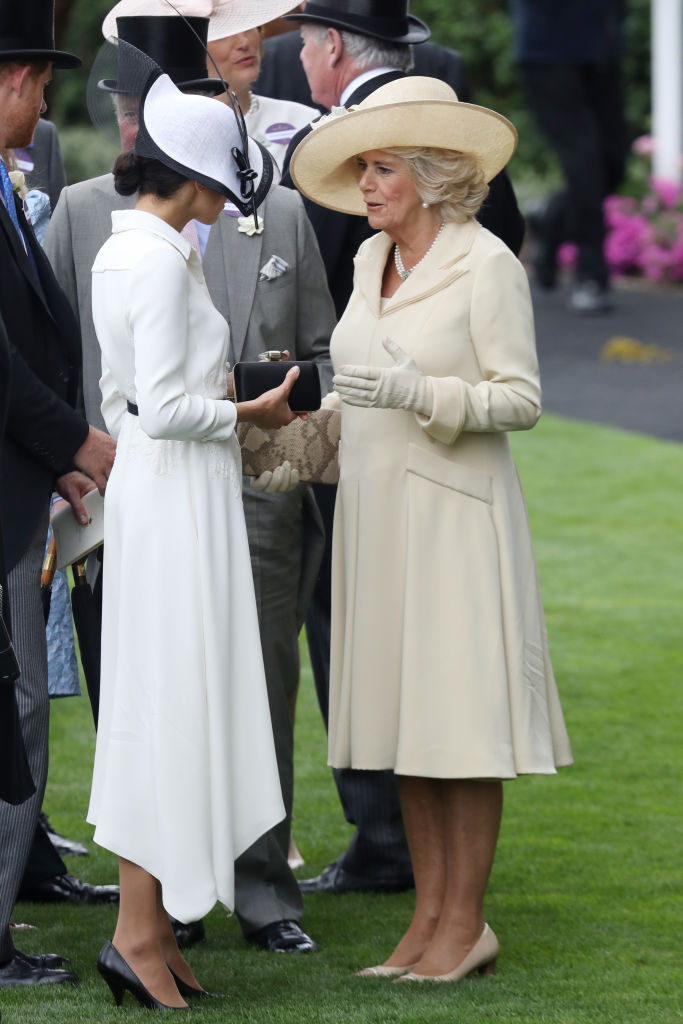 Whether they were talking about horses or the weather we'll never know but they sure looked engrossed in their conversation.
Camilla Parker Bowles and Meghan Markle were all smiles on Buckingham Palace's balcony 
Celebrating the 100th birthday of the Royal Air Force on July 10, 2018, the Duchess of Sussex and the Duchess of Cornwall joined the rest of the British royal family as they commemorated the occasion with a flypast.
In this particular photograph (below), Meghan and Camilla appear to be engaged in a funny conversation as they stood behind Queen Elizabeth II.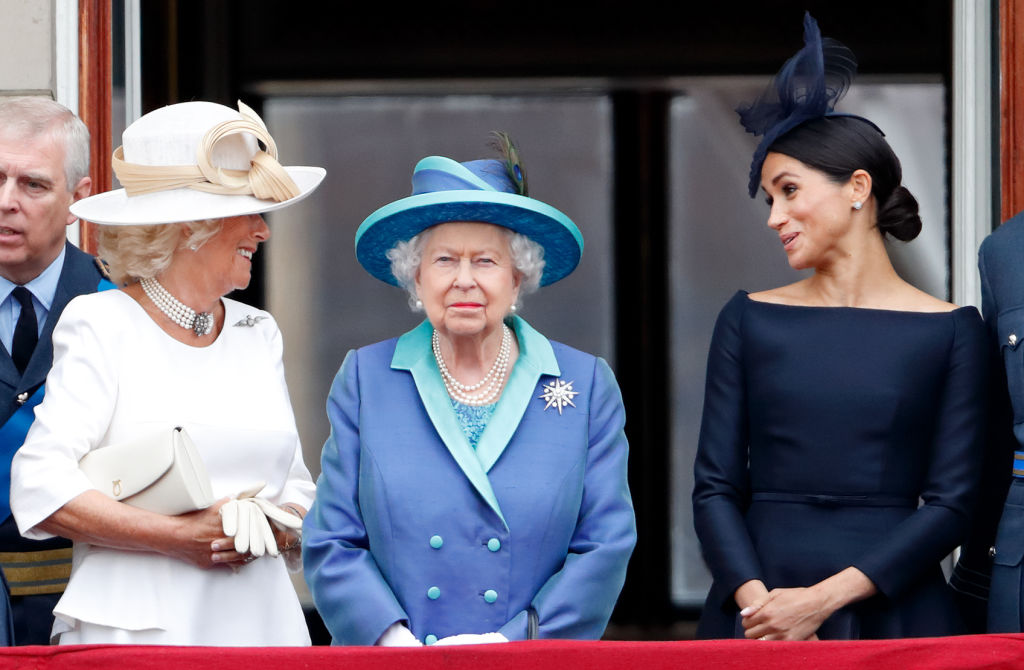 Camilla and Meghan, along with Queen Elizabeth II, Prince William, Duke of Cambridge, Catherine, Duchess of Cambridge and others, stood on the balcony of Buckingham Palace to witness the flyover.
Here's hoping we see more photos of Meghan and Camilla together in the future!