These 'Real Housewives' Are Not as Wealthy As You Think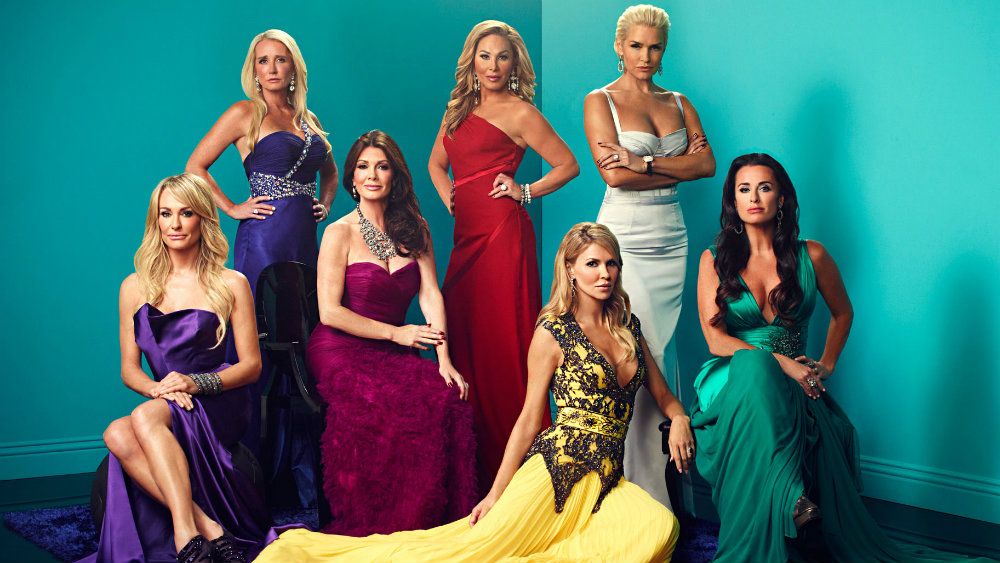 The luxury and lavish lifestyles of the women portrayed in Bravo's The Real Housewives franchise may be smoke and mirrors for some of the women.
Bethenny Frankel from The Real Housewives of New York City recently said this about money management,  "You can't put yourself in a position where, if the s–t hit the fan, you couldn't pay all of your bills at one time," she told Time. "If the world came to an end, I would be able to pay for everything. I might not be left with much, but I can afford what I have."
Then she lowered the boom when asked about her Real Housewife cast members. "They can't afford the lives they're living," she says. "And if the music stops, they're going to get in some trouble."
Many have gotten into some pretty hot water. While some of these ladies are considered to be far from broke it is going to be pretty tough to keep up with likes of Lisa Vanderpump, Bethenny Frankel and Carole Radziwill.
10. Phaedra Parks
https://www.instagram.com/p/BosJiqanI-R/?hl=en&taken-by=phaedraparks
Net worth: $3 million 
This Georgia peach isn't doing too shabby with a net worth of $3 million, according to Celebs Net Worth Today. Parks is a fan favorite on The Real Housewives of Atlanta. While she's an attorney and seems to be making a decent living, she's had some recent financial hits. She sold her gorgeous Atlanta home for about $500,000 below list price, even though she ended up making a profit, according to Bravo Home& Design.
While rumors flew that the RHOA alum was returning to the show, she said she's, "Closed that chapter, and I've moved on to new things," US Weekly reports.
9. Alexis Bellino
Net worth: $1.5 million 
Despite news of a recent split from her husband Jim, Bellino has a net worth of $1.5 million. And although she is listed as having some dough, she's struggled with money. For example, the Bellinos defaulted on their $4.6 million home loan in 2010, according to the Orange County Register. Also Jim Bellino's real estate company, Global Marine, Inc. filed for Chapter 11 bankruptcy protection the same year.
Bellino's ex-husband is also suing RHOC Tamra Judge and Shannon Beador for defamation after they said he was a shady motherf**ker who is going to jail on Heather McDonald's June 26 podcast, Radar Online reports.
8. Danielle Staub
Net worth: $1 million 
One of the Real Housewives of New Jersey OGs is back on the show, maybe to generate more income. Staub did some acting years ago, wrote a book and tried to generate wealth a variety of different ways, according to The Gazette Review. However, she ultimately filed bankruptcy in 2012, while still trying to make money in whatever reality series would feature her. She returned to the RHONJ in 2017 where she got married and divorced in a matter of months.
7. Kenya Moore
Net worth: $800,000
Moore is a fan favorite on RHOA and this native Detroiter holds the title of Miss Michigan 1993, according to Celebrity Net Worth. She appeared in popular network shows like The Fresh Prince of Bel-Air, Martin, Sparks, Living Single, and The Steve Harvey Show, in addition to RHOA. Unfortunately, Moore was making viewers think she was wealthier than she was. She flaunted loaner expensive cars and garments, according to Radar Online. She's also in debt for not paying over $6,000 in taxes on her home.
6. Tamra Judge
Net worth: $800,000 
When she entered The Real Housewives of Orange County, Judge was a real estate agent. Today she and her husband Eddie own a gym, CUT Fitness. Despite being a working girl, the majority of her income appears to come from the show. The Gazette Review reports she earns about $600,000 per RHOC season (which would put her net worth considerably higher). Judge and her husband recently sold their new home for $1.8 and purchased a new home for $2,095,000.
5. Kim Richards
Net worth: $100,000 
The former child star and Real Housewives of Beverly Hills alum seemed to generate the majority of her money from the Bravo show, according to Celebrity Net Worth. Her salary on the show was $100,000 per season so why does the accomplished actress not be banking more?
One money issue Richards faces is she owes more than $100,000 in back taxes from 2013, according to ET. She was sued by her personal assistant when Richards' dog bit her, People reports. Richards also struggled with addiction and is currently sober.
4. Lynne Curtin
Net worth: $50,000 
Curtin flashed a lavish lifestyle while on the show, but soon discovered her husband's construction business took a serious hit during the recession, according to Celebrity Net Worth. When the couple filed for divorce in 2013, Curtin, who was on The Real Housewives of Orange Country said she had $100 to her name. Curtin's husband claimed her lifestyle was too extravagant as the couple owed $300,000 in back taxes. Curtin started her own jewelry cuff business which is still going strong.
3. Melissa Gorga
Net worth: – $1.5 million 
Despite being paid about $600,000 per Real Housewives of New Jersey season, Gorga owes $1.5 million, according to the Gazette Review. Like her sister-in-law Teresa Giudice, Gorga lives in a sprawling mansion and drives expensive cars. Clearly, the Gorgas spend more than they make as they owe $2.25 million to the Sterling Bank for their house mortgage. The couple is also being sued for $25,000 by a window company they failed to pay for services.
The Gorgas put their home on the market for $3.5 million in 2017, NJ.com reports. The couple has since reduced the price to $3.3 million, Realtor.com reports.
2. Peggy Tanous
Net worth: -3 million
She made a brief appearance on RHOC, but her debt followed her long after she left the show. In 2013, Radar Online discovered that not only was the mother of two divorced, but she also filed for Chapter 7 bankruptcy. Around the same time At the time, Tanous owed $2.16 million in back taxes and loans, plus was $70,000 in credit card debt, according to The Richest.
1. Teresa Giudice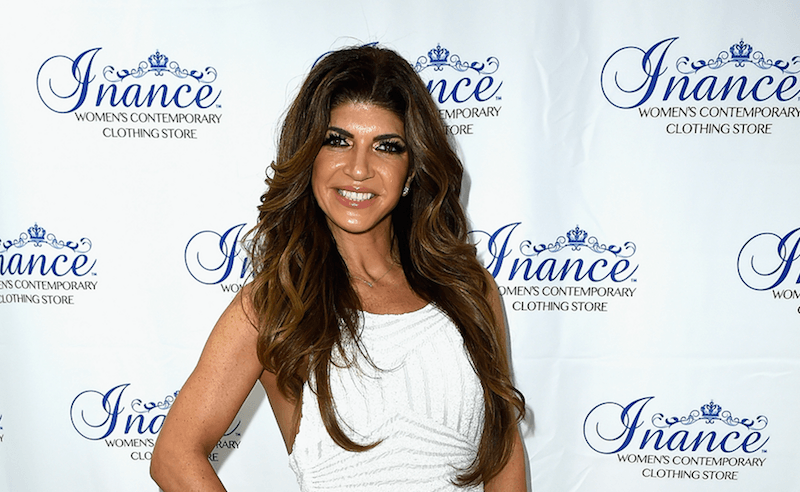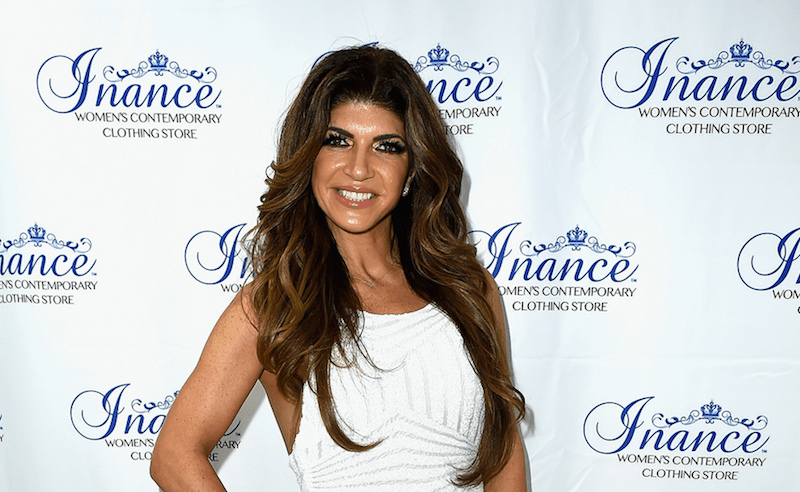 Net worth: – $11 million 
The Real Housewife of New Jersey who had the farthest to fall is Teresa Giudice. When she first appeared on the show she paid for overindulgent clothing and furniture with cash. She also famously refused to live in a home that was previously occupied too. However, now she is singing a completely different tune. After she and her husband Joe were convicted for bank fraud, bankruptcy fraud and conspiracy to commit mail and wire fraud, they lost everything, NJ.com reports.
The couple's possessions, including homes, were foreclosed or possessed. Teresa served a prison sentence and Joe is amid his own prison sentence. Joe is anticipated to be deported back to Italy once his 41-month sentence is complete, CNN reports.
Check out The Cheat Sheet on Facebook!