This '90s Star Earned Significantly More Per Episode Than His TV Family
The '90s was an amazing time for broadcast television. The era gave us some great shows, and brought some great actors into the spotlight.
The '90s was an amazing time for broadcast television. The era gave us some great shows, and brought some great actors into the spotlight.
One such actor is Kelsey Grammer. Grammer and his famous character Frasier Crane first appeared on the Boston based sitcom Cheers. Frasier and his wife Lilith were regular bar patrons.
The character was popular enough for the network to give Grammer his own show. Frasier was probably just as successful as its predecessor, but it made Grammer a lot more money. 
Grammer made big money on 'Frasier'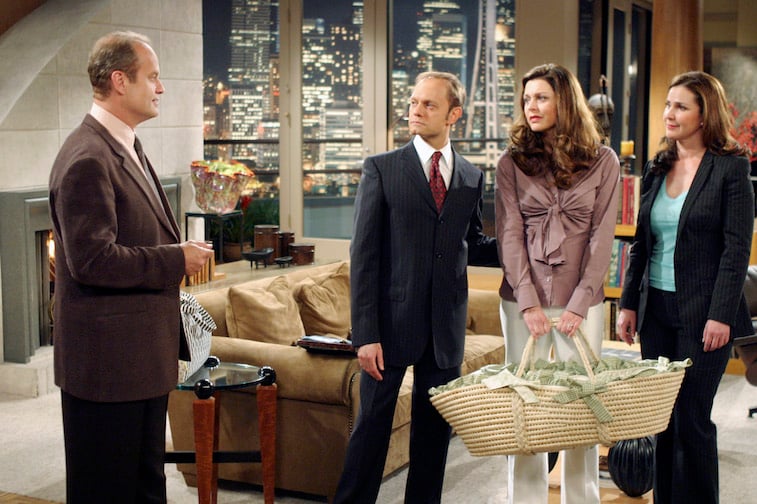 In fact, Grammer's salary earned him the coveted position of highest-paid actor on television, at least for a while. His $1.6 million per episode contract was later topped by three other shows. 
Ray Romano made up to $1.7 million per episode of his show Everybody Loves Raymond. Charlie Sheen's salary for Two and a Half Men eventually climbed up to $1.8 million per episode.
The highest-paid actors on television ever are the Game of Thrones cast. The five main characters made more than $2 million per episode. 
It's nice to hear about whole casts making the same amount of money on a show. The Game of Thrones group all made the same amount, as did the Friends cast. In fact, the Friends actors were the highest-paid actors on television for a while. The gang negotiated a record-setting $1 million salary together. Joint negotiations give viewers the sense that the actors are friends on- and off-screen. 
The Frasier salaries did not share the same parity. Grammer made a lot more than his fellow actors. 
What did other stars on the show make?
Grammer was the only one of the Frasier crew with a seven-figure per episode salary. His co-stars still made a lot of money per episode. In fact, one of Grammer's fellow actors is one of the top 15 highest-paid TV actors of all time, but he's much lower down on the list than Grammer. 
David Hyde Pierce, the actor who played Frasier's brother Niles, made about $750,000 per episode. He's tied for 14th highest-paid TV actor of all time. Drew Carey made the same salary on his show, The Drew Carey Show. Alexis Bledel and Lauren Graham each made $750,000 per episode for Gilmore Girls. 
Niles seemed to get almost as much screen time as Frasier, so it's interesting that Grammer would make so much more money than his TV brother. However, Grammer was a bigger name at the time, and almost certainly still is. He also brought viewers with him thanks to his time on Cheers. 
If the gap between Hyde Pierce and Grammer's salaries may seem big, but other actors on the show made even less, at least when compared to Grammer. Jane Leeves, the actress who played Frasier's hilarious housekeeper Daphne, made only $400,000 per episode.
That's about half of what Hyde Pierce made per episode. Gammer's salary was exactly four times higher than hers. 
What is Grammer worth today? 
That $1.6 million per episode adds up. Grammer is worth $60 million today. It's not all Frasier money, though. Grammer has been on Broadway and has his own production company. Grammnet Productions has produced some hit shows, like NBC's Medium. 
He's turning 65 this year, but he's certainly nowhere near retirement. He's even talking about rebooting Frasier. If fans do get their wish, and Grammer brings back Frasier Crane, they shouldn't expect it to be the same show. 
When Frasier spun off from Cheers, the new show put Frasier Crane in a completely different environment. Frasier moved cities, to Seattle, and none of the characters were the same.
The reboot may be similar. The real question is, if Grammer made $1.6 million per episode on the original show, how much will he make for the reboot?