The Final 'Avengers: Endgame' Scene Brought Chris Evans' Mom to Tears
Avengers: Endgame featured plenty of tear-jerking scenes for fans, but one moment in the film brought Chris Evans' mom to tears. Evans has spent the past decade playing Steve Rogers, a.k.a. Captain America, in the Marvel Cinematic Universe, which made his retirement in Endgame a pretty emotional affair. While fans are sad that Evans is no longer Captain America, his mom apparently lost it during one of the more heartfelt scenes in Endgame.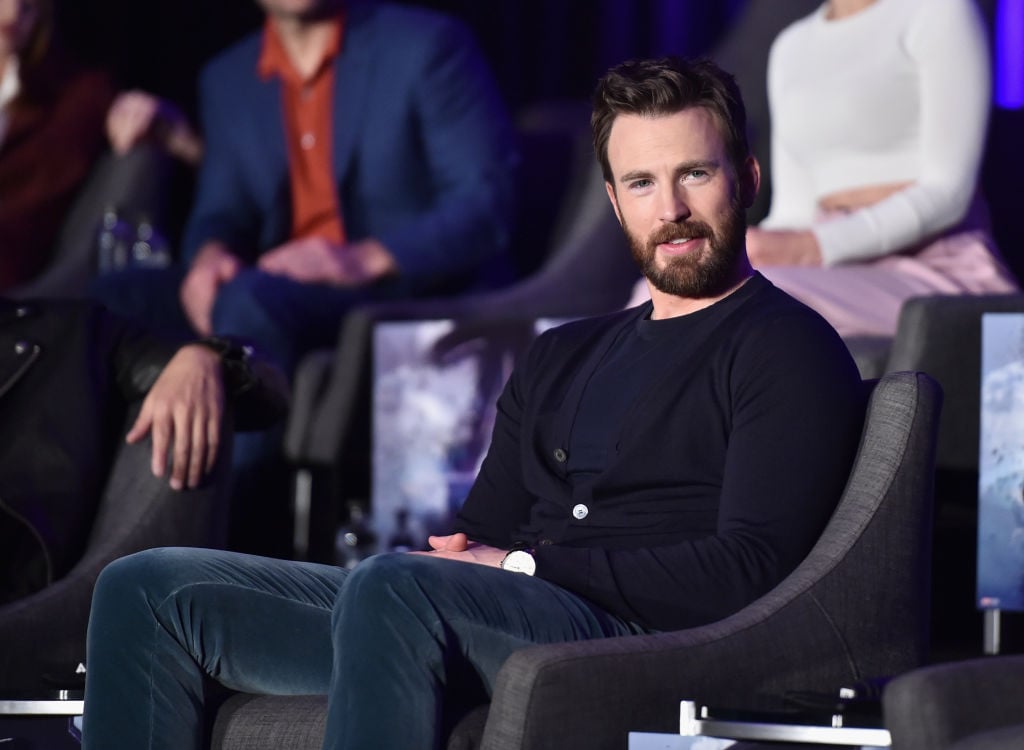 Evans says goodbye to the MCU
Before the premiere of Endgame, it was well known that Evans was no longer going to play Cap in the MCU. But fans had no idea how Marvel was planning on ending his character's journey.
Although some fans thought that Cap was going to die in Avengers: Endgame after fighting Thanos (Josh Brolin), he survived the battle and enjoyed a happy ending.
After being tasked with returning the Infinity Stones to their rightful places in time, Cap decided to stay in the past and live out his days with the love of his life, Peggy Carter.
He then reappeared in the current timeline to hand off his shield to Anthony Mackie's Sam Wilson, a.k.a. The Falcon. Fans are excited to see what Mackie does with the character, but Evans recently revealed that the scene left his mom in tears.
This 'Avengers: Endgame' scene made Evans' mom cry
Marvel aged Evans for this character's retirement scene and seeing him as an old man proved to be very emotional for the actor's mom. According to We Got This Covered, Evans' mother burst into tears after watching the scene, though not for the reason most fans might expect.
Turns out, Evans looked exactly like his late grandfather in the aging makeup. For curious fans, Evans' grandfather was Andrew Capuano, who made a living working for the Massachusetts Department of Revenue.
The scene has raised questions about the continuity in Cap's story, but it is good to know that Evans' mom had an emotional reaction to Cap's ending just like most fans (though her reasons were entirely different).
It is also readily apparent that Evans did not spoil the ending of Endgame, even for his mother.
Chris Hemsworth opens up about 'Avengers: Endgame' spoilers
Speaking of spoilers, Chris Hemsworth might have the best story about avoiding top-secret leaks, and it involves his good friend and fellow Extraction star, Rudraksh Jaiswal.
In a recent interview, Digital Spy reports that Jaiswal opened up about the time he asked Hemsworth for some information related to Avengers: Endgame. Jaiswal revealed that he asked Hemsworth about the fate of several characters in the film, including Captain America and Iron Man (Robert Downey Jr.).
"When we were shooting in Bangkok, during Christmas 2018, we were shooting the last scene before going for holidays," Jaiswal recalled. "I tried to take out some spoilers for Avengers: Endgame. I asked him how is Thor in it? What will happen with Captain America and Iron Man?"
In response, Hemsworth hilariously told Jaiswal that Spider-Man (Tom Holland) turns into Ant-Man (Paul Rudd) in the film. Jaiswal had a difficult time understanding how that might work, but Hemsworth assured him that he would find out after the movie was released.
"I told him to give me one spoiler and he gave me fake spoilers to confuse me so that I don't ask him again," he added.
Fans react to Cap wielding Thor's hammer
Spoilers aside, Marvel fans have been getting a little nostalgic with everything that is going on in the world. Theaters have officially closed amid the coronavirus pandemic, and Marvel just confirmed that all of its future projects have been delayed.
Taking to Twitter, a fan sparked a wave of comments after sharing a nostalgic video that showed how a theater audience reacted to the Avengers: Endgame scene where Cap picks up Thor's iconic hammer.
The clip features the moment where Cap uses Thor's hammer to beat down Thanos, and the crowd's roar upon seeing Cap wield the instrument is about as good as it gets.
"Just stop what you're doing and enjoy listening to the #AvengersEndgame opening night crowd react to Captain America wielding Thor's hammer," the fan wrote. "CHILLS."
The next movie in Marvel's lineup, Black Widow, is now scheduled to open in theaters in November. The Eternals, which was originally scheduled for the November slot, will now premiere in 2021.
Marvel fans can get nostalgic while practicing social distancing by streaming Avengers: Endgame on Disney+.