This 'Bachelor' Contestant Thinks Hannah Brown Will Be in Peter Weber's Final Three
After Peter Weber said goodbye to Hannah Brown during the second episode of his Bachelor season, some fans weren't convinced it was really the end.
There's a portion of Bachelor Nation that thinks Brown will reappear towards the end of the season, perhaps after Weber's mom cries at him to "bring her home."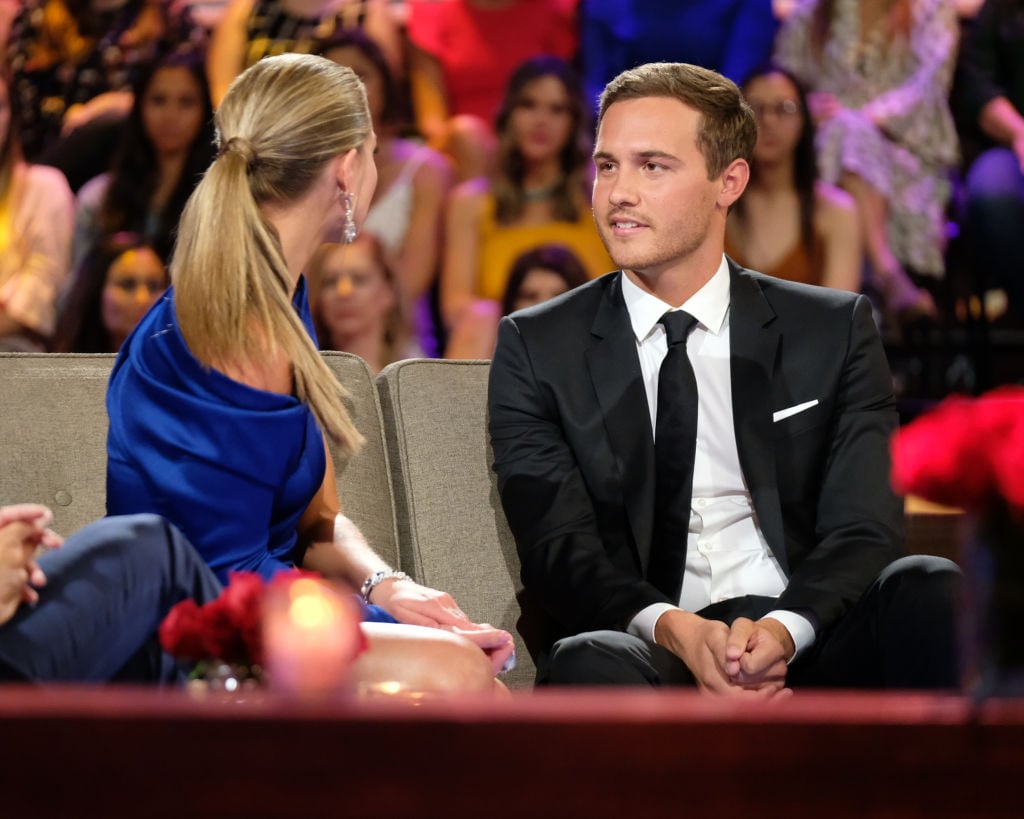 "#TheBachelor conspiracy: Peter's mom loves Hannah Brown. In the preview she was shown crying saying "just bring her home" …what IF peter gets all the way to the end and realizes he's still in love with Hannah B and tries to chase her after all of this is over???" tweeted one fan.
But last week, Brown told her Instagram following she's currently not dating anyone. After that, many Bachelor fans are closing the door on Hannah Brown and Peter Weber.
Recently eliminated 'Bachelor' contestant Jasmine thinks Hannah Brown will return for the finale
Jasmine Nguyen was eliminated from The Bachelor in episode three. We didn't see a ton of Jasmine in the first three episodes, but her bio says she "enjoys traveling, attending her book club meetings, cooking, rock climbing and volunteering at her church every Sunday."
Before appearing on The Bachelor, Jasmine was in a relationship that lasted three years. "But when her ex suddenly decided that he did not want to have kids, Jasmine sent him packing because that's a deal breaker for her."
In an interview with People, she shared who she believes will be in Weber's final three.
"Who I think his top three are: Hannah Ann [Sluss], Madison [Prewett], and I'm going to stir the pot and I'm going to say it, Hannah Brown," she said. "Based on everything I saw, I think it's Hannah Brown."
Jasmine felt Weber's connection with Brown was undeniable, especially after seeing it up close during the second group date.
"He has not been emotional over anything besides Hannah Brown. From night one to canceling the date, there's something that's not done with them, and I think he's still holding on to something," she said.
In a recent interview with Entertainment Tonight, Brown said she'll always "care for him deeply," but certainly hinted that things are finished between her and Weber.
"I mean, they keep teasing [I might show up again on The Bachelor]. You'll have to keep watching," she said. 
Who Jasmine wants Peter Weber to end up with (not Hannah Brown)
Jasmine also told People who she, personally, hopes Weber will give his final rose to.
"I want him to be with Hannah Ann. Their chemistry is unmatched," she said. "Watching the show back, you understand why you go home because you see all the other relationships and all the other conversations and you get that. I want him to end up with Hannah Ann."
Read more: 'The Bachelor': Peter Weber's Conversation With Kelley in the Hotel Where They Met Lasted Longer Than You'd Expect