This 'Below Deck' Cast Member Calls Andy Cohen and the Show 'Toxic'
Deckhand Bruno Duarte from 'Below Deck' says he wasn't invited to the 100th episode celebration, but thinks the show is toxic.
Although Below Deck boasts over 50 cast members, only a handful were invited to attend the Below Deck 100th episode celebration in the Watch What Happens Live Clubhouse.
Bravo included staple cast members like Captain Lee Rosbach, chief stew Kate Chastain and chef Ben Robinson. Rosbach has been on the show for all seven seasons, with Chastain appearing for six. Robinson is a crossover cast member running the kitchen on both Below Deck and Below Deck Mediterranean.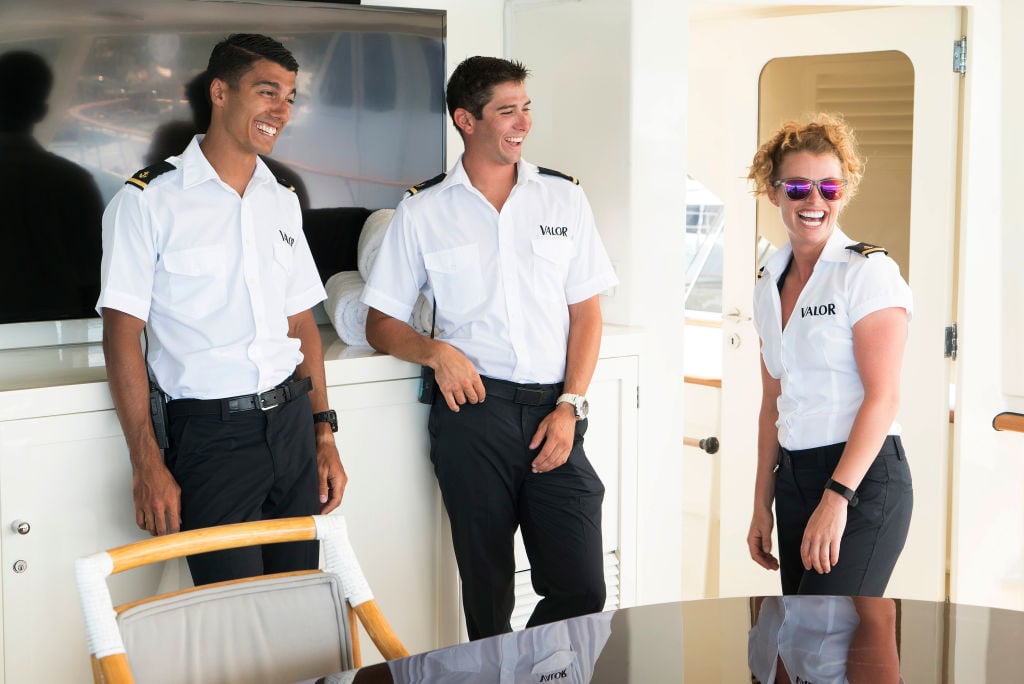 A few cast members were also plucked from each season. Deckhand David Bradberry and bosuns Eddie Lucas, Nico Scholly and Kelley Johnson were recurring cast members. Also appearing on the show multiple times included stews Kat Held and Amy Johnson. Plus chef Adrian Martin and stew Josiah Carter joined the group. Stew Jen Howell and deckhand Connie Arias were on hand. Plus a few surprises included stew Raquel "Rocky" Dakota and deckhand Trevor Walker.
Although cast members knew there was no way the Clubhouse could accommodate everyone, one former crew member seemed annoyed he was not invited. He tweeted that the show and producer Andy Cohen were "toxic."
This crew member says he wasn't invited to the celebration
Deckhand Bruno Duarte from season 5 shared that not only wasn't he invited to the Clubhouse, he thinks Cohen is toxic. "For all the comments – @BravoTV did not invite me or said anything to me about the 100th @BelowDeck episode on @BravoWWHL cause @Andy is toxic and he doesnt like me, well its mutual of course, but I dont pretend so Im glad I dont know him personally. See you soon USA."
One fan agreed about Cohen but Duarte rephrased his assertion. "Well I dont know about him but I know about a few people sitting there for sure," Duarte replied. "Its sad that they can get a long with self calling professionals and judging others (using) others for their own amusement for more time on tv. Sad and toxic."
Cohen saw the post and responded. "Would've loved to have you. I had nothing to do with who was invited and I do like you. Sorry you feel that way about me though."
Another crew member who was not in the Clubhouse was the original chief stew Adrienne Gang. Gang didn't have anything negative to say but observed how she came up as part of the conversation during the episode. "I guess I don't have to be there in person to make it on the #BelowDeck 100th episode celebration… ," she tweeted. Gang also retweeted the WWHL call for questions on Twitter too.
Duarte has slammed the show since he left
Duarte seemed to have a pretty drama-free time on the show. He was eager to learn on deck, plus he helped chef Matt Burns in the kitchen. But maybe he was a little too overzealous with his suggestions about how to run the interior. After filming wrapped he and Chastain warred on social media.
He viewed season 6 and saw how stew Caroline Bedol was verbally harassed behind a closed door. Although it was addressed at the reunion, Duarte thought the cast should have done a deeper dive. "#BelowDeck reunion was a joke… so many excuses for whats so obvious. I have no words. Happy for @Andy for actually calling the bad stuff out. Impressive to watch everyone covering each other asses. Bulling is bulling period," he tweeted.
Duarte went further in the thread expressing serious concern about workplace bullying. "Like I said, regardless the issues that was happening between them, thats a work place and bullying a unstable crew member isnt right. Like i said before, i saw crew on Cruises committing suicide because of that kind of attitude. Thats not right."