This 'Below Deck' Charter Guest Reveals if She Heard Kate and Laura's Fight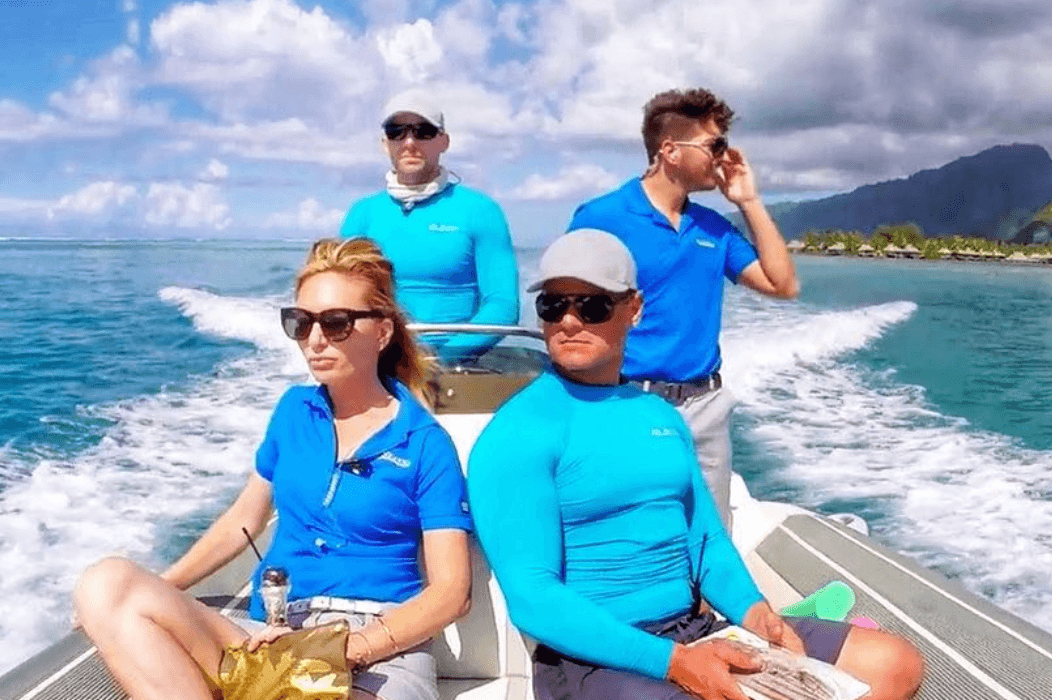 Was the "check yourself" smackdown heard around Tahiti on Below Deck? Or did third stew Laura Betancourt's explosion on chief stew Kate Chastain actually remain below deck? The charter guest who was vacationing on My Seanna dished in her blog about her entire trip. Including whether she and her friends heard the epic brawl.
Charter guest Linda Jones is a Below Deck veteran. She appeared on Below Deck Mediterranean and generously shared the experience in the past. Jones also discussed her recent voyage with the My Seanna crew in Tahiti. She and her friends were on board during the epic fight. And she addressed exactly what she knew or heard. Plus she offered some insight into what happened during her episodes.
Jones says the experience was fantastic
She said the yacht was gorgeous. "The 'My Seanna' yacht was over the top beautiful!" she blogged. "It had a lot of gold leaf in it, which is extremely expensive, so just the money that had been put into the yacht was incredible."
Plus she said everyone on board was wonderful. "I loved all of the crew. I thought they were incredibly sweet to us," she wrote. Plus, "They're very nice and we had some interaction with some more than others. But everybody was really, really well-behaved and very nice."
And the food was as good as everyone gushes about. "His food not only tasted good, but it was also a work of art. Every time they would bring out a plate, it was this amazing food sculpture. He would present the food beautifully, paying attention to colors and textures. He was very cognizant of presenting food in a beautiful manner, as well as it tasting really delicious."
And this is how she got Captain Lee to blush
https://www.instagram.com/p/BrlBQEHFf4w/
Jones and friends spent some time with Captain Lee Rosbach, discussing family and career. But at one point during dinner, Jones says she dropped Rosbach's Bravo tag line, which made him blush. "And at one point there was something (I wish I could remember what it was), some reason that I said to captain Lee, 'that's because you're the Stud of the Sea,' which of course is his tagline on the show. Because I've seen every Below Deck show, of course I knew that and so I had to tease him and call him the Stud of the Sea."
The whole "Stud of the Sea" comment produced a pink glow on Rosbach's face. "I looked away and I looked back at Captain Lee and his face was bright red! I said. 'Look everybody, Captain Lee is blushing!' I looked back a minute later and he had put his white linen napkin over his head to hide his red face!"
Jones thought Bravo would have aired the interaction because it was so funny. And that it showed Rosbach's sweet side. "I thought it was hysterical and I thought that the audience would love to see Captain Lee put the napkin over his head. It was pretty funny. Captain Lee is every bit as funny, charming and smart as he appears on the show. He's the real deal."
Did she know Kate and Laura were fighting?
Jones insists that the fighting that is seen on the show is hidden from the guests. However, she divulges the tongue lashing Betancourt gave Chastain wasn't totally invisible. "I personally did not hear any of the staff arguing, but one of my friends did hear an argument going on below deck. So she did pick up that people were yelling and screaming and having an argument."
Also, what about the towels? Chastain is seen rolling her eyes while picking up guest towels. And then having a confrontation with Betancourt about it. "We didn't have any service problems, except one night we wanted to shower before dinner and we didn't have any bath towels in our room," Jones wrote. "When we told Kate, I think she spoke to Laura about it, but it wasn't mentioned on the show."
Check out The Cheat Sheet on Facebook!