This 'Below Deck' Charter Guest Was Captain Lee's Second 'Most Irritating'
After being at the helm for six seasons, Captain Lee Rosbach from Below Deck has certainly seen it all. From crew issues to crazy guests, Rosbach has quite a few stories he can share.
Fans are always curious about which crew members Rosbach would work with again. Or which charter guests were most annoying. Fans definitely know which guests stole Rosbach's (and the viewer's) heart. The Jasuwan family, with their adorable children, were definitely a favorite for everyone. "We had our first family of small children on board which were totally delightful," Rosbach wrote in his blog.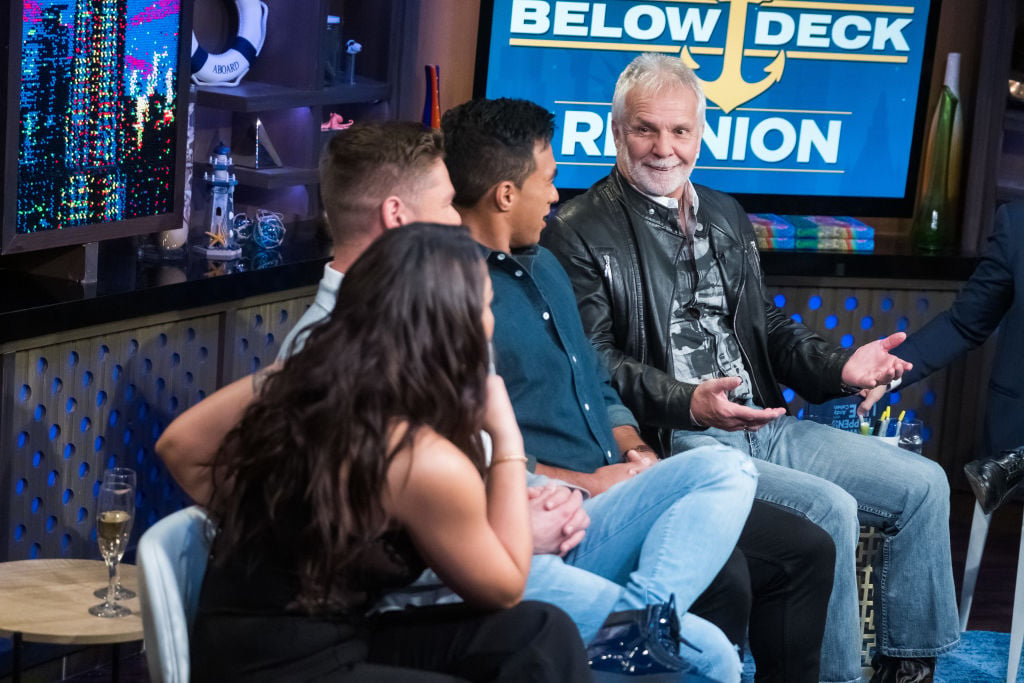 While the Jasuwan family were a favorite for Rosbach, this charter guest ranked as among his worst. While this guest wasn't the very worst, second place on Rosbach's naughty list is not a great place to occupy.
This charter guest 'amazed' Rosbach
Not overly surprising, Krystal, the final charter guest of season 6 was Rosbach's second most irritating guest in his Below Deck career. "This was the 2nd most irritating charter that I have ever been witness to in my 6 years on the show," he wrote.
Indeed, Krystal seemed to stir up havock in her wake, lashing out at both her friends and the crew. "The only person you didn't seem to have an issue with was me. I'm glad of that," Rosbach wrote. "Perhaps you were just going thru a bad time, so I'm going to give you the benefit of the doubt. I hope things get better for you."
Krystal chartered the yacht for her birthday. But yelled at friends, got drunk and stubbornly insisted on sleeping on the aft deck–which was a hazard. Thankfully she dragged herself to bed, but her presence made for a tense charter.
It goes even further
During the final episodes, crew members ribbed bosun Ross Inia for an alleged relationship with Krystal. Krystal was supposedly married, which made deckhand Rhylee Gerber's tweet especially controversial.
Chief stew Kate Chastain posted about Krystal and crew's first episode. "Somewhere in Connecticut the most awkward viewing party ever is happening in ballroom c of a country club." To which Gerber added, "Ladies and gentleman…..the happy couple!!" Gerber also posted a picture of Inia and Krystal.
Social media heated up and Inia didn't do much to squash the rumors. When Andy Cohen asked Inia about the relationship during the reunion, he shrugged it off. Finally, Inia posted that he and Krystal were just friends and were not romantically involved.
Rosbach has had some doozies
Making it to "second most irritating" takes some talent since Rosbach recounts some wild guests along the way. In fact, one group of guests may have either beat Krystal to number one or at least ranked highly on Rosbach's list.
He recounted to E News about a group of charter guests who did something illegal on the yacht. And he wasn't having any of it. "I kicked a group of charter guests off for drugs" he recalled. "That's not to say I haven't had guests on board that have used drugs, but these people were being very obvious in their consumption."
Rosbach terminated the charter and refused to issue a refund. "Then I had the authorities bring a drug dog on board to give us a clean bill so we could proceed with the rest of the season. When I told them they were like, 'Are you serious?' I told them I was as serious as a heart attack. Mic drop."
Check out The Cheat Sheet on Facebook!