This 'Brady Bunch' Scene With Greg and Marcia Needed Reblocking Because They Were 'Lusting For Each Other'
The sitcom The Brady Bunch went off the air almost 50 years ago yet remains a staple in television history. Starring Robert Reed and Florence Henderson as Mike and Carol Brady, the show introduced America to the daily lives of a blended family with six kids.
Barry Williams (Greg), Maureen McCormick (Marcia), Christopher Knight (Peter), Eve Plumb (Jan), Mike Lookinland (Bobby), and Susan Olsen (Cindy) remained close over the years since the series ended after its five-season run. Williams and McCormick have even spoken about a past romance they had despite portraying brother and sister on television.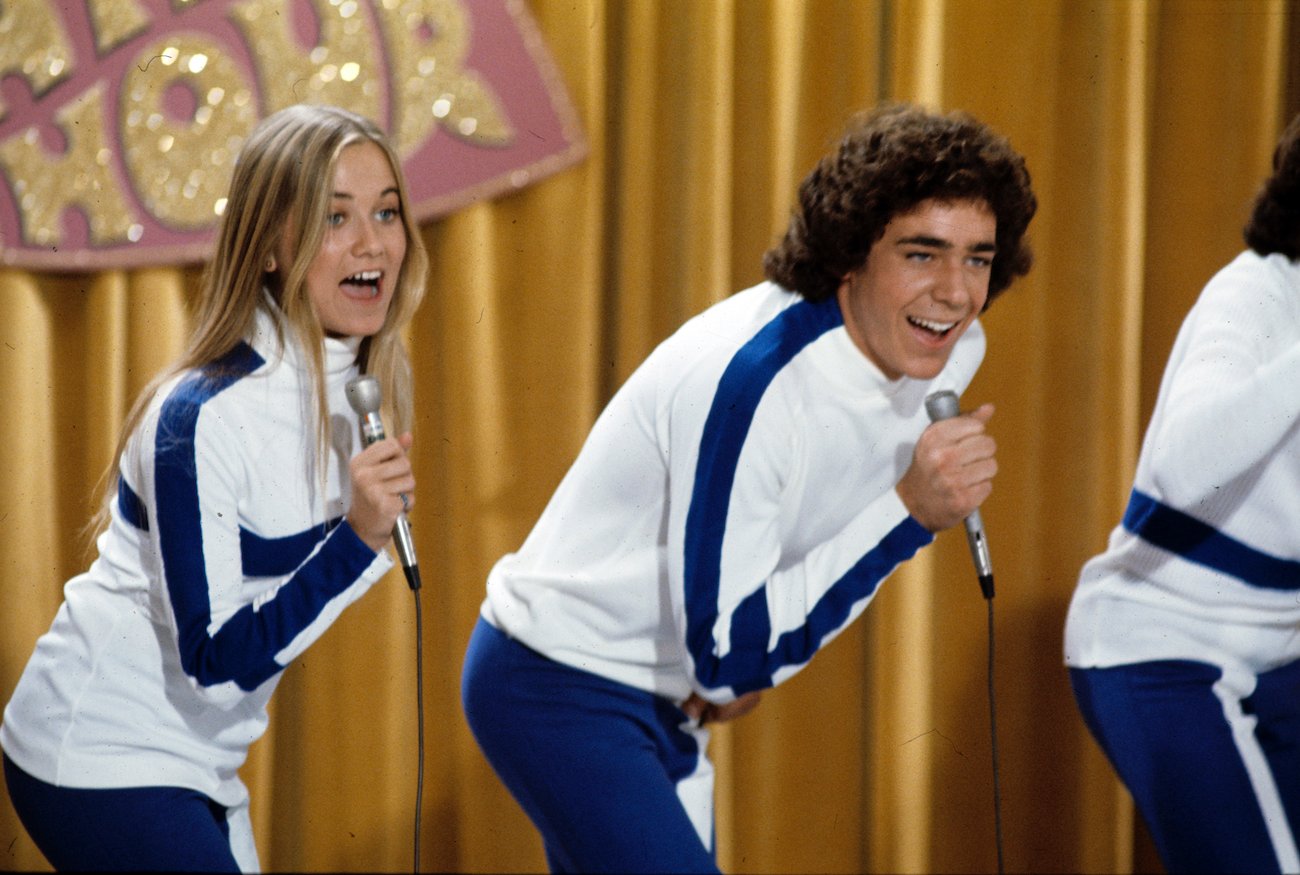 Maureen McCormick kisses and tells
Williams and McCormick met on The Brady Bunch set when she was 12 and he was 14. As the seasons went on and the two teens got older, hormones reached a full tilt when the cast was filming in Hawaii for season 4. In her 2008 memoir Here's the Story: Surviving Marcia Brady and Finding My True Voice, McCormick described her first kiss with Williams on the beach.
"We couldn't hold back any longer," McCormick wrote. "It was our first kiss, and it was long, passionate and deep. It was wonderful, too."
Despite their attraction for each other, McCormick couldn't escape the fact that she portrayed his sibling on a regular basis.
RELATED: 'Brady Bunch' Star Susan Olsen Says She Was 'Teased Mercilessly' for Her Role as Cindy Brady
"As we continued to kiss," the Brady Bunch star revealed, "a part of me – a tiny part, admittedly – said to myself, 'Oh my God! I'm kissing my brother. What am I doing?"'
Their romantic relationship never developed into anything serious or long term.
A scene between Greg and Marcia turns 'steamy'
In the book Brady, Brady, Brady: The Complete Story of the Brady Bunch, director Lloyd J. Schwartz (son of show creator Sherwood Schwartz) recalled McCormick and Williams' growing attraction beginning to cause an issue on camera. In the episode "A Room at the Top" in season 4, a scene called for the pair to have a casual conversation in Marcia's room sitting on her bed. Yet Schwartz couldn't keep the sparks from flying.
"The problem was that this episode was being shot at the height of the sexual tension between Barry and Maureen," the Brady Bunch director wrote. "When Barry sat down on the bed and started to talk to his TV sister, it became romantic, even steamy. I couldn't print a scene in which a brother and sister were obviously hot for each other."
Schwartz kept having the actors redo the scene but to no avail. Each time they spoke, the sexual tension between Williams and McCormick was palpable.
"Barry entered and sat on the bed next to Maureen," Schwartz wrote of another attempt. "Once again, the lines were right. And once again, steam from the two of them. … These two teenagers were lusting for each other, and I was getting it on film."
'Brady Bunch' director goes for 'psychic distance'
Sherwood was perplexed on how to handle the sizzling situation when he recalled a tactic he learned in college.
"I couldn't say anything to Barry or Maureen. That would have been far too humiliating," the director explained, remembering his past psychology class. "The teacher had discussed psychic distance. … a physical barrier between two people which creates distance emotionally as well. That was it."
Instructing Williams to place his arm straight down between McCormick and himself, Schwartz reblocked the scene and hoped for a more familial tone.
RELATED: 'Brady Bunch' Star Christopher Knight Said He Had To Be on the Show Because His Family Was 'Nearly Homeless'
"We shot the scene," Schwartz said. "Psychic distance worked. Barry and Maureen cooled down just enough, and Greg and Marcia's relationship was entirely appropriate once again."
Thankfully for Schwartz and the rest of the Brady brood, viewers saw nothing but two siblings having an innocent chat when the episode aired.