This 'Dateline NBC' Correspondent Just Had Her Sixth Child
Which "Dateline NBC" correspondent just welcomed their sixth child?
Life as a correspondent for a top news magazine show is hectic, especially if you have a household full of small children. That's how it's been for Dateline NBC's Andrea Canning. Married to Lieutenant Colonel Tony Bancroft, a financial analyst and former fighter pilot now in the reserves, Canning has balanced the busy schedule of a primetime journalist and mom of five daughters. Recently, the couple made an addition.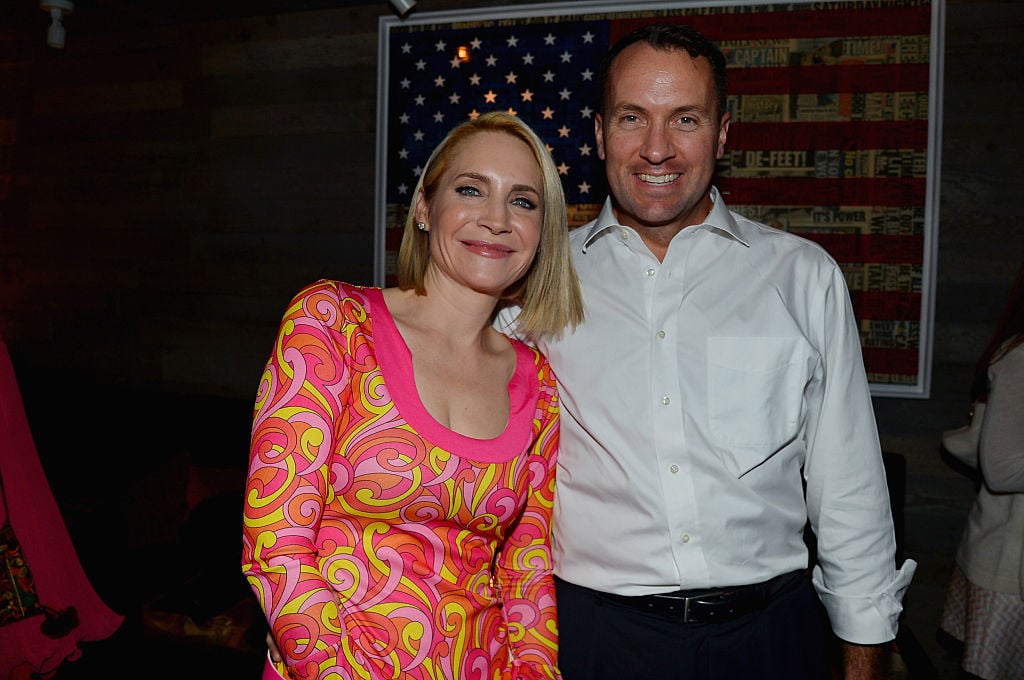 It's a boy!
On June 18, Canning and her husband welcomed George Anthony Bancroft III — nicknamed Tripp — into their family. He weighed 9 lbs., 7 oz., and measured 22 inches, according to People. "We are beyond blessed to have this (big) little man in our lives," Canning told People. "His five older sisters are over the moon and ready to welcome the first baby boy into the family!"
Canning, 46, released a statement to the Today Show, saying, "After a couple of days in labor and a difficult delivery, we are doing great. So relieved Tripp is healthy and out of the NICU today and going home tomorrow! His five big sisters are coming to the hospital today after school to meet him for the first time. It's all they've talked about for months! The day is finally here!"
New Year's Eve reveal
Canning delivered the news that she was expecting another baby on New Year's Eve using some creativity. She recorded a gender reveal in a special video message to fans and posted it to Dateline's Twitter page, according to Today. "In 2019, I'm having a baby! But will it be a boy or a girl? Let's find out!" Canning said, then popped a huge balloon that spilled out blue confetti. "It's a boy! After five girls, it's a boy! Happy New Year!"
The couple are already parents to five daughters — Anna, 10, Charlie, 9, Kiki, 6, Georgia, 5 and Elle, 4. With so much "girl power" in their home, Canning said she and her husband were ready for a boy. "I don't want to take away from how much we obviously love our daughters, but we just always wanted a boy," she told Today. "It was in our hearts to have a boy. So we said, 'Let's give it a shot.'"
So will Tripp's sisters be happy with their new male housemate? "It's a little bit foreign to them, because they're so used to all these girls, but they're definitely excited," Canning said. Canning told Today she and her husband conceived their son through in vitro fertilization.
Work/Life balance
Canning became an ABC News correspondent in 2004 where she covered the White House, Congress, the Supreme Court, and the Iraq War, according to USA Today. She was also a Good Morning America correspondent and 20/20 contributor, until she landed her position on Dateline NBC in 2012.
How has she juggled her career with such a busy family life? She credits the flexibility of her employers and support from her husband.  "I was at the network for many years before I started my family at 35 years old, so it didn't affect my career," she told Westerchester Family in 2017. "Dateline has been extremely accommodating, it's a great place to work for mothers – they really get it… I do what I need to do in the office and by the afternoon I can usually head home, so I am there for homework at night. Every minute I have free I am with them. I work really hard but I get to leave the office early so I can get home to them."
Canning also told Today that as her daughters have gotten older, parenting has been easier and her girls have been helpful.  "I remember just pulling my hair out when they were little. It was so hard some days, and now it's like, 'Hey, can you go get this? Can you get her a bottle?' And they start to do things for each other," she said.
She also said Bancroft was "the most hands-on dad," according to Today. "He's the dad that's doing everything at night when I'm falling asleep. He's Mr. Energizer Bunny."