This Episode of 'The Office' Aired with a Warning Because of the Use of This One Word
The sitcom has some dirtier episodes when it comes to jokes. However, The Office was usually able to air without any warnings for the audience.
There is one episode that was considered too much to air without a warning. Find out which one it was and which word led to the warning, according to Jenna Fischer.
The cast of 'The Office' would get in trouble for breaking a computer rule
The characters on The Office are often seen working at their desks on their computers. The actors would often be doing other things on their computers, which would get them in trouble. Jenna Fischer and Angela Kinsey talked about this on their podcast, Office Ladies.
"Well did you notice, Angela that in the background of that same scene if you look at Meredith's computer you can see she's in the middle of a FreeCell game?!" Fischer asked. She added, "So in later seasons after we got internet and we stopped playing FreeCell, we would get in trouble if we had unapproved things on our screens."
Rainn Wilson was one of the people who would get in trouble. One day he had enough and made a deal.
"But we couldn't have other stuff and we would get yelled at and then Rainn said, 'You never have to tell me again about the screens, alright?! Stop hounding me about the screens. In fact, if you ever find something on my screen while we're shooting that's not allowed to be there I will donate $100 to charity every time,'" said Fischer.
She claimed he had to pay out a lot of money after that. The actors weren't the only ones who tried to avoid getting in trouble. The network also tried to avoid offending people by putting up a warning for an episode.
The 'Sexual Harassment' episode came with a warning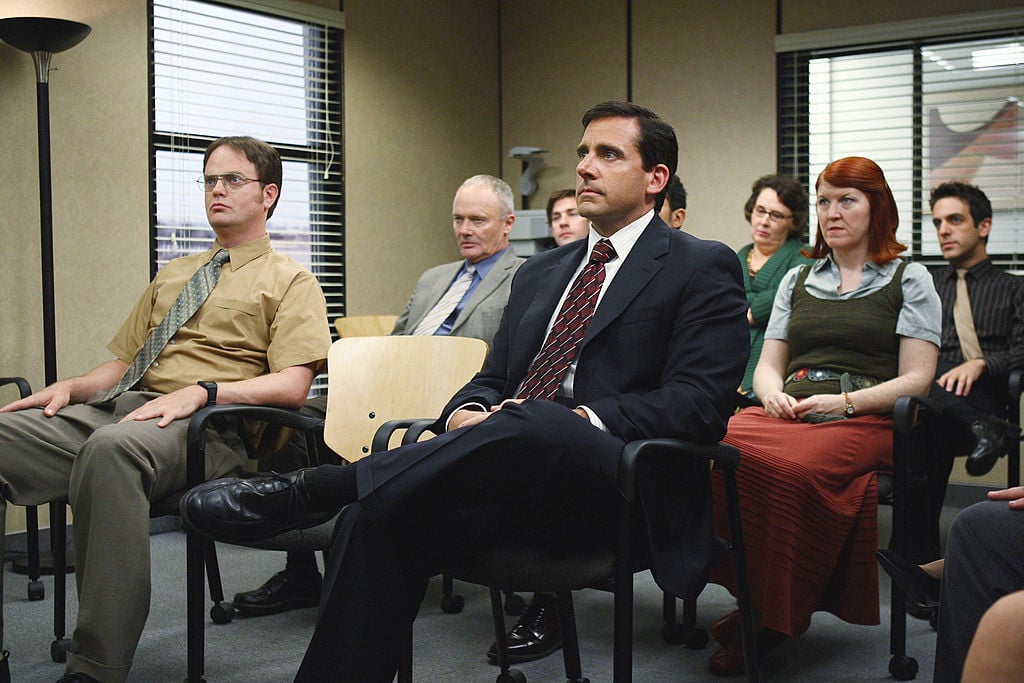 The episode, "Sexual Harassment" shows human resources trying to give the employees a talk about sexual harassment. This leads to Michael (Steve Carell) being inappropriate once again. This episode is different from the rest because it came with a warning.
"This episode originally aired with a warning," said Fischer on Office Ladies. "Yes, which is very unusual for network television!" The actress added, "It aired with a warning before the episode that said 'This episode contains adult content and subject matter.'"
There is one big reason behind this. "It all came down to the word, 'boner' with Phyllis [Vance] (Phyllis Smith.) The scene with Phyllis at the end when Steve says something like 'I'm just afraid I'll get a boner,'" revealed Fischer.
This is referring to the scene where Todd Packer (David Michael Koechner) insults Phyllis by calling her unattractive. "You know what? I love Phyllis. I think she is gorgeous. I think she's an incredibly, incredibly attractive person," said Michael.
He hugs her then kisses her on the cheek. "The only thing that I'm worried about is getting a boner," he said once Phyllis starts talking to him about to not worry about her reporting the incident to human resources.
Fischer said, "The network wanted to change it to 'I'm afraid I'll get a sch-a-wing!" But it was B.J. Novak's idea to keep the word in the episode. The warning was a compromise between the two parties.