This 'Family Guy' Star Will Always Be Emilia Clarke's Weirdest Love Connection
Daenerys "Dany" Targaryen on the hit HBO show Game of Thrones, may have had a sizzling romantic life on screen, but the real-life woman who played her, Emilia Clarke, is very private about her personal dating life. Shirking expectations, she's never dated any of her GOT castmates, and she hasn't had many public partners during her time in the spotlight. One relationship did make it into the public eyes, however, and many people thought it was a very odd match.
Emilia Clarke dated Seth MacFarlane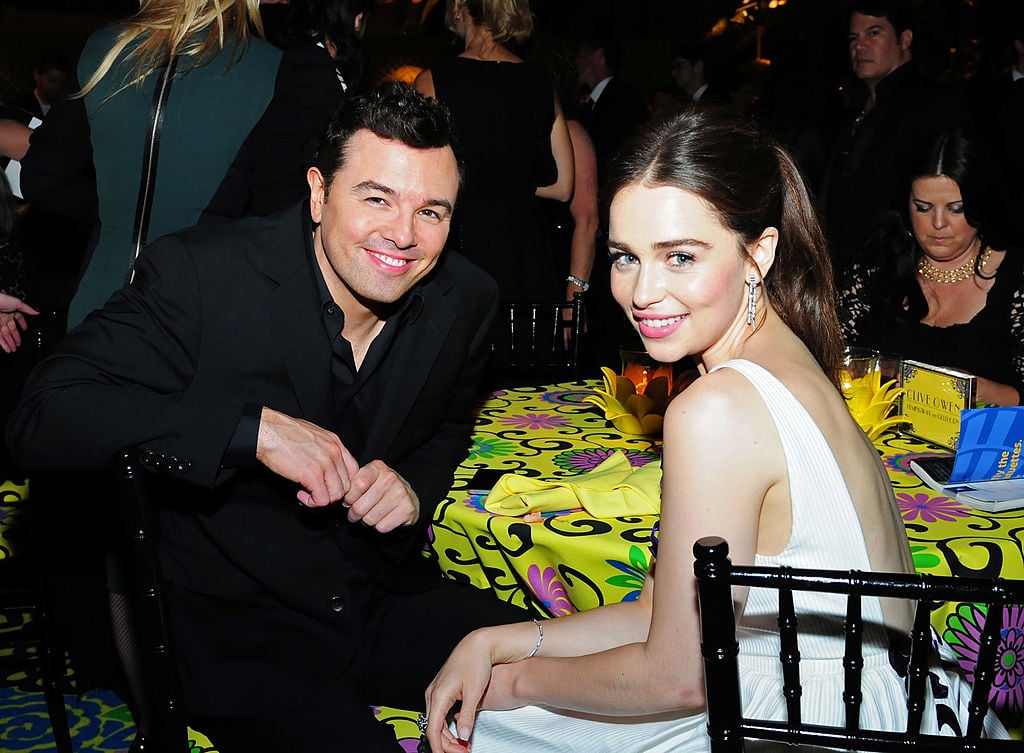 Seth MacFarlane, creator of the shows Family Guy and The Orville, in which he also acts, dated Clarke for several months from 2012-2013. At the time she was 25 and he was 39. Not much was known about their relationship, aside from being spotted out in public by fans and the paparazzi. The two looked happy to be together in photos, but since they didn't give any public interviews about their relationship, it is uncertain how well they got along behind closed doors.
Upon their split, neither party gave a public statement, but an anonymous source told E! News: "It was really a location challenge. She has been in Europe shooting Game of Thrones and he is based in California, so it was hard to make it work despite the distance. They have remained friends."
So the relationship ended much as it began, quietly and with an air of mystery.
Fans and media alike were critical of Seth MacFarlane and Emilia Clarke's relationship
Years later, Clarke opened up in an interview with Glamour about her time dating MacFarlane. She didn't say much, but what she did share was telling. Apparently it was common for fans to give her advice. This was the case when one fan who told her: "I'm a big fan of the show, and I'm not sure what you're doing with that guy." She said she didn't react to it well, which is understandable. Statements like that would be rude to anyone, but saying this to the Mother of Dragons? That's next level bold.
Apparently, fans aren't the only ones who think Clarke was out of MacFarlane's league. A recent article for The Talko, really called out MacFarlane going with the headline: "20 Photos of Seth MacFarlane and His Too-Gorgeous-For-Him Girlfriends." Ouch.
Reactions weren't any better when news broke of the two dating. Complex Magazine's 2013 headline "Emilia Clarke Spotted Kissing Seth MacFarlane" sent fans on Twitter into a tizzy at the time: "Ew omg I'm out I don't want to be a part of this world," one fan tweeted. "NOOOO! Run, Khaleesi!" another fan wrote. Others, mostly men, gave MacFarlane props for his lucky break. Those tweets don't need repeating.
Who are Emilia Clarke and Seth MacFarlane dating now?
To the public at least, Clarke is currently single. She once shared in a Harper's Bazaar interview that she doesn't believe in "the one" and rather thinks there are multiple "ones" depending on your stage in life. She ended her comments saying: "There's this Buddhist philosophy that says you can only really understand yourself through your interactions with other people."
Thanks to some hints from her Instagram, it can be safely assumed that she dated director Charlie McDowell (The One I Love) for a short time, but the two have since split.
As for MacFarlane, he was rumored to have yet another girlfriend that many thought was too young and gorgeous for him: Halston Sage, his co-star on The Orville (until she was written off the show). She is currently dating Zac Efron and MacFarlane appears to be on the market again.