This Former Co-Host of 'The View' Says She Started 'On The Wrong Foot' With Whoopi Goldberg
These two co-hosts from "The View" got off to a rocky start.
ABC's The View has had many co-hosts. One former co-host of the daytime talk show leaned to the right politically and found herself at odds with moderator Whoopi Goldberg when she first began her time at the table.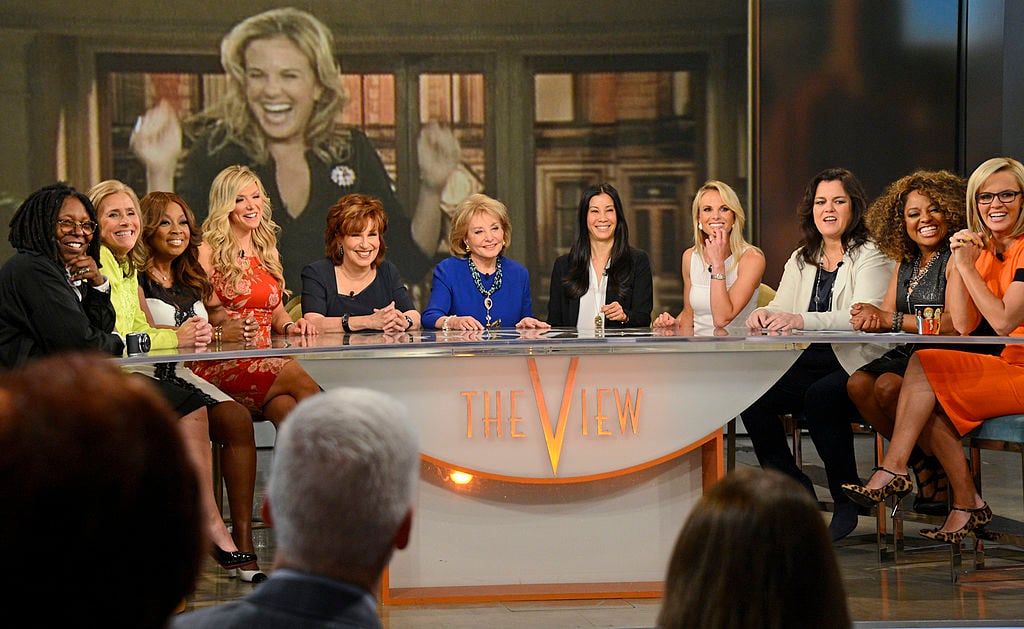 A 'Survivor' on 'The View'
Elisabeth Hasselbeck was well known for her stint on CBS' legendary reality show Survivor in Season 2. Finishing in fourth place, Hasselbeck clearly made her mark on the airwaves and was later hired by show creator Barbara Walters to take a permanent seat on The View in 2003.
After 10 years of co-hosting the daytime talk show, Hasselbeck was informed that her contract would not be renewed. "They said the show would be going in a less political direction, and that I could leave that day or the next day or stay for the remainder of this current season — but, come September, they were replacing me," she wrote in her 2019 book Point of View: A Fresh Look at Work, Faith, and Freedom of the visit she received from ABC brass.
"I could not breathe — literally, could not breathe," she shared, adding that she "asked permission" to retrieve her inhaler. "I was bent over — shock, asthma, and betrayal all stealing my wind."
Hasselbeck revealed she spent approximately 90 minutes "just sobbing" from the news. "Feeling a dose of betrayal and a whopper of confusion, I felt like the walls of the building were folding in on me," she wrote, according to Entertainment Tonight. With the help of Walters, Hasselbeck secured a job on Fox News' Fox & Friends and left The View in July 2013.
Rocky road to friendship
Goldberg took over the moderator's chair on The View in 2007. A vocal liberal, the EGOT winner and conservative Hasselbeck didn't exactly mesh at first, yet they found their way to becoming friends.
"She and I started off our friendship on the wrong foot," Hasselbeck said of Goldberg. "We approached each other like two stranger dogs at the park — circling, then a little biting, and then… forever friends."
The former View co-host expressed deep affection for Goldberg in her book, despite their political differences. "I love Whoopi Goldberg. That shocks many people. Apparently, people are not supposed to love someone who thinks differently than they do," she wrote. "What began as enemy status by the world's standards became a life-long friendship because what Whoopi and I know is that life is about people, not politics… She was strong in her positions, but did not expect me to change mine."
During a visit to the show, Hasselbeck continued to vocalize her admiration for Goldberg and appreciation for their bond. "Whoopi and I don't think the same about a lot of things, but we love the same and that's good," she gushed. "We should be able to hold our beliefs, which we have a right to, thank God, and hold the hands of our friends."
Getting asked back to the table
Hasselbeck also revealed that six years after her exit, the daytime talk show came calling again. While it was tempting to give a snarky response to the offer of returning to the table, the former View star shared that she was no longer bitter.
"I would have anticipated my response to be 'Nice try, I'm busy now' and hanging up the phone. But God had changed my heart over the years," she said. "He allowed me to leave well enough, to heal well enough, and to hear that call as an invitation in my right-now grace instead of my back then resentment."
The former Survivor contestant mulled over the idea but eventually turned it down. "I decided to pray about the offer and talk to [my husband] Tim. Making sure I could hear God's direction was more important than anything else," Hasselbeck shared. "Through prayer, peace about the decision came. And with that, I also felt thankful that they asked me back."