This Former Co-Host of 'The View' Was a Contestant on 'Dancing With The Stars'
In Season 12 of "Dancing With The Stars," this co-host from "The View" was paired with Val Chmerkovskiy.
Now that Abby Huntsman has exited ABC's daytime talk show The View, the panel of Whoopi Goldberg, Joy Behar, Sunny Hostin, and Meghan McCain is looking to fill her empty seat. The program has seen more than its share of revolving co-hosts, so ABC execs most likely are hoping to replace Huntsman with someone who wants to stick around for a while.
A panelist on the show from 2007 to 2014, this former co-host pulled double duty in 2012, donning her dancing shoes for ABC's top reality show while serving as a co-host on The View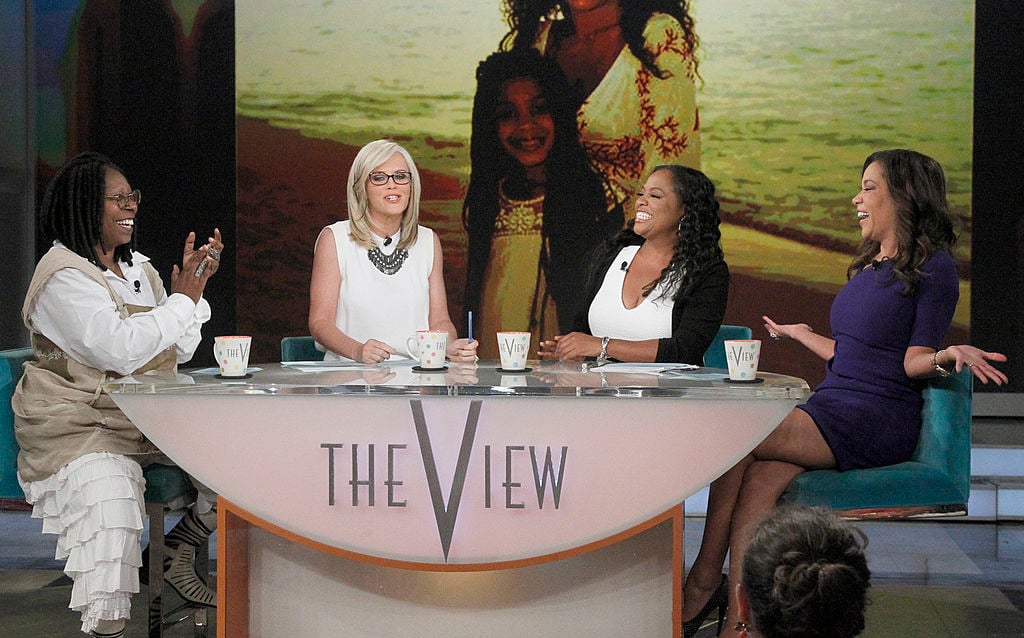 A word of advice
When McCain took her post at the table in 2017, Shepherd offered her some advice on dealing with tough critics. "I remember talking to Meghan when she first started, [and saying] you have to learn how to insulate yourself from peoples' comments," she told Yahoo! Entertainment in September. "Joy Behar told me that when you open your mouth, you're going to lose half of the audience anyway. You have to realize that you're affecting more than the people in the audience — there's somebody out there that agrees with you. You just have to stand firm and be respectful of everybody."
Since leaving The View, the actress has appeared in films including Ride Along 2 and Brian Banks. Shepherd sometimes returns to the talk show to fill-in for an absent co-host but prefers to remain on a temporary basis. "It's fun when I go back to guest co-host, but it's almost like going back with an old boyfriend," she joked.
Another ABC gig
In 2012, Shepherd was paired with dancing pro Val Chmerkovskiy to compete in Season 14 of ABC's Dancing With The Stars. She spoke of her appreciation for getting to participate on the show and how she felt she was stretched as a person.
"It pushes you mentally and physically and it is a life-changing experience, I have to say," Shepherd said, according to ABC News. "So I have to say thank you. … I'm so grateful to God for the ride I got to take, the friendships I got to make, the people I get to keep in touch with."
During her time on DWTS, Shepherd traveled between the dancing competition in Los Angeles and The View in New York to maintain her co-hosting duties, though she never complained about the demanding schedule.
"I'm a mother. Mothers multi-task. We're used to doing more than one thing at once, so … I was in that mother mode," she said of her four weeks on DWTS. "It wasn't work to me. I loved Dancing, that whole process, I love The View, so when you're living the dream, it's not work."
She encouraged others to pursue their dreams, even if it seems daunting. "If you don't go towards the thing you fear, you won't be able to say you lived," Shepherd advised. "The thing that you fear in your stomach … run towards it. I absolutely believe that."

Shocking elimination
Viewers were stunned when Shepherd and Chmerkovskiy were eliminated in Week 4 of the season. Shepherd was a quick fan favorite, and her being voted off seemed to come out of the blue.
When the dancing duo spoke about their experience, Chmerkovskiy had his own thoughts on the reasons they were booted off. "I think it's a conspiracy," Chmerkovskiy quipped on Good Morning America. "I think Barbara Walters put in a call because she wanted Sherri back on the show."
Chmerkovskiy clearly admired Shepherd's dedication to the program and didn't hold back on singing her praises. "She was the best student, partner, companion, friend I could have asked for on the show," he said. "I was very lucky … She took a risk having me as a partner….I wish she got to enjoy it a little longer, but I did my best, whole heartedly, I really wanted the best for her."
Despite the elimination, Shepherd expressed her gratitude on her final night of DWTS saying, "I just want to say thank you for letting me live a dream I've always had."