This Former 'Saturday Night Live' Star Says She Feels Like a 'Troll' by Hollywood's Standards
NBC's legendary late-night show Saturday Night Live has skyrocketed some of its cast members to stardom. Celebs including Eddie Murphy, Bill Murray, Tina Fey, Jimmy Fallon, and Leslie Jones catapulted to fame with SNL as their springboard.
Yet one former cast member has openly shared on her lack of career opportunities after leaving the show, feeling that her appearance is considered "less than" in the world of show business.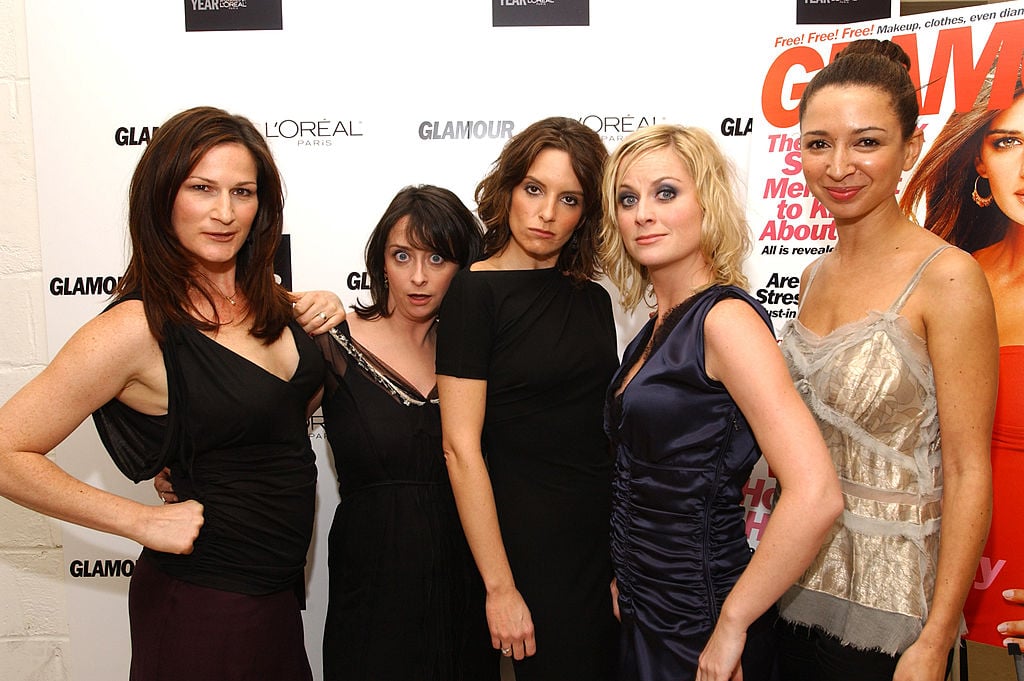 From 'SNL' to author
Actress Rachel Dratch joined the cast of Saturday Night Live in 1999 and was part of the ensemble for seven years. Already pals with co-stars Tina Fey and Amy Poehler from their days performing at Second City in Chicago, Dratch created some of her own characters on the NBC iconic show that remain in infamy including Debbie Downer, junior high school student Sheldon, and Boston teen Denise.
Dratch decided to try writing after SNL and published Girl Walks into a Bar… Comedy Calamities, Dating Disasters, and a Midlife Miracle in 2013. In her trademark comedic voice, the former SNL star talks of behind-the-scenes stories, becoming a single mom (by surprise), and not living up to Hollywood's ideal appearance bar.
Post-'SNL'
Like many of her predecessors, Dratch was hopeful that she would embark on film or prime time television roles after her exit from SNL, but unfortunately her phone wasn't exactly ringing off the hook outside of certain typecast offers. In her book, Dratch revealed she would get calls from her agent "with parts akin to a 55-year-old obese lesbian," according to CBS News. 
"I was getting a lot of stuff like that," Dratch said. "And there's not a lot of call for that in Hollywood. There weren't a lot of those jobs coming. But, you know, after you're done with SNL you think, movies, and then it was a little plateau there. So I was spending a lot of frittering away a lot of time, so that's when I decided to start writing. I didn't know it was going to be a book. I started writing these stories up. I didn't know where it was going."
In Girl Walks Into A Bar, Dratch also addresses her feelings on her appearance in comparison to what the showbiz industry hires.
"If you saw me walking down the street, you wouldn't point at me and recoil, but by Hollywood's standards, I'm a troll, ogre, woodland creature, or manly lesbian," she wrote, adding that she doesn't see herself through that lens. "I don't think that about myself, but this is like what I was seen as in the whole Hollywood scene. In real life, I'm gorgeous, beautiful."
A midlife surprise
Dratch reveals in her memoir how she became a mom at the age of 43 after getting pregnant by a man she met in a bar. Welcoming son Eli in 2010, Dratch co-parents with Eli's dad, though they are not a couple.
"I was thinking I didn't want to have a child on my own so I was sort of letting go of the idea of having kids. 'It's official, I can't have children.' To quote Debbie Downer," Dratch shared. "So, I started letting go of the idea. But then…I kind of got surprised pregnant. So, it was sort of — I don't know, a big unexpected life twist."
The former SNL cast member embraced motherhood and sees it as her new adventure.
"SNL was like the dream job, and that was such a crazy goal of mine, but then along came this other crazy goal which blindsided me," Dratch told The Cut in May. "So for me, my suburban mom life is maybe a little more thrilling than it would be for someone else who was always on that path, and knew they were on that path."
Girl Walks into a Bar… Comedy Calamities, Dating Disasters, and a Midlife Miracle is on sale now.