This 'Grey's Anatomy' Alum Shares Her Theory on Why She Was Fired From the Show
An Emmy Award-winning actress formerly on 'Grey's Anatomy' has done some speculating on why she was terminated from the show.
Grey's Anatomy has seen the departure of top cast members including Sandra Oh, Patrick Dempsey, and Justin Chambers over its 16 seasons. While some of the medical drama stars are written off alive and well, others have met with some sort of untimely demise.
One Emmy Award-winning actress on the show was surprised to get her pink slip from Grey's producers, but hypothesized on the potential reason for her firing.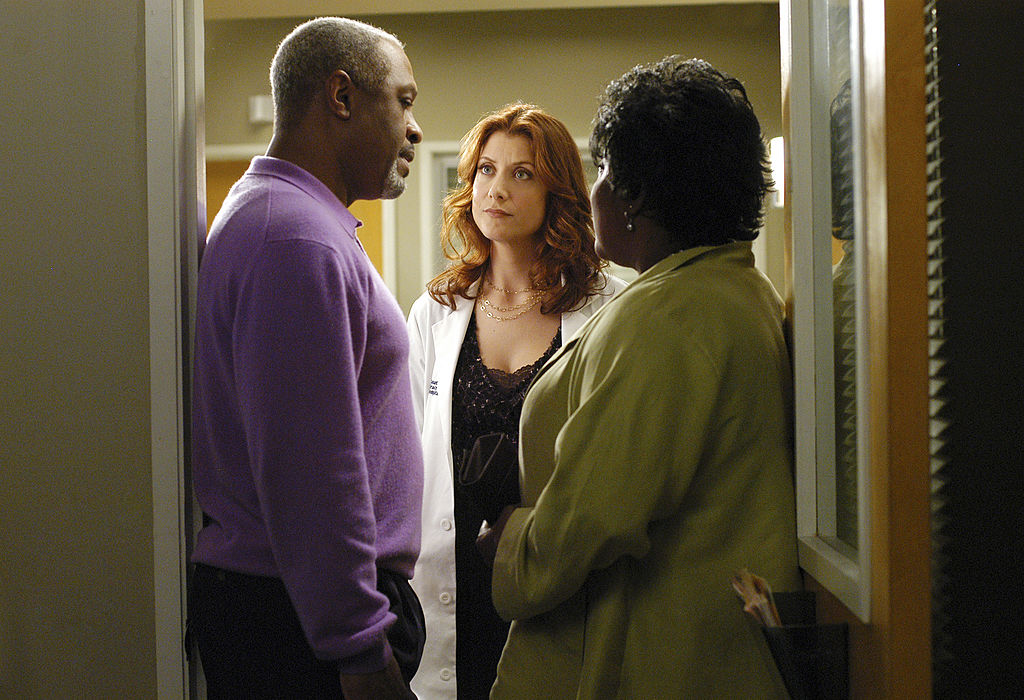 '007' to 'McDreamy' killed off the show
Premiering in 2005, Grey's Anatomy catapulted several of its cast members to stardom including Oh, Demspey, Katherine Heigl, and show matriarch Ellen Pompeo. Yet over the past 15 years, some of the stars have either felt the need to move on or that decision was made for them.
Four main characters on Grey's each met a permanent end. George O'Malley (aka 007), played by T.R. Knight, was hit by a bus saving an innocent bystander in the first episode in Season 6. A plane crash in Season 8 claimed the lives of Lexie Grey (Chyler Leigh) and Eric "McSteamy" Sloan (Eric Dane). And fans are still in mourning over the death of Dempsey's Dr. Derek Shepherd, better known as McDreamy, due to a car accident in 2015.
Knowing the creativity Grey's brings to its storylines, there's always a chance these characters will reappear in spiritual form. Other cast members who exited the show still breathing include Sara Ramirez (Callie Torres), Sarah Drew (April Kempner), Jessica Capshaw (Arizona Robbins), as well as Oh, Heigl, and Chambers.
Debbie Allen's many roles on 'Grey's Anatomy'
Actress, director, and dancer Debbie Allen joined Grey's Anatomy behind the camera in 2010, according to Deadline. Taking the director's chair for three episodes, Allen soon served in front of the camera as well in a recurring role as Jackson Avery's mom, Catherine, who developed a romance with Dr. Richard Webber (played by James Pickens, Jr.). The two wed after Webber's wife Adele (played by Loretta Devine) died from Alzheimer's disease.
Named executive producer of the medical drama by showrunner Shonda Rhimes in 2015, Allen continues to juggle her many responsibilities on the prime time hit show.
With showbiz sometimes being a small world, Allen and Devine had worked together on several occasions prior to their time on Grey's. Their continual reunions prompted Devine to speculate on why her character made a permanent departure.
Debbie Allen comes, Loretta Devine goes … or so it seems
In a segment for PeopleTV's Couch Surfing in August 2019, Devine recalled getting written out of Grey's.
"I got an Emmy for this show for best guest spot and then they fired me right after that," she said, according to Entertainment Weekly. "They killed me with that damn Alzheimer's."
Devine had been a part of the show for two years before Allen signed on. The actress reflected on their history together and how it often seems that when Allen comes on board, Devine gets the boot.
"When I was doing Dreamgirls, Debbie Allen came over, took over that, then I was gone," she explained with a laugh. "Then she came over there to Grey's Anatomy, took over that, then I was gone. I was at The Client List and they said Debbie Allen was coming in to direct, I got scared as hell."
The Grey's alum clearly feels no ill will toward Allen for the heightened coincidence.  "Debbie's directed me in a million things. I've done her plays," Devine shared. "I love Debbie Allen, but the truth is the truth."