This 'Grey's Anatomy' Star Just Had Her Third Child
This actress from "Grey's Anatomy" just welcomed a baby girl!
Fans of ABC's long-running hit series Grey's Anatomy are eagerly awaiting the premiere of the show after its holiday hiatus. With several cliffhangers in the balance, the medical drama is sure to return to a massive audience when it comes back to the airwaves on January 23.
Exciting events seem to be happening for the cast off camera as well, where this Grey's co-star just welcomed a new member to her family.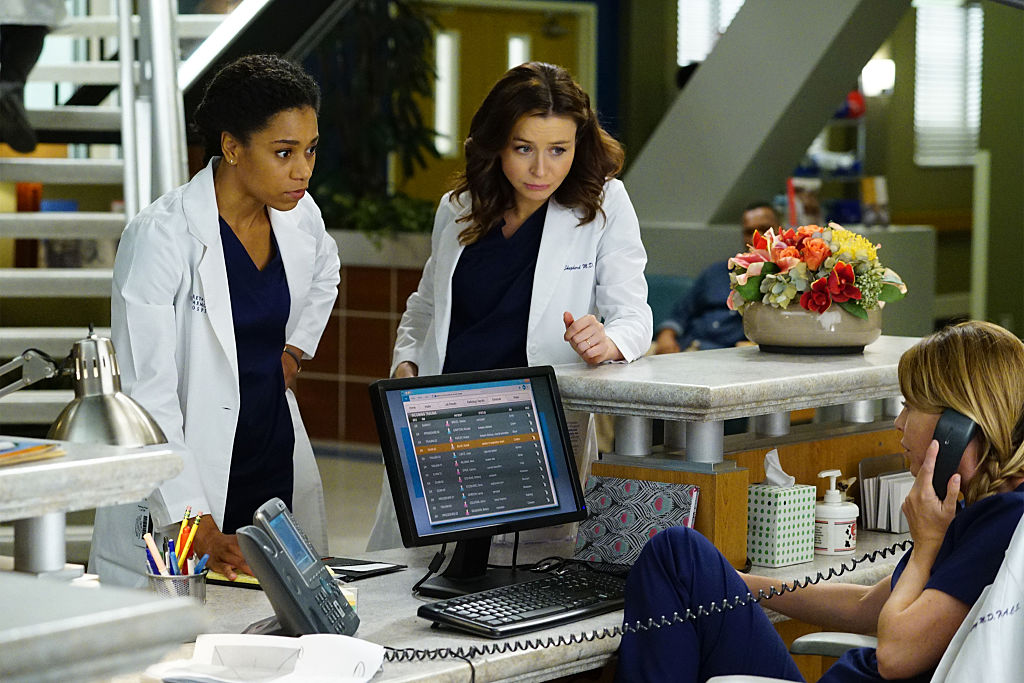 And baby makes three
Caterina Scorsone, who plays Dr. Amelia Shepherd, took to Instagram on December 31 to announce the birth of her third daughter. "Arwen is here!" Scorsone captioned the post. "Our family wishes you a happy new year, a happy new decade and a happy heart made new by love in every exquisite moment."
Scorsone and her husband Rob Giles are also parents to daughters Eliza, 7, and Paloma, 3, whom they call 'Pippa.' The actress spoke to People in April on the adjustments that come along with parenting. "I think one thing that changes when you have kids is that nothing is in your control anymore," she said. "You have to roll with whatever is happening and there are people that are now in your life very intimately and in your space who have distinctly different personalities from you."
Plot twist
As art often imitates life, Scorsone's character is also pregnant, where in the fall season finale she discovered that the father of her baby may be her ex-husband Owen rather than her new love interest Link.
Despite the paternity confusion, Amelia is ready for the challenge of motherhood according to Scorsone. "Amelia is at a place in her life when she's coming into her authentic self. She's got a kicking career, she's got sobriety, she has lots of community and the support of her sisters. She doesn't want or need to lose herself in anything or anyone anymore," Scorsone told Refinery29.  "I think she's pretty clear that she wants this baby… she's not waiting for permission or perfect typical conditions to become the mother she wants to be."
The actress feels a loyalty to her character considering what Amelia has been through on her complicated journey, and wants to portray her as a woman of strength. "She is now thriving and forming bonds and relationships and moving into her identity as a leader in her profession and as a loving and generous mother," Scorsone said of Amelia. "She has lived a hero's journey, and even though I'm sure there are bumps and loop de loops ahead, she continues to rise to each new challenge and keep her heart soft and brave and open."
Life-changing revelations
The Grey's Anatomy star has been open about her daughter Pippa, who was diagnosed with Down syndrome. She shared her uncertainty in how to best parent Pippa after discovering her diagnosis.
"I don't know what I'm supposed to do, I don't know what I am as a mother, how do I mother this child?" she said on a "Motherly" podcast,  according to Today.com. "If my job isn't to equip her to compete or dominate socially, educationally or physically or economically — if I'm not just supposed to be helping her do that, what is a mother, what is my job?"
The actress came to a life-changing realization on how to be the best mom to Pippa. "This simple voice came to me where I was like … Oh, I'm supposed to keep her safe and I'm supposed to make her feel loved,'" Scorsone recalled. "And suddenly my understanding of my job as a mother completely distilled and opened." Scorsone added that the change in mindset "was the most healing and nourishing gift that I could have possibly been given by the universe."
Congrats to Scorsone and her family on their newest addition!