This Is Barefoot Contessa Ina Garten's Go-To Hostess Gift
Bringing a gift to the party is a must if you want to impress the hostess, and Barefoot Contessa star Ina Garten has got you covered if you aren't sure what to bring to the table this holiday season. Garten has hosted countless parties over the years and just revealed what she considers to be the perfect hostess gift for every occasion. So, what does the Barefoot Contessa advise bringing to the dinner party?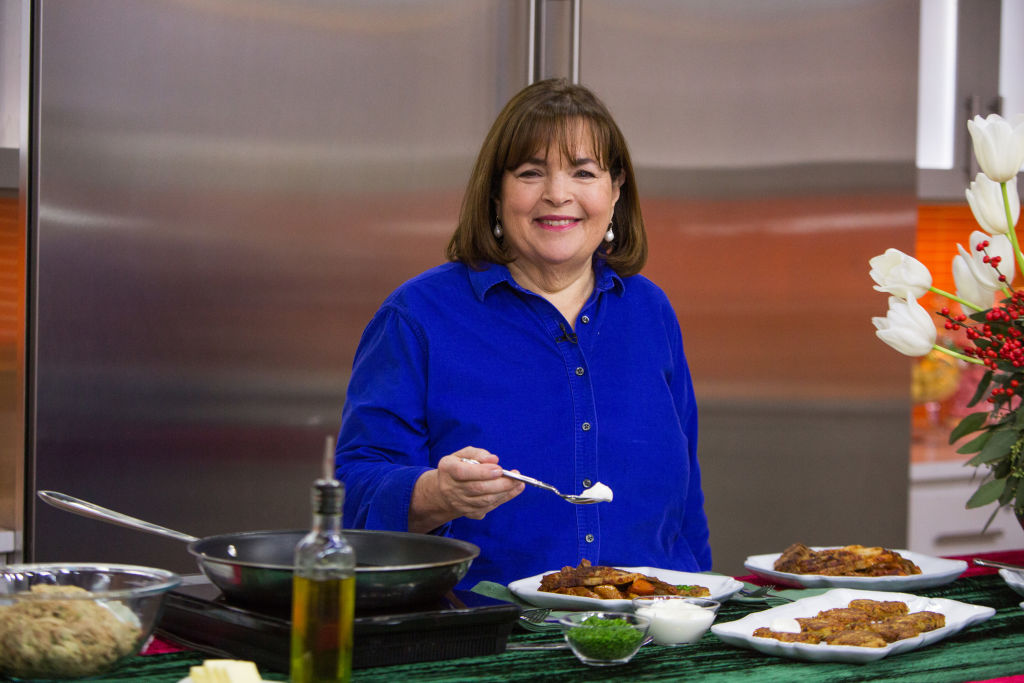 Garten teases her go-to hostess gift
Taking to Instagram, Garten shared a photo of one of her favorite things to bring to a holiday party. The image was a shot of the Barefoot Contessa star's chocolate bark dish, complete with yummy nuts and dried fruit.
"Homemade chocolate bark is a great gift when you're looking for something special to bring to a holiday dinner," Garten wrote alongside the pic.
Garten also listed the ingredients to the dish, which included some cashews, apricots, cherries, raisins, and chocolate.
There is no denying that the dessert is a perfect blend of sweet and salty and would fit right in during the holidays. You could even jazz things up by placing smaller pieces into containers, just like they would be if you picked them up from the store.
Better yet, Garten's chocolate bark is a super easy recipe that you can finish in just a few simple steps.
How to make the Barefoot Contessa's chocolate bark
After you have assembled all of the ingredients, the first step is to put the cashews in an oven for a few minutes. Then you can move on to preparing the chocolate (Garten uses a mixture of bittersweet and semisweet).
According to The Kitchn, the chocolate part is the hardest step in the recipe. Using a microwave, melt the chocolate until it is warm and spread it out onto some parchment paper.
Then sprinkle the rest of the toppings on the chocolate until the surface is covered to your liking. If you want the bark to look as tasty as Garten's, pay special attention to how the toppings are handled.
Start with the ginger bits, followed by the cashews (cooled), then the cherries, apricots, and raisins.
Let the bark cool at room temperature before cutting it into smaller bits.
What other hostess gifts does the Barefoot Contessa recommend?
If the chocolate bark idea is not your style, then Garten has a slew of homemade items she believes make great hostess gifts.
Instead of buying a boring bottle of wine, Garten makes either cherry pistachio biscotti or some jam thumbprint cookies, both of which she wraps in cute bags and ties with a bow.
While the hostess may appreciate a bottle of wine, bringing something you baked in the kitchen – especially when recommended by the Barefoot Contessa – is taking things up a notch.
And for the holidays, these homemade gifts are the perfect addition to the main course. You can also make them in large batches if you have a few parties to attend, which will save you time and money in the long run.
Garten to release a new cookbook
Although Garten loves to share her favorite recipes online, she has also published 11 different cookbooks over the years. Some fan favorites include Barefoot in Paris, Barefoot Contessa Family Style, and Cook Like a Pro.
As if 11 cookbooks were not enough, Garten is slated to come out with her 12th recipe book in 2020. The Food Network star has been teasing fans with different recipes she has been trying on social media, and we have to admit they all look super tasty.
Back in April, for example, Garten shared a photo of a delicious looking kale and broccoli salad that she finished off with a soft-boiled egg. She confirmed the new cookbook by writing in the caption, "Having fun working on my next cookbook!"
Unfortunately, Garten has not revealed the title of her new book or when it will hit stores. Given how Garten has been working through recipes all year long, the cookbook should be released at some time in 2020.
Fans can watch Ina Garten on the Barefoot Contessa OnDemand on the new Food Network app.