This Is How Kate Middleton Eats And Exercises To Retain Her Size Six Figure
Kate Middleton's trim figure has become a fascination among royal watchers over the years. The Duchess of Cambridge has managed to stay in top shape, despite having three children and enduring the everyday stresses of life in the royal family. So how does Middleton's diet and exercise regime help her maintain a size six figure?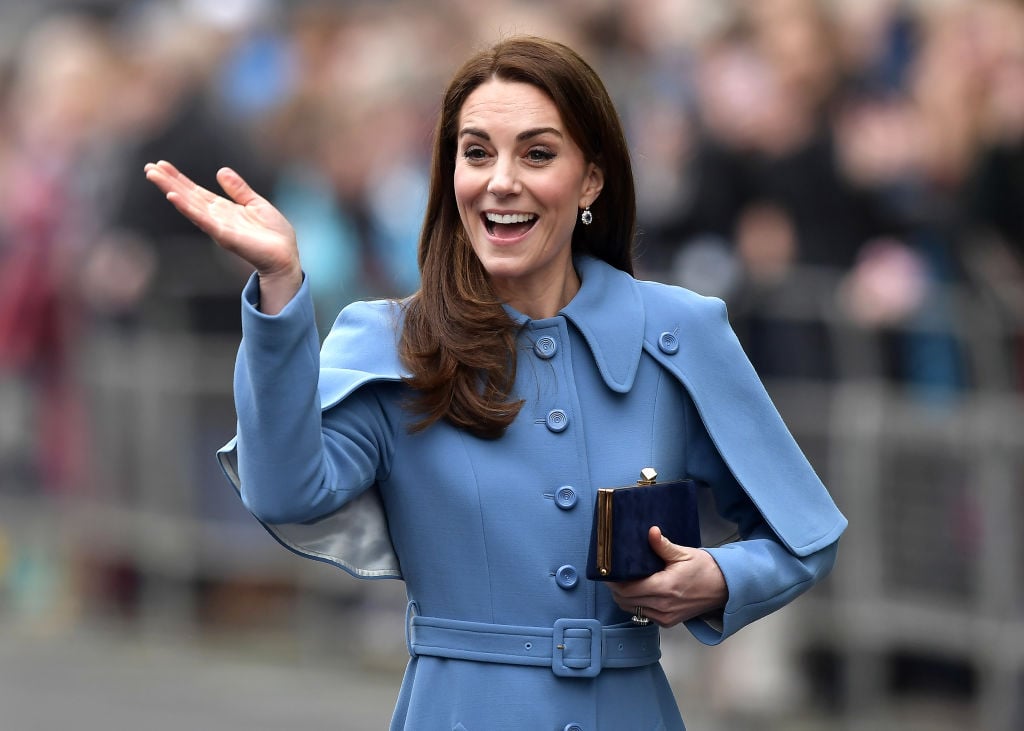 Inside Kate Middleton's diet
Middleton's diet is not a tightly kept secret. The Duchess, who tied the knot with Prince William in 2011, is a big fan of cooking at home and keeps her dinner outings to a minimum. For breakfast, Middleton is fond of fruit and porridge. She does not drink milk at the start of her day, even if it is of the healthy variety. Kate Middleton keeps things light for lunch, often going for soups and salads over heavier options. This includes ceviche, gazpacho, tabbouleh, and watermelon salads.
The Duchess of Cambridge does her best to stay away from meals that are high in saturated fat, sodium, and sugar, which is why she tends to cook at home. She is also a big fan of wine, though only when she is not pregnant or watching the kiddos.
According to Express, Kate Middleton's dinners are mostly made from scratch and are sometimes cooked by her children. Matthew Kleiner-Mann, an executive for the Ivy Learning Trust, recently met Middleton and was informed that her older children love cooking meals at home.
"She was telling us how much her children love cooking and how they cook for her," Kleiner-Mann shared. "They made cheesy pasta the other day. One stirs the flour, one puts the milk and butter in. And they make salads and stuff."
Kate Middleton's secrets to lose weight fast
Based on her diet, it is no wonder that Middleton is able to keep her figure to a size six. But even Middleton feels the need to shed some extra pounds every once in a while. In the months leading up to her wedding, for example, Middleton is believed to have tried out the Dukan diet. This French diet is low in carbs and helped Middleton get in top shape for her big day. It also encouraged Middleton to eat a lot of vegetables, a habit she continues in her everyday diet.
Kate Middleton, of course, is no stranger to being scrutinized for her looks, which is why she stays on top of her diet. She has also lost her pregnancy weight incredibly fast after each of her deliveries. This topic came up after Meghan Markle's recent appearance at The Lion King premiere in London. Some royal watchers pointed out that Markle still has not lost all of her pregnancy weight, even though she gave birth to Archie in May.
Fortunately, others came to Markle's defense on social media and praised her for not being afraid to show off her post-baby body.
Kate Middleton loves exercise
Apart from her diet, Middleton keeps in top shape by following an intense workout regime. Inside sources claim that Middleton enjoys exercising on the regular and that everyone in her family is serious about their level of fitness. This is why her sister, Pippa Middleton, and mother, Carole Middleton, are both in excellent shape as well. Middleton clearly follows the same methodology when it comes to her workouts, which is why she has been able to stay trim all of these years.
When it comes to working out her core, Middleton loves the plank exercise. This helps the Duchess tighten her abs, and she usually switches it up by doing side planks and prone skydives. Middleton reportedly holds each position for 45 seconds and does several sets on each side.
Kate Middleton also stays plenty busy raising her three children, a task that often keeps her on her feet for hours. Between her strict diet to her daily exercise schedule, it is no wonder how Middleton is able to keep the weight off, even after three pregnancies.
Middleton gave birth to her first child, Prince George, in 2013. She delivered Princess Charlotte in 2015 and Prince Louis in 2018. In all three instances, Middleton was able to shed her extra baby weight in record time. Despite all of the coverage of Kate Middleton's diet and exercise, she has not commented on the recent reports surrounding her trim figure.