This Is How Kim Kardashian Stays in Shape
Kim Kardashian's figure is famous all over the world. Millions of people want a body that looks like hers, so how does she do it? We have a few ideas. Here's what we know about Kardashian's nutrition and workout routine. Plus, how her celebrity trainer keeps up.
Did Kim Kardashian remove a rib to appear thinner?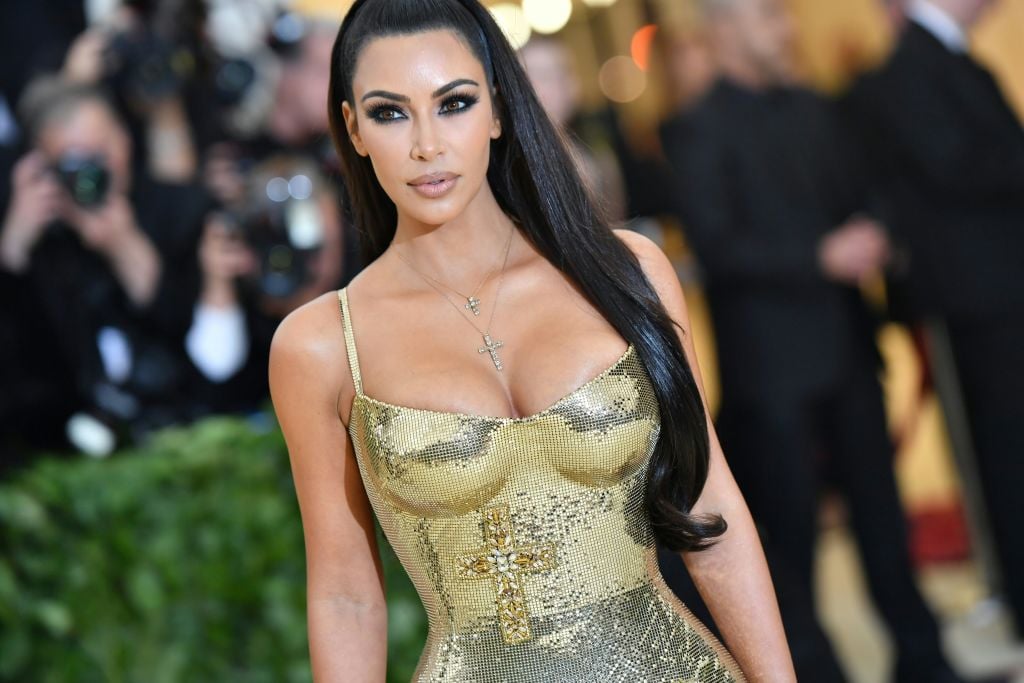 Kardashian looked fantastic in a crystal-dripped dress at this year's Met Gala. The look fit her so tightly around the waist that it even prompted rumors that she'd had a rib removed to fit into the dress. However, she didn't take her quest her thinness that far. Instead, she wore a corset that was tied so tight that she wasn't even able to sit down.
"I have never felt pain like that in my life," Kardashian told the Wall Street Journal about her experience wearing the corset. "I'll have to show you pictures of the aftermath when I took it off — the indentations on my back and my stomach."
When asked about the rumors that she'd had a rib removed, Kardashian denied that she had. "I don't even know if that's possible," she said.
How Kim Kardashian stays in shape
She hasn't had ribs removed, but Kardashian does take her figure seriously. Recently, she switched to an all plant-based diet to improve her health and weight. The sexy star sometimes shares her vegan meals with her followers on Instagram. From those pictures, we can tell she's eaten zucchini noodles with mushroom marinara sauce, smoothies, and vegan sausages, among other tasty plant meals.
Before the Met Gala, Kardashian was especially diligent with her fitness. She even fit in a last-minute workout before the event, which she shared on Instagram. Her trainer had her lifting weights and using the stairmaster.
Her usual workouts with her trainer last about an hour and a half, and she hits the gym six days a week. According to an Instagram post by Kardashian, she takes a break from lifting for about two weeks, every six months, to avoid wearing herself out. The post also featured a photo of her and her trainer in the gym.
How Kim Kardashian's trainer helps her stay in shape
In addition to diet, Kardashian also works out with a trainer to maintain her shape. CNBC did a recent piece on Kardashian's trainer, Melissa Alcantara, who explained how she went from unfit waitress to a fitness professional. Alcantara detailed her daily routine, and while this may not be exactly what Kardashian does herself, we might be able to get an idea of the advice she gives Kardashian.
Alcantara starts her day at 4 am with coffee, but she doesn't eat until sometime in the mid-day. She likes to practice intermittent fasting, which means she'll occasionally go up to eight hours without eating. In the morning, she spends two hours working with Kardashian, before she heads to the gym to start her own workout. Alcantara spends about an hour lifting weights, but she skips the cardio machines. Instead, she says she walks around 10,000 steps throughout her day, and she considers that her cardio.
Kardashian's trainer also makes sure to drink plenty of water- about a gallon a day. "It sounds like a lot," she said, "and you'll likely spend more time in the bathroom than anywhere else, but you eventually get used to it,"
The rest of her day is usually spent on her various projects. Alcantara has a website, FitGurlMel.com, where she offers nutrition and fitness advice. She's also writing a book about her fitness journey. The evening is spent with her family, including her 8-year-old daughter. But she always makes time for grocery shopping, so that the fridge is always stocked with healthy foods.
You'd have to take good care of your body to hang out with Kardashian six days a week and not feel inferior. But looking at this routine, Alcantara fits right in and keeps Kardashian motivated.