This is How Much Jennifer Lopez and Shakira's Music Sales Have Really Spiked Since Their Super Bowl Halftime Show
In the days following Jennifer Lopez and Shakira's Super Bowl halftime performance, the ladies really have a lot to smile about.
Entertainers are not paid to headline the halftime show. The NFL does cover the costs of producing the show as well as a few other expenses for the artists but it does not give them an actual check after it's all said and done. However, those who take the stage during the big game enjoy other perks, and Shakira and JLo are finding that out now. Read on to find out how much their music sales have spiked and which song has had the most downloads since.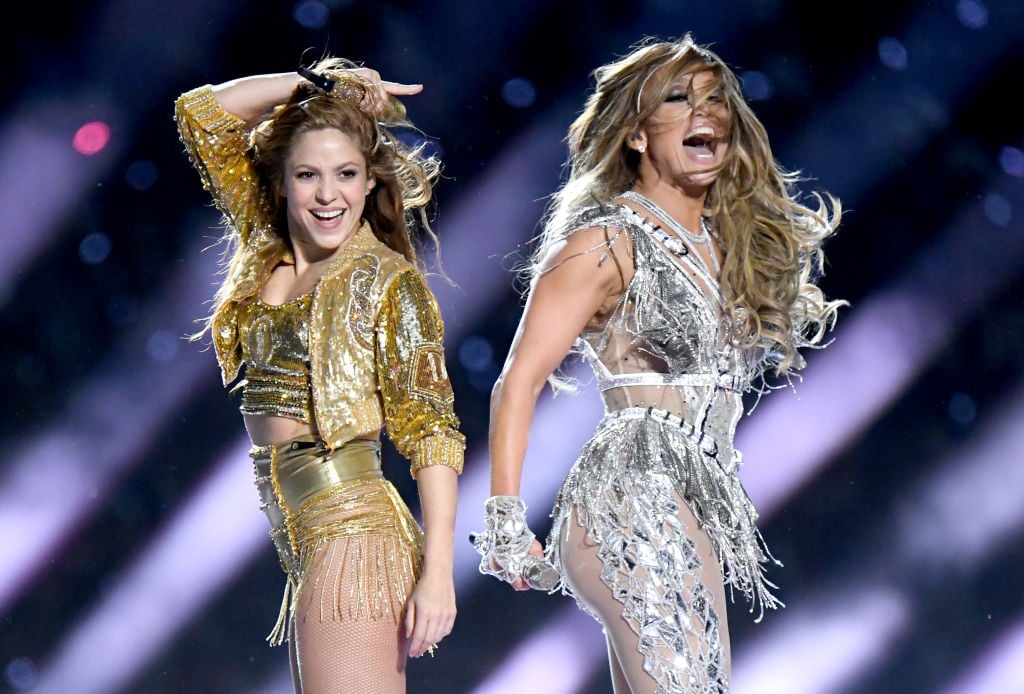 Super Bowl halftime performers don't get paid, but it doesn't matter
Lopez rakes in $2.2 million per performance on tour and Shakira makes $1.6 million, but getting the nod to perform during the Super Bowl halftime show for any artist even though they're not getting paid is a huge deal. The reason is because of the amount of exposure that person ends up getting.
On average, 100 million people tune in for the NFL's biggest game every year. Super Bowl LIV pulled in even more viewers as 102 million watched the Kansas City Chiefs and the San Francisco 49ers face off. Those numbers made it the 10th most-watched Super Bowl of all time. And even those who aren't necessarily interested in the sport check out the halftime show.
After Lady Gaga's halftime show in 2017, she saw a spike in her album sales by 1,980%. The following year, Justin Timberlake's Spotify streams increased by 214%. And in 2019, Maroon 5's halftime performance boosted the group's sales by 434%.
Now that JLo and Shakira's high-energy performances are in the books, they are seeing just how much it's paying off for them.
Sales for the songs they performed jumped, by a lot
So just how much have sales jumped for the Latina beauties?
According to initial sales reports via Nielsen Music, the songs performed during the show garnered a sales increase of 1,013% in the U.S. Collectively, those tunes sung by the women sold 16,000 digital downloads on Sunday, up from 1,000 sold the day before.
Billboard noted that the Puerto Rican and Colombian stars also saw an increase with the sales for the rest of the songs in their catalogs as well. Download sales in the U.S. reached 21,000 downloads on Feb. 2, up from 2,000 on Feb. 1.   
Which song generated the most sales so far?
So which song by which entertainer is leading the sales and being downloaded the most?
Out of all the hits the ladies performed in a 14-minute span, Shakira's "Whenever, Wherever" is the biggest seller at 4,000. Her "Hips Don't Lie" came in second with 3,000, and "Waka Waka (This Time for Africa)" was third with 2,000.
Lopez's top sellers were "On the Floor" with 2,000, "Let's Get Loud" with 1,000, and "Waiting for Tonight" also with 1,000.
The 2020 Super Bowl halftime show also featured special guests Bad Bunny, J Balvin, and Lopez's 11-year-old daughter Emme.
Read more: How Old is Shakira and Who is Her Boyfriend, Gerard Piqué?