This is Just a Reminder That Jane Fonda is 82-Years-Old
You probably can't tell just from looking at her, but Jane Fonda has actually been a prominent face in Hollywood for over half a century. During her career, Fonda has been featured in several films and TV shows. She has also been very vocal about her political views and has donated a lot of her time to standing up for her rights and the rights of others. 
Even though the iconic actress has been in the industry for many years, it doesn't look like she is going to slow down anytime soon. In fact, she is still a very vocal activist and she also is the star of one of the most popular Netflix original series, Grace and Frankie. With all of the work that she continues to do, most people forget that she is actually 82 years old.
Jane Fonda's career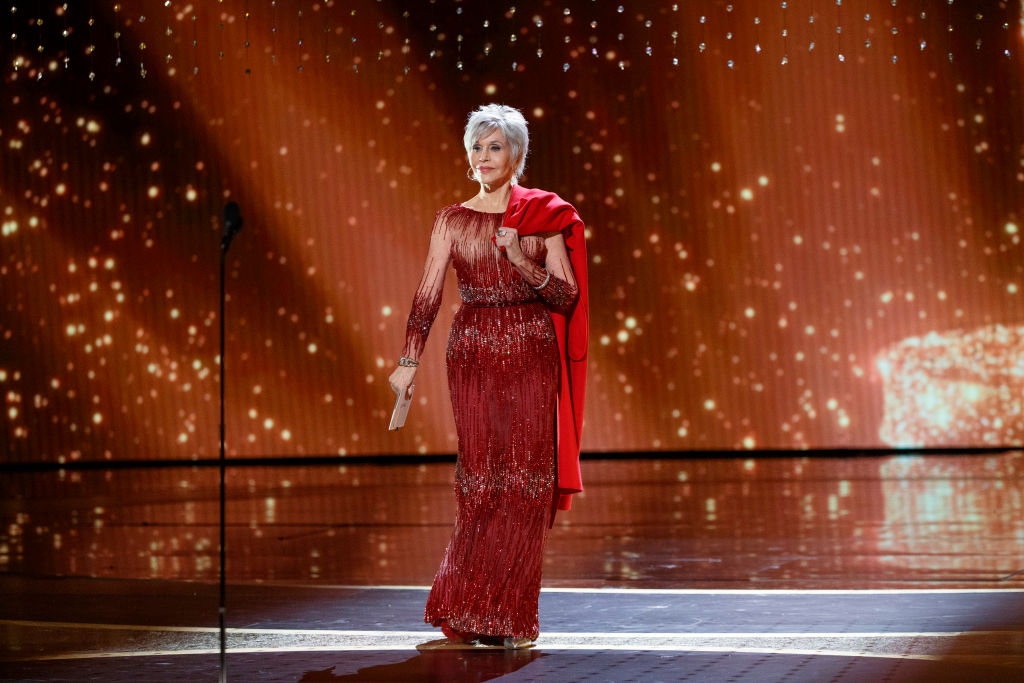 Fonda began her acting career back in 1958. Back then, she starred in local plays and had a few small roles in several films. However, it was the early '80s when Fonda's career really took off. She starred in the hit comedy, Nine to Five, staring alongside her friends, Lily Tomlin and Dolly Parton. She then landed roles in other prominent movies including Morning After, On Golden Pond, and Agnes of God. In 1982, Fonda came out with a workout video that became extremely popular and is still talked about to this day.
Fonda has never been one to back down from her beliefs, even if they were not all that popular. During the Vietnam War, Fonda became a political activist. She was very vocal about her disdain for the war. She had visited Vietnam during the war and she even had her picture taken while sitting on top of a Vietnamese gun that was used to shoot down American soldiers. Because of her acts, she was blacklisted from Hollywood for several years and many fans had called her a traitor. But she didn't let that stop her from voicing her opinion and she later went on to protest other political matters like global warming and women's rights.
Jane Fonda defies the law of time
To this day, Fonda is still a vocal activist and also continues to have a successful career. She recently signed on for the seventh season of her hit Netflix show, Grace and Frankie and since October of last year, she and many other climate change activists have organized a protest which takes place every Friday morning that she calls Fire Drill Friday.
This may come as a surprise, but Fonda recently celebrated her 82nd birthday. Despite having a youthful appearance, Fonda admitted that she has had to deal with several health concerns in the past. She has battled multiple cases of skin cancer and has also had replacement surgery on several occasions. "I have a fake hip, a fake knee, and I've had a number of back surgeries." Fonda said. "So I am sort of half-metal and half-bionic now. I have osteoarthritis and getting in and out of a car is a challenge. But I feel lucky that I did a lot of fitness work earlier in life because it means I am stronger now."
Fonda does not let her ailments slow her down and tries to stay as active as possible. She exercises regularly with walking, doing yoga, and lifting weights. Fonda also eats healthy and says that her diet is not based on weight loss goals, but instead, on longevity and overall health.
A friendly reminder that Jane Fonda is 'too old' for this stuff
Recently, Fonda and her Grace and Frankie co-star, Lilly Tomlin, did a funny segment for Netflix entitled I'm Too Old For That Sh**. During the hilarious video, both ladies were shown several different modern trends and asked if they were too old to participate.
When the subject of Tik Tok came up, Fonda had said: "I did Tik Tok the other day, I felt so hip."
Tomlin, completely confused by it, asked if it was a dance. Fonda seemed proud of herself for knowing the answer and said: "It's an app."
Fonda may be too old for some things, but one thing is for sure, she is definitely not too old to entertain the millions of fans she has around the world.