'This Is Us': 3 Solid Reasons Why We Know That Madison is Not Kevin's Future Fiance
This week's episode of This Is Us featured Kevin (Justin Hartley), and fans were here for it. When the series first aired, viewers thought he was spoiled and arrogant. However, as time wears on, fans come to love him more and more.
The actor is ready to settle down, get married, and have a baby. The great debate is who his future mystery fiance is. Let's take a look at how we know the woman in his future is not Kate's (Chrissy Metz) friend, Madison (Caitlin Thompson).
[Warning: This Is Us Season 4 spoilers ahead]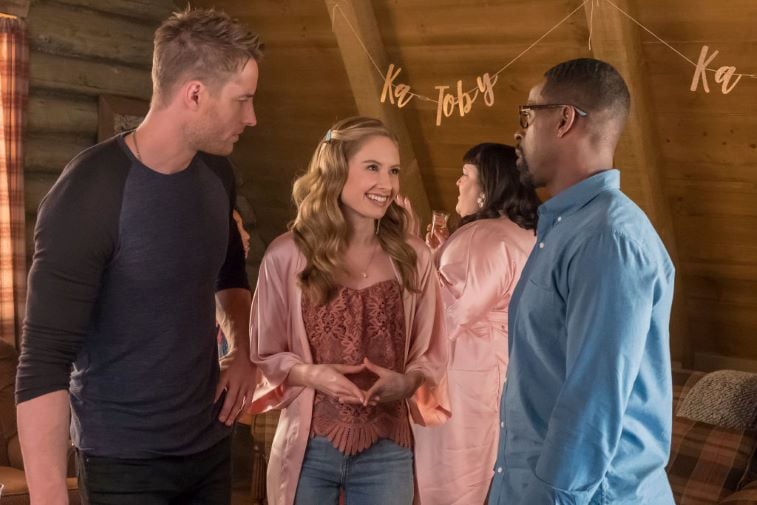 Madison is nothing but a rebound for Kevin, according to Justin Hartley
Kevin spent most of this week's episode with his ex-wife, Sophie (Alexandra Breckenridge), but in the end, she goes back to her fiance. The poor guy was trying to give it one more go with his high-school sweetheart, who he still has very strong feelings for.
However, it didn't work out the way he planned. He's emotional and needs comforting.
"I guess it's kind of a rebound," Hartley tells TV Guide. He had a pretty rough day. He had a rough week, rough weekend. He's had a rough couple of months, rough year. Then he goes over there to spend time with the baby, and you know, Madison is there."
It sounds like Hartley is indicating that it was a matter of being in the right place at the right time. Or is it the wrong place at the wrong time? Either way, we like how he claims she is a "rebound." That makes it sound a lot like there is no future with Madison.
Kevin immediately regrets sleeping with Madison
Fans point out that Kevin's initial reaction to sleeping with Madison is not the best.
"He's not going to end up with Madison," one Redditor wrote. "Look at his face when he wakes up next to her and when he keeps looking at her while he's on the phone with Randall. He's acting like he regrets it."
Other fans agree that Kevin does not seem happy about his decision to jump in bed with his sister's best friend.
"It's not Madison, Kev didn't even want to be there after he slept with her," another fan agreed.
There is not enough backstory on Madison to warrant her as a serious love choice for Kevin
Many fans like to point out that we know so much about Sophie and Kevin's past, but nothing about Madison. There are no flashbacks about how she got to this point in her life, but there are endless flashbacks about Sophie. It doesn't seem like Kate's best friend is an important enough character to take on the role of Kevin's fiance.
"If it were going to be Madison, I feel like the writers could have provided her with a little more depth/give us a bit of an emotional connection with her," one fan wrote on Reddit. "She seems so 'one note,' and this is just a letdown. I just can't be here for this."
Other fans add that the reason he sleeps with Madison is to help him realize that his heart is with Sophie. He is quick to hop on a plane back to Pennsylvania to be closer to where she is.
"The reason he probably really wants to fly back to PA again is because he realized after sleeping with Madison that Sophie really is the right choice," another fan added. "When he goes back, he'll see her, and Sophie is going to propose to HIM with the ring."
To recap, Hartley claims Madison is a rebound, Kevin's face tells it all, and we have zero background on the girl. She can't be his endgame. Although nothing is guaranteed with This Is Us, most fans are hoping that Madison is not Kevin's future fiance. Find out more when the series returns to NBC on Feb. 11, 2020, at 9 p.m. ET.
Read more: 'This Is Us': This Subtle Sign Has Fans Convinced They Know Where Kevin's Future Home Is—and Consequently Who His Fiance Might Be