'This Is Us': Alexandra Breckenridge Says She Filmed a Scene as Sophie Wearing Old Makeup
This Is Us will launch its sixth and final season in January 2022. The series chronicles the lives of the Pearson family, namely siblings, Kevin (Justin Hartley), Randall (Sterling K. Brown), and Kate (Chrissy Metz). While Randall and Kate have found their true loves in one way or another, Kevin has repeatedly been unlucky in love.
Thankfully, This Is Us creator, Dan Fogelman has hinted that Kevin's luck is about to change in Season 6. In fact, Alexandra Breckenridge who portrays Kevin's ex-wife Sophie in the series has revealed that she even filmed a scene wearing old makeup that aged her character.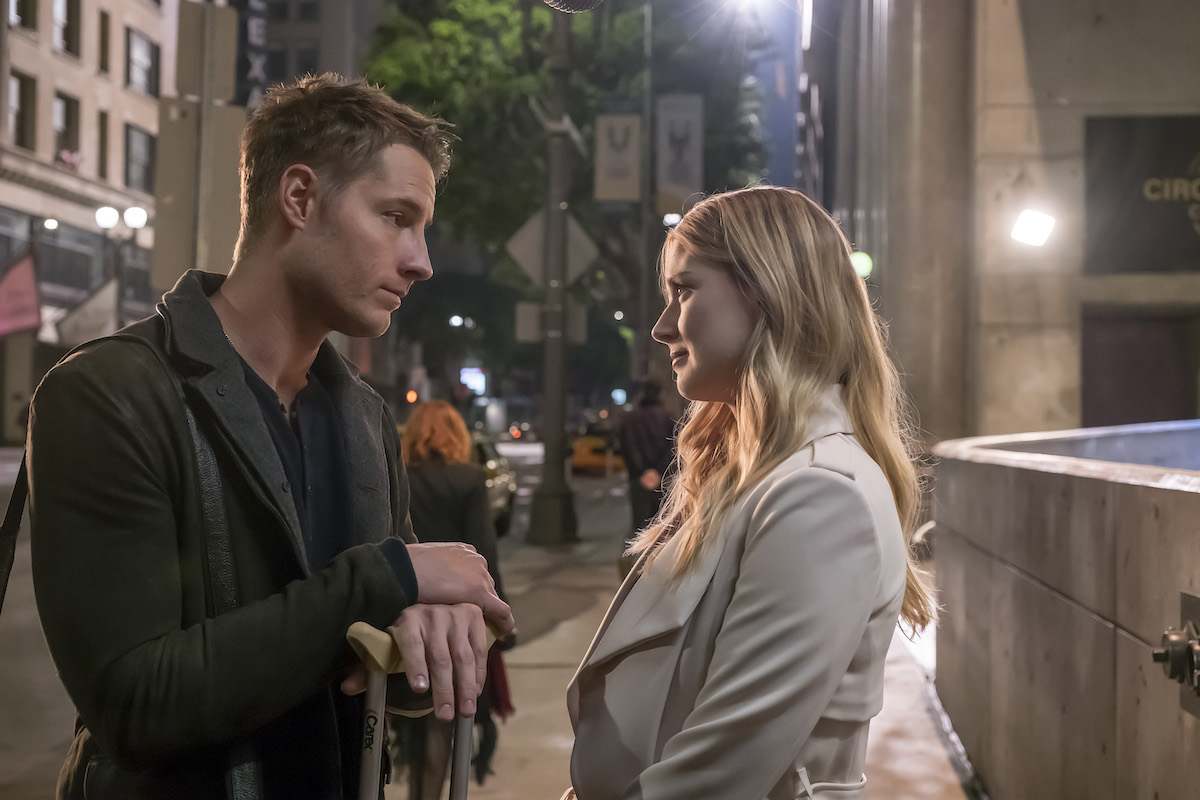 RELATED: 'This Is Us' Season 6: Will Rebecca and Nicky End Up Together? The Creator Reacted to the Popular Fan Theory
Kevin will find true love in 'This Is Us' Season 6
Kevin's romantic life has certainly had its ups and downs. Though he was madly in love with his ex-wife Sophie, he ruined it with his infidelity and insecurities. He had an intense relationship with Zoe (Melanie Liburd), a photographer, but she did not want children and he did. The actor thought he finally found happiness with the mother of his twins, Madison (Caitlin Thompson), before realizing he wasn't actually in love with her.
In the This Is Us flashforward episodes, we know that Kevin has finally found the one and that is all going to be revealed in season 6.
"I think Kevin's journey is one of, he's a little slower than a lot of us, and he's certainly fallen more than he's stood when it comes to romantic relationships—and not from a lack of attributes," This Is Us creator Dan Fogelman told Deadline. "He's certainly the most charming, handsome guy in the world; it's not hard for him to land a woman. But I think, hopefully, when we get to the end of his romantic journey, it will be satisfying. It won't necessarily be one that everybody was rooting for, or it might be one that some were rooting for. It might catch people by surprise, but hopefully, it'll at least feel true to his character."
RELATED: 'This Is Us' Season 6: What's Next for Kevin and Madison?
Alexandra Breckenridge says she filmed a scene as Sophie wearing old makeup on 'This Is Us'
Many fans are hoping that Kevin and Sophie will find one another once again. Breckenridge even revealed that she filmed a scene wearing old makeup that aged her character. However, she believes the scene was ultimately cut.
"I did do a scene where they did old makeup, but I don't think it made it to the show," the Virgin River actor told Us Weekly. "Every time they've asked me to come back in the past, I'm like, I hope that I'm in the house at the end of the show and you see me in, like, old makeup and everybody's like, 'What? Oh, my gosh!' And like, you're not sure if she's just there because their mom is in hospice or if they're together. I really hope that happens."
RELATED: 'This Is Us': Chrissy Metz Says the Cast Is 'Distraught' About the End of the Series
'This Is Us' interfere with Alexandra Breckenridge's 'Virgin River' schedule
As much as fans would love Kevin and Sophie to end up together, it's not very likely. The pair have had a toxic relationship since their early 20s and they never seemed to get on the same page. Also, Breckenridge stars in Netflix's mega-popular Virgin River which directly interferes with the This Is Us filming schedule.
"The reality is that I shoot Virgin River in Canada at the exact same time that they shoot This Is Us in LA," Breckenridge told Us Weekly. "I think they've been really hoping that it would work out maybe in the future. So we'll see. Maybe I'll be able to come back either in a love interest capacity or in an old friend capacity."
We will see when This Is Us returns for its final season in January 2022.