'This Is Us': Can the Characters Afford Their Lifestyles?
If you've watched This Is Us long enough, you've likely spent a little time calculating how some of the characters make a living. Everyone knows about Jack Pearson's dream-that-never-was (running Big Three Homes), but did his desk job pay the bills? Does anyone know what Toby does or how he and Kate manage to live in their nice Californian home? Let's break it down.
Jack Pearson made a lot of sacrifices for his family on 'This Is Us'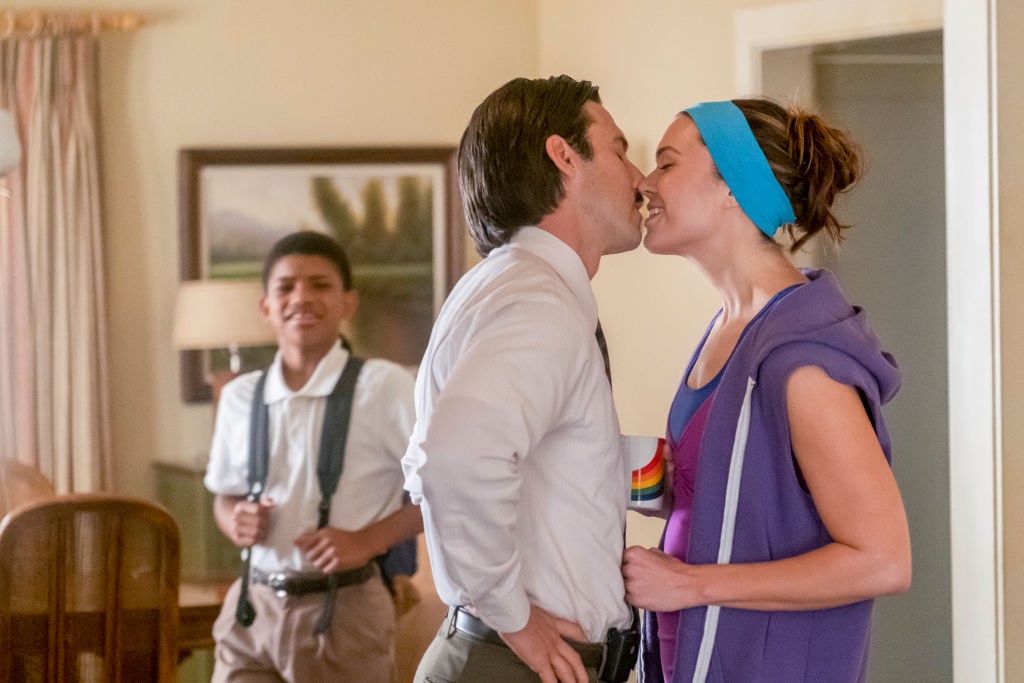 Before Jack met Rebecca, he served in the army. The Vietnam War changed him in many ways, but he never let his dream of starting "Big Three Homes" go to the wayside. He planned to start the business with Rebecca's go-ahead once the kids went off to college. Though, he died before he could bring that dream to fruition.
Once he met and fell in love with Rebecca, Jack took a desk job as a contractor to provide. Their home was bought and paid early on in their relationship, and Jack — ever the handyman — fixed everything that had broken.
These days, an entry-level general contractor with no experience makes around $44,000 annually. Jack's position exists about 20 years in the past which would cut this figure significantly.
Zip Recruiter broke down the numbers and found that the average GC makes around $19 per hour, but the pay varies depending on experience.
Rebecca Pearson gave up her dreams to raise a family
Rebecca was an aspiring singer, but she let that dream die to focus on raising her and Jack's children. Though she tried to resuscitate the dream when the kids were teens, it caused too many problems in her marriage and she quit once and for all.
Rebecca remained a stay-at-home mom for many years and the family lived frugally to survive on Jack's paychecks alone. It's not yet clear how she managed to pay the bills after Jack's death but it could be from a hefty life insurance policy.
Still, it doesn't seem likely that Rebecca and the kids would live off that money for long — especially with kids in college and, as adults, they're all quick to hop on planes or go to retreats.
Randall Pearson traded one high-stress job for another
Randall is the most successful Pearson in his own right and always has been. Before he became the City Councilman in Philadelphia, he traded commodities futures based on weather predictions. According to Glassdoor, this type of position yields a salary of $180,000 to $197,000 per year.
Randall quit that job after a breakdown. He then bought the building his biological father, William, lived in to fix up and rent out (which would produce some form of additional income).
Ballotpedia noted city council members in Philly "drew a salary ranging from $117,991 to $148,090," in 2011, with the president taking in a salary of $148,090.
Even with three girls to support, Randall isn't doing too bad, assuming his luxury house isn't going to drain his new salary too much (especially since Beth has a whole new thing going on).
Kevin Pearson's still looking for the perfect role
Kevin may be the only one who, realistically speaking, can afford to jet off to wherever, whenever. As a successful actor with his breakout smash in The Manny, Kevin's journey ebbed and flowed.
When he quit The Manny to try his hand in New York plays, he landed the leading role in Back of an Egg which garnered the attention of the legendary director, Ron Howard (yes — that Ron Howard!).
Seeing as an actor's salary is based on the project, it's hard to pinpoint exactly how much this Pearson is worth. It's likely in the million-dollar range. He can definitely afford that RV life living next to Uncle Nicky.
Kate Pearson has one fan in baby Jack
Since Kate gave up singing (like Rebecca) and isn't Kevin's personal assistant anymore, it appears as though she's focused on the mom thing. Taking care of visually-impaired baby Jack and all his medical expenses from being in the NICU add up.
Her years as Kevin's go-to gal could've raked in upwards of $100,000 per year if he paid the national average as an up-and-comer on the fast track to fame.
Either Kate had enough in savings to pay for their lush lifestyles or Toby's salary is enough to support all of this (though, he never seems to be at work on the show). Do we even have to bring up all the work hours missed when he had a heart attack?
Beth Pearson just opened her own dance studio
Beth began the show as a hard-working stay-at-home mom, but when Randall quit trading commodities, she got back into the workforce with a nonprofit — until she's fired in season 3.
Beth struggled to find work for a while, and at the exact same time, Randall didn't have a job. Though the two spoke about finances here and there and the stress of affording everything, they seemed to make it work.
Now that Beth opened her own dance studio, she'll have some money coming in, but we're not sure how much it'll contribute to the marital bills. Indeed said the average salary for a dance studio owner is around $67,000 per year. That's not nothing.
No one's sure how Toby Damon makes his money
We hate to reiterate the fact that Toby never seems to work but can afford lavish trips and flashy clothes, but here we are. Chris Sullivan (who plays Toby) told TV Guide, "He's an IT guy," adding, "There's one line about it, in like, Episode 4. So yeah. He specializes in technology and computers." So, there you have it. 
Depending on which area of IT work Toby does, he could bring home anywhere from $67,000 to $86,000, according to Payscale. While it's a nice amount, it doesn't make sense by the way he and Kate live (if she has no savings she's pulling from).
Miguel Rivas is living the high life
Miguel worked alongside Jack in the construction business for years. He even saved Jack's job once. Assuming he stayed in the same job long after Jack's death, he's likely retired and living off a pension.
He'd have likely moved up through the positions, earning upwards of six figures by the time he retired. That's probably enough to fund his and Rebecca's new house near Kate and Toby.