The 'This Is Us' Cast Teases Randall and Kevin's 'Uncomfortable' Reunion in Season 5 Episode 13
The This Is Us Season 5 cast is gearing up for Randall (Sterling K. Brown) and Kevin's (Justin Hartley) reunion on April 13. The next all-new episode will include the Pearson brothers' next big conversation. But audiences don't know how the chat will end. Then recently, a few cast members teased what's coming on social media, and it's looking pretty dramatic.
'This Is Us' Season 5 Episode 13 promises Randall and Kevin's next conversation
RELATED: 'This Is Us' Season 5: Sterling K. Brown Teases the Next Randall and Kevin Storyline in Episode 13
In This Is Us Season 5 Episode 13, titled "Brotherly Love," Kevin will visit Randall in Philadelphia. The two Pearsons will also have their long-awaited chat following their explosive fight from the season 4 finale.
Of course, many This Is Us fans are hoping Randall and Kevin's next conversation will allow them to work through their issues together. But as Randall suggested in the promo trailer, it's not that simple.
"How does a conversation of this magnitude even start? How does it end?" Randall told Beth (Susan Kelechi Watson) in the preview.
'This Is Us' cast and creator tease Kevin and Randall's next chat in season 5
RELATED: 'This Is Us': Susan Kelechi Watson Opens Up About Working With Sterling K. Brown and It'll Melt Your Heart
For now, This Is Us fans must wait and see how Kevin and Randall's story unfolds in season 5 episode 13. But ahead of the all-new episode on April 13, some cast members and creator Dan Fogelman teased what's next for the Pearsons. That said, it looks like the road to reconciliation will get a little uncomfortable.
"Nothin but a lil 'brotherly love.' An all new #ThisIsUs tonight," Brown wrote on Twitter alongside a peace sign.
Then Hartley tweeted a photo of Randall and Kevin's reunion. "Uncomfortable ~t e n s i o n~ in 3, 2, 1. #ThisIsUs," the actor captioned the pic.
Meanwhile, Fogelman retweeted Hartley's photo of Kevin and Randall. The series creator also hinted what This Is Us fans can expect from the two brothers — and apparently, someone might get punched.
"Tonight packs a punch," Fogelman wrote on Twitter. "But no one gets punched. No one in this picture at least. Kind of. You'll see. You don't want to miss this one. #ThisIsUs."
Mandy Moore (who plays Rebecca) and Watson also teased the upcoming This Is Us episode, and it seems Beth and Rebecca will be sitting this one out.
"Arms crossed and a quizzical look by Bec in honor of tonight's big brotherly chat," Moore wrote on Twitter. "Should be interesting."
"A long awaited talk between brothers? I think Beth will make herself scarce for this one," Watson tweeted.
Will Randall and Kevin move past their fight in 'This Is Us' Season 5?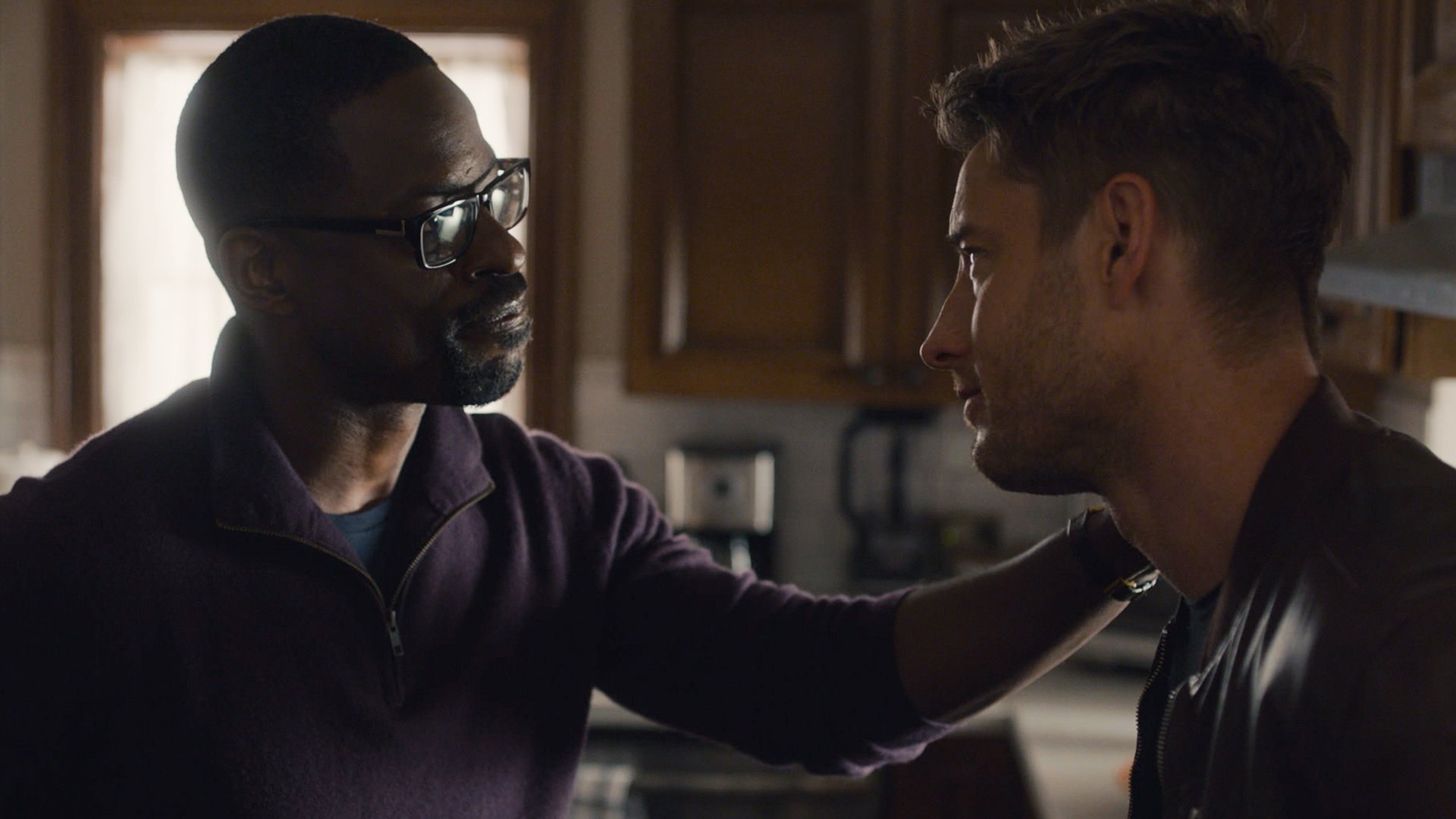 RELATED: 'This Is Us': Will the Sophie-Zoe-Cassidy Scene Ruin Kevin and Madison's Future Together in Season 5?
Fans are in for a ride when Randall and Kevin reunite in This Is Us Season 5 Episode 13. But given the cast and creator's comments, some viewers might be wondering whether the Pearson brothers are ready to have this conversation.
Of course, only time will tell at this point. However, when speaking with Entertainment Weekly in January 2021, Brown suggested Kevin and Randall are ready to move forward.
"There's always space to come back," Brown said when asked about Kevin and Randall. "For any relationship, whether it's a friendship, whether it's romantic, whether it is fraternal, what have you, there's no relationship without forgiveness."
New episodes of This Is Us Season 5 air Tuesday nights on NBC.