'This Is Us': Will Deja and Malik End Up Together? The Season 5 Flash-Forward Revealed a Great Deal About the Future
This Is Us fans fell in love with Deja (Lyric Ross) and Malik (Asante Blackk) when they first got together. Now, viewers are wondering whether the couple will get their happily ever after. The latest flash-forward from season 5 revealed some major details about adult Deja's (La Trice Harper) future. So are Deja and Malik endgame on This Is Us? Here's what a producer says about the relationship moving forward.
'This Is Us' Season 5 reveals adult Deja is pregnant in a flash-forward
In This Is Us Season 5 Episode 9 — titled "The Ride" — the NBC series introduced fans to adult Deja and Annie (Iyana Halley) in a series of flash-forwards. In the future, Deja is a medical intern who is about to start her labor and delivery rotation. 
Meanwhile, Deja reveals she is pregnant. However, it's clear that the character wants to keep her pregnancy a secret from the Pearson family. In the flash-forward, Annie is the only one to acknowledge Deja's pregnancy. But the family drama does not explain why. 
This Is Us Season 5 also fails to mention the father of Deja's baby or whether the soon-to-be mother is single. Of course, many viewers have always hoped that Deja and Malik will stay together or get married in the future. That said, Deja does not appear to be wearing a wedding ring in the flash-forward.
What to expect from Deja and Malik in 'This Is Us' Season 5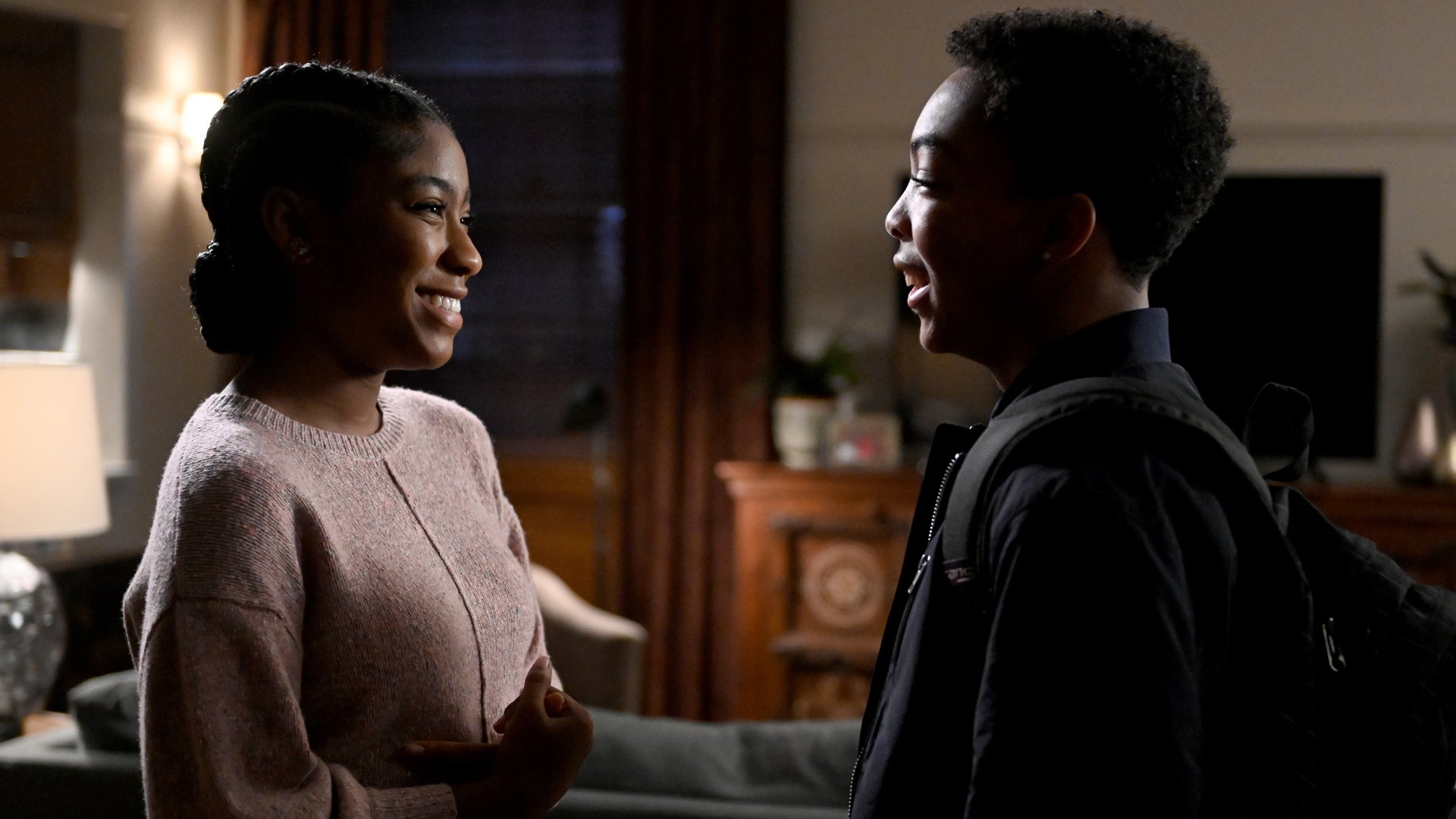 For now, This Is Us fans will just have to wait and see whether Deja and Malik end up together. But it seems viewers will receive some answers soon. In an interview with Glamour from February 2021, co-executive producer Julia Brownell opened up about Deja's future and what's next in regards to her present-day relationship with Malik. 
"This is a show with a lot of storybook love in it. I think she's experiencing that right now with Malik," Brownell said. "But we're also aware that some people end up with their first love and sometimes they don't. It's certainly been something we've explored with Kevin [Justin Hartley]."
Brownell continued, "There will be new developments in Deja and Malik's relationship by the end of the season."
Why Deja's pregnancy was highlighted in the new 'This Is Us' Season 5 flash-forward
While Deja and Malik's endgame status is still up in the air, This Is Us didn't reveal the pregnancy to solely focus on the couple's relationship. In "The Ride," viewers watched Randall (Sterling K. Brown) and Beth (Susan Kelechi Watson) in a series of flashbacks. The scenes highlight Randall's desire to have a third baby after Annie. Then Randall reveals why he wants to start a big family. 
"I had to do a family tree for school. I remember making my branches along with my brother and sister. But I knew it wasn't quite right. They were my family, but they weren't where I came from," Randall tells baby Annie alongside Beth. "That's where you, your sister Tess, and your mom come in. You've provided me with something very special. You are my branches, you are the start of my family tree. I just wanted that tree to be as big as possible."
Meanwhile, Brownell explained why the This Is Us team chose to introduce Deja's pregnancy in the same episode.
"Because so much of Randall's journey this season — and his journey throughout the show — has been about finding out where he comes from, and this idea of his family tree, we thought it could be cool to show his adult daughters, all of them together in that final moment of the episode," Brownell told Entertainment Weekly. "With Deja revealing her pregnancy, he has sort of gotten his wish, even on a very sad day weekend for him."
The producer continued, "Because his episode was supposed to be about starting families, we thought seeing the culmination of Randall's family felt really natural to us. We've wanted to tell the story of who Deja becomes and who Annie becomes, and these felt like nice little ways to give a little Easter eggs for that."
This Is Us Season 5 airs Tuesday nights on NBC.