'This Is Us': Did the Show's Social Media Account Just Give Us a Happy Spoiler about Kate and Toby's Relationship After the Break?
This Is Us fans are still patiently waiting for the return of their favorite series after the long mid-season break. Luckily, the show's Instagram and Twitter accounts keep giving viewers new posts and tweets to discuss in the interim.
Let's take a look at why the recent video of Kate (Chrissy Metz) and Toby (Chris Sullivan) is hyping fans up for their relationship in the back-half of the season.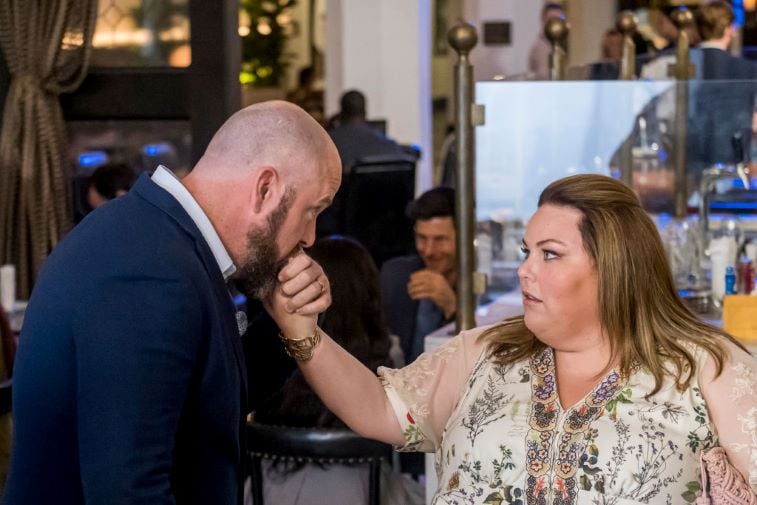 Why are fans concerned that Toby and Kate might get a divorce on 'This Is Us'? 
There were many indications in the first half of season 4 that makes viewers believe Kate and Toby's relationship will soon end in divorce. The first tell-tale sign was in the season 3 finale, where we saw Toby without a wedding band.
Throughout season 4, Toby and Kate have marital problems. Toby gets very upset with Kate when she feeds baby Jack solid food for the first time without Toby there and then lies about it.
We also watched Kate react negatively to Toby's weight loss and desire to become fit. Toby was secretly going to Crossfit without telling her. When she finally finds out, she's not only upset that he pursued their weight loss goals without her, but that he lied about it.
In the mid-season finale, we spy Toby texting his CrossFit friends, presumably about Kate. She picks up his phone and sees the conversation.
"Trying to get past it, but it's hard," wrote Toby to his Crossfit crew. Fans assume that he told his friends about how Kate lied about giving Jack solid food without Toby.
"Don't let her bring you down," LadyKryptonite5 texted back." Here for you."
The text might be about something else entirely. However, with how things are going in Kate and Toby's marriage, he is likely confiding in his Crossfit crew instead of talking to Kate.
The 'This Is Us' social media account gives fans hope for Kate and Toby in the New Aa Year
After what looked like the final straw for Kate and Toby in the mid-season finale, fans will cling to any glimmer of hope they can find for this relationship. 
"Things we look forward to in 2020: More laughs from these two," reads the caption to a video of Kate and Toby. "Happy New Year from your #ThisIsUs family!"
In the video, Kate sends well-wishes to viewers on New Year's Day. Then she reveals Toby in the crib instead of baby Jack, and the two start cracking up with laughter.
"Happy New Year from our house to yours, and from little sweet baby Jack," Kate tells fans as she reveals the hysterical scene of a grown-man inside of a baby's crib. Toby proceeds to make silly sounds that could be a baby crying.
The brief video is enough to make anyone laugh. The caption also speaks loudly to fans. Could it be implying that these two will have a happier 2020 than their rough 2019?
'This Is Us' Fans react with hope to the new Kate and Toby video
"Let's hope they stay together when the show starts again," wrote one Instagram user.
Many fans comment similar wishes to this user who wants Toby and Kate to remain a couple when the season returns.
"Yeah, Toby better have a great explanation for that text message," added another fan. "Kate has been through enough."
Other viewers are still wondering what that text message was all about. They do not want to believe that he was discussing his marital problems with his Cross fit buddies.
Could this one short clip mean good news for the couple? We will have to wait to find out when This Is Us returns from break on Jan. 14, 2020.