'This Is Us' Fans Are Worried This 1 Character Won't Make It to the End of the Show
This Is Us leaps forward and backward and forward again in time so much, fans sometimes feel they need a diagram to keep track of it all, lest they get lost in the shuffle. Now they're concerned a character is going to get lost — and that's not referring to Rebecca.
By now it's painfully obvious that Rebecca is heading towards a very sad end, with some sort of mental condition dogging her in recent episodes. We've also watched scenes of the family somberly gathering around a fading Rebecca's bed. But lately it's not Rebecca fans are wondering about — it's Miguel.
'This Is Us' pulls no punches to the gut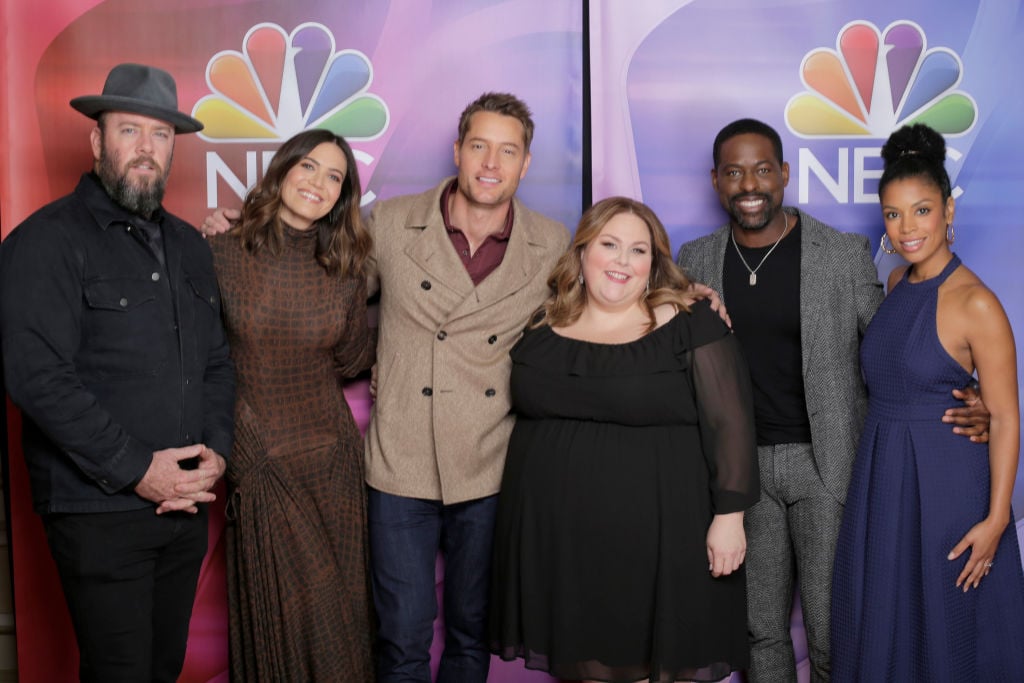 From the outset, This Is Us has been famous for making cast and crew and viewers alike weep. While death is a part of life, it hovers over so much of this show that it has already killed off some of its most prominent characters. On top of that, the show escalates the pain by making their demise slow. 
It had been painful enough to know that Jack (Milo Ventimiglia) had died in a house fire started by a slow cooker. So extreme was the reaction that variations of "This Is Us slow cooker" show up in Google autocomplete results. Then it turned out that Jack did not die in the fire itself, but after suffering the after-effects of smoke inhalation. 
Now we see Rebecca (Mandy Moore) making her slow march to the end. Most recently, the show would only say that she has "mild cognitive impairment," which leads to any number of possibilities. Producer Isaac Aptaker says to EW, "So we're just really, really trying to be accurate. And what is accurate is instances like this is a very slow watch-and-wait, a bit frustrating lack of answers.'
What about Miguel?
As if dealing with Jack's loss hasn't been enough, now fans are worried about Miguel, the man who came into Rebecca's life after Jack's tragic end.
On Reddit, one fan points out, "We have not yet seen Miguel, Deja, or Annie in the future — considering his age, Miguel might have already passed at this point."
Another fan guessed, "I think Miguel is going to leave. He's not going to be able to take the pain of Rebecca forgetting they are married and still thinking she's with Jack/acting in love with Jack while Miguel is just a friend.'
Killing off or writing Miguel out might seem a little too cruel, as if the show were piling on Rebecca. In the most recent episode, however, the focus has eased off of Rebecca and more on Kevin, who has been dealing with romantic entanglements, even bringing John Legend into the fold as he attempted to get closer to Lizzy, (Sophia Bush), although that backfired when it turned out she was married.
Where had 'This Is Us' left off?
Neither Rebecca nor Miguel figured much into episode 12. This is where the show goes on a stretch focusing on the "big three"  kids — and this "Hell of a Week" was Kevin's spotlight, and he seems to be deciding between three women: Madison, Cassidy or Sophie. We had seen Sophie had gotten in touch with Kevin after things hadn't worked out with Lizzy. Kevin may be trying a little too hard to find a great love story like that of his parents. 
EW cleverly asked producers Elizabeth Berger and Isaac Aptaker about Kevin and his romances, saying "Iiiiiiif you were to go the Madison route, would you agree that you just made it even harder for the audience to root for that?
Berger didn't miss a beat, replying, "Look, we made people like Miguel, we can do anything! [Laughs] Obviously the love story between Kevin and Sophie is so expansive and so deep and spans all these decades that were the mother to be anybody else but Sophie, people will have strong feelings about it. But we're just going to have to see where this one unfolds.
The producers ought to be mindful. Maybe they can do anything, but Reddit fans will endlessly debate whether they should do anything.