'This Is Us': Fans Debate Which Brother Went Too Far In Their Argument — Randall or Kevin?
The 'This Is Us' Season 4 finale was brutal. Kevin and Randall had a huge blowout and fans debate who went too far with their harsh words.
The This Is Us Season 4 finale brought all the feels. Randall (Sterling K. Brown) and Kevin (Justin Hartley) finally had that fight we knew was brewing, but it was worse than anyone ever expected. There were so many digs and low blows that fans are not sure the brothers will fully recover from it. Some people say Kevin took it too far, but others say it was Randall.
[Spoiler alert: This Is Us Season 4 Finale spoilers ahead.]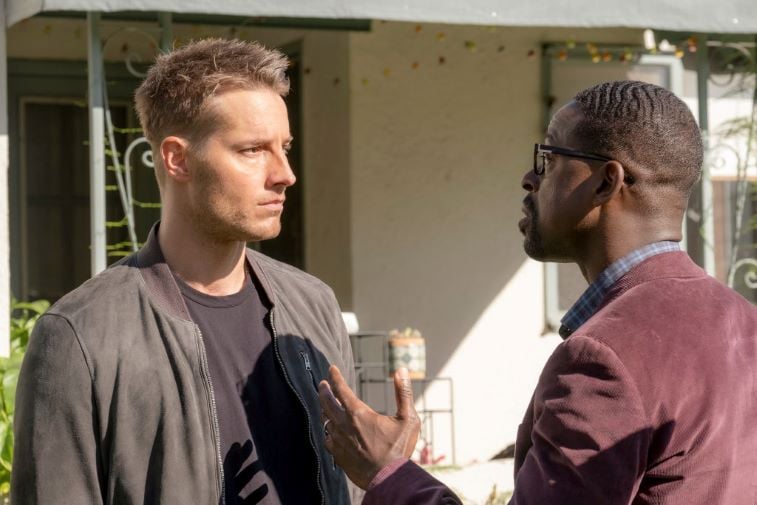 Many fans feel Randall went too far in the 'This Is Us' Season 4 finale
"You'll never know what it's like to devote yourself to anyone other than yourself," Randall told Kevin during the last five minutes of the episode. "And you'll pretend, but it'll just be a performance, a tired, stale performance, like all of your performances."
Randall also tells Kevin that their father, Jack (Milo Ventimiglia), died ashamed of Kevin. There were some severe fighting words after Kevin found out that Randall was the one who convinced their mother to participate in a drug trial. 
"I feel like Randall was wayyyyyyy more heartless than Kevin was — bringing in your dead father's shame — ouuuuch," one fan wrote on Reddit. 
Other fans agree that Randall is convinced he is the better son. It all came out, and many fans feel Randall took things too far.
"He's made it abundantly clear that he has never truly had an iota of real respect for Kevin, even after ALL the times Kevin has been there for him," another fan added.
Fans believe Kevin was only reacting to Randall's comments
"You know, I used to think the worst thing that happened to me was the day that Dad died," Kevin tells Randall. "It's the day they brought you home. Hand to God, Randall, the worst thing that ever happened to me was the day they brought you home."
Kevin reacted to what Randall said and came out with the worst possible thing he could say. The man said he wished he didn't have a brother. He also told Randall that if he had been there, he would have saved their father. 
"It seemed that Kevin regretted what he said pretty much right away," one fan commented. "I think Randall meant what he said, but Kevin was just trying to hurt after being hurt."
Although fans shared that Kevin's words were also very hurtful, many agree that his words were a retaliation. 
"Kevin was mostly reacting, I think," added another fan. "He was only really actually pissed at the selfishness of what Randall had done and the fact that he didn't own up to it, which is entirely understandable. It was still an incredibly low blow that he gave in the end, but only when 100% goaded into it."
Many agree that both brothers went too far in the 'This Is Us' Season 4 finale
"Randall and Kevin both are showing their behinds right now," wrote one fan on Twitter. "Jack wouldn't have approved of any of this."
Both brothers said things they will hopefully regret after. Many fans think they were both harsh, and the two may never return from this fight.
"Those words between Randall and Kevin really felt like a punch in the gut to me," added another viewer. "Wow. Very harsh. There is no coming back from that. Their relationship will never be the same."
"Exactly," wrote another Redditor. "It hurt to hear them say those things to each other. Just awful. And you could tell at the end that they may still not be remotely close based on the awkwardness of that greeting when he walked in."
At the very end of the episode, we watched another flash forward. The two greeted each other at their mother's bedside, but it is not clear whether or not it was heartfelt.
"I agree I think that these two final jabs at each other we're on the same level," wrote yet another fan. "They got at the thing that the other one was most sensitive about."
Now fans have six months to wait for This Is Us to return. The series will be back for season 5 in late September 2020.
Read more: 'This Is Us': The Series Ending Fans Predict Comes So Full Circle It Will Break You