'This Is Us': Fans Are Divided On This Major 'Almost' Revelation
Leave it to This Is Us to split fans in half. The most recent episode focused on Randall's (Sterling K. Brown) lifelong anxiety but the ending foreshadowed clues about Kevin's (Justin Hartley) mystery woman in the previously aired flash-forward.
The next episode is Kevin-centric and will (hopefully) reveal something about who the woman is. Here's where viewers stand.
[This Is Us Season 4 spoilers ahead]
'This Is Us' has given viewers too many options for Kevin on purpose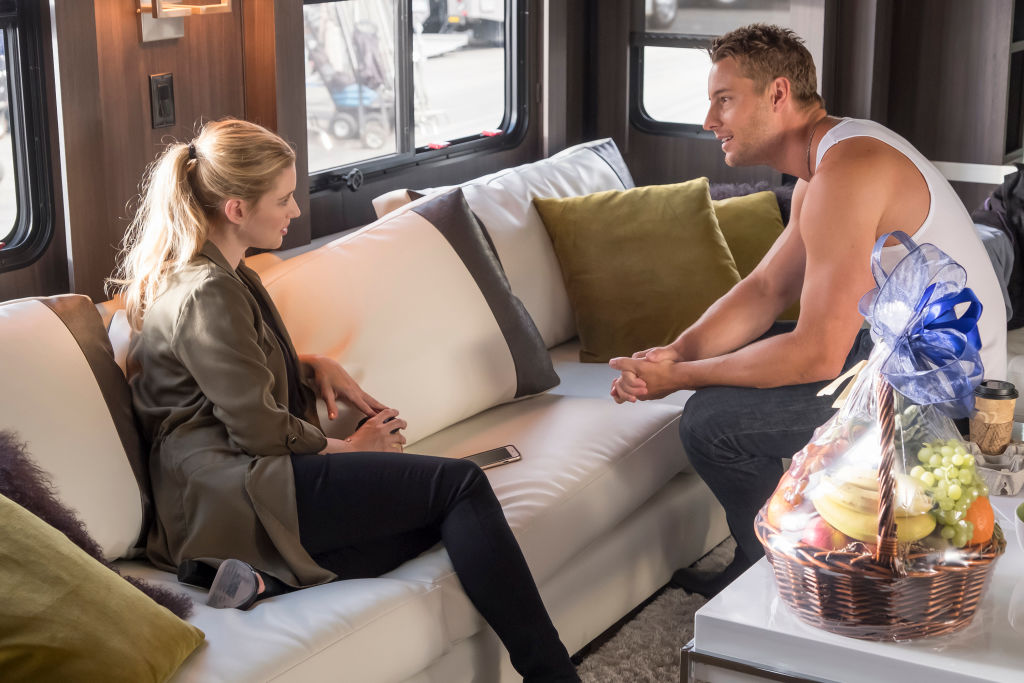 Kevin has no shortage of women in his life and many think This Is Us writers made this choice on purpose. From the very beginning of the series, creator, Dan Fogelman, has had major plot points for the entire story loosely mapped.
One look at Kevin's relationship timeline spans from his first love, Sophie (Alexandra Breckinridge), to war veteran, Cassidy (Jennifer Morrison), or even Kate's best friend, Madison (Caitlin Thompson).
However, Fogelman tossed in another misdirect when he tweeted the reason Madison isn't it.
Melanie Liburd's Zoe entered the picture at an important time in Kevin's life, but things didn't work out. Plus, there are all the flings and one-off romances that may factor in again at some point.
The midseason premiere revealed Kevin's latest interest, Sophia Bush as Lizzie. However, even after a magical John Legend date at The Hollywood Bowl, Lizzie confessed herself to be married. Later that night when Kevin is working, Sophie calls, immediately sending all "Kophie" lovers into a frenzy.
The point is, writers have made the conscious decision to toss in as many red herrings as possible to be sure viewers don't know where Kevin's story will go next. Now that this new woman — who was not entirely shown — appeared at the end of Randall's episode, fans have mixed feelings on who it may, or may not, be.
The woman next to Kevin may not be Sophie after all
In Randall's episode, Kevin reveals he flew to Pittsburgh to attend Sophie's mother's funeral (which was likely why she called). Because Kevin and Sophie have been married before, and tried and failed to get back together multiple times, many believe the woman in Kevin's bed is, in fact, Sophie.
Wouldn't that be a little too easy? If you've paid attention to the way This Is Us moves, it's more likely the mystery woman isn't Sophie for no other reason than it's too obvious.
Last fans saw Kevin and Sophie together, she was engaged and the two left things at a final goodbye. Kevin moved on and supposedly, so did Sophie. Her mother's death may bring them together for a short time, but many think it's merely another red herring meant to distract from the real mystery woman about to enter (or re-enter) Kevin's life.
Fans are either all for 'Kophie' or completely against
When the woman, with hair similar to Sophie's, was shown in the bed next to Kevin, Team "Kophie" chimed in.
"IF IT AIN'T SOPHIE WE #Kophie FANS WILL RIOT," one fan tweeted. "I want Sophie and Kevin to be together!!! If Sophie will end up not being his endgame I will be so disappointed, because why bring her back so many times and show us how perfect they are? another fan said."
By the hundreds of responses beneath a This Is Us post on Twitter about Kevin's mystery woman, many are pro-Kophie and understandably so.
On the flip side, there seems to be just as many who don't want the two to get back together.
"Can y'all just bring Cassidy back and develop a new organic relationship for Kevin…one where they help one another not an unhealthy one that time after time hasn't worked!" another fan said.
Another viewer pointed out the logic: "I think it's neither Sophie nor Cassidy because Kevin in the flashforward talked about a remedy for morning sickness (or something like that) and if it was Sophie, she would know what to take because she is a nurse and Cassidy has already been a mom."
And another agrees that "Kophie" was all wrong. "I hope it's Madison. I think that would be perfect. I'm done with the toxicity that is going back to Sophie."
The debate goes beyond Twitter. On Reddit, the arguments for, and against, "Kophie" continue.
"Some of the greatest love stories are the ones where the people have to let each other go. I think it will be an episode that is sad but also gives viewers peace with Kevin moving forward with his life," one fan noted.
It goes on and on. That said, writers have never taken the easy route with This Is Us storylines. If Sophie ends up as the mystery woman, we suspect fans will still be divided. Answers will come in due time. Until then, team "Kophie" lives.
This Is Us airs Tuesdays at 9 p.m. ET on NBC.