'This Is Us': Fans Noticed 1 Major Clue That May Prove a Popular Fan Theory True
Fans rejoiced when This Is Us returned, picking up where the fall finale left off. The episode had a lot going on but addressed some of the wildest ongoing theories from season 4. There's one storyline, in particular, that may have slyly tossed in an answer — if you were paying attention.
[Spoilers for This Is Us Season 4 ahead]
Theories about Kevin's love life are all over the place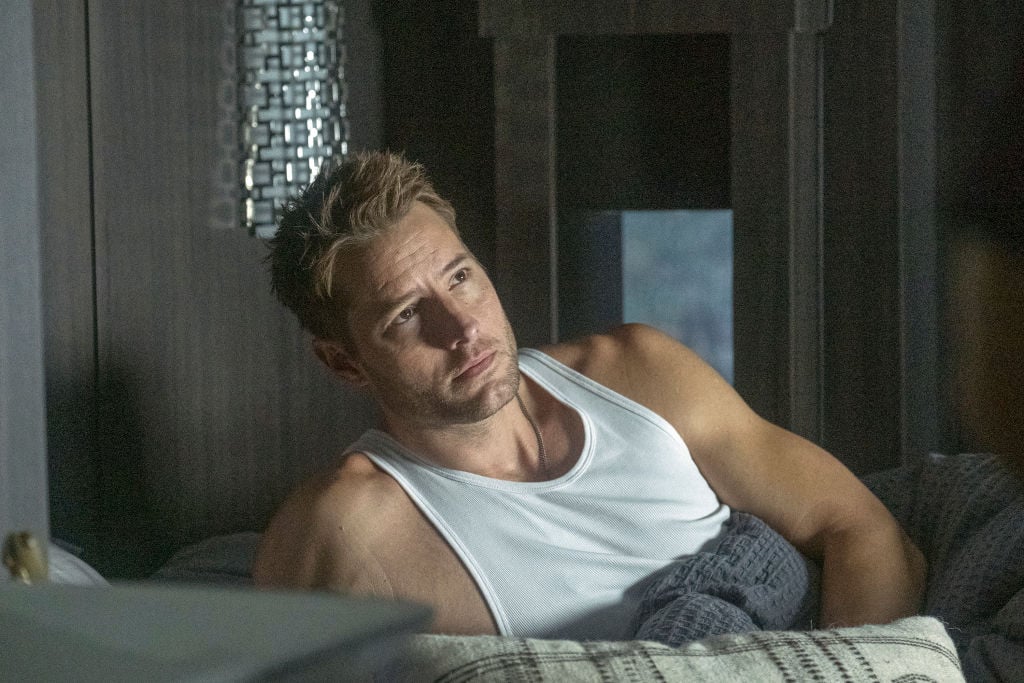 Kevin (Justin Hartley) fancies himself a hopeless romantic like his parents, Jack and Rebecca (Milo Ventimiglia and Mandy Moore). Kevin's had his share of failed relationships, and they've all been covered at great length.
Between his first real love, Sophie (Alexandra Breckinridge), to Zoe (Melanie Liburd), there's been no shortage of women lining up for Kevin's heart.
However, this Pearson child famously messes up anything good in his life. Though fans are rooting for him to do better — and he often means well — Kevin typically finds a way to destroy all that's good in his life.
Some can't help but wonder what might trigger a relapse, if not for another failed relationship to remind Kevin he may never have what his parents had. Poor Kev.
Sophia Bush made a cameo for this reason
[Last chance to avoid spoilers from This Is Us Season 4!]
The moment Sophia Bush was announced as part of season 4 cast, it didn't take long for theories to spiral. Kevin's most recent romantic hookup with war veteran, Cassidy (Jennifer Morrison), fizzled so naturally, viewers assumed Bush would be his next big thing.
In the fall finale, Kevin announced he'd be married with kids by 40. The news was followed by a surprising 9-month flash-forward where his dreams apparently come to fruition.
Morrison seems to have left the show (for now), which leaves the newly introduced Bush as the possible future mother of his children. This is where things took a turn.
Kevin presented Lizzie the first date of all our collective dreams with a performance by John Legend at The Hollywood Bowl. Then, she revealed she's married and left. Just after, when Kevin went to film for work, Sophie called, giving fans yet another reason to revert back to #Kophie theories.
Yes, it's a lot to take in.
Here's why fans think that mysterious call is a famous 'This Is Us' misdirect
Leave it to This Is Us to throw a wrench into the situation. Some believe Sophie's call means she and Kevin will end up together after all. Third time's a charm, right? Others think Lizzie will cheat on her husband or leave him altogether and become the mysterious pregnant woman in that 9-month flash-forward.
If Kevin's fate belongs to Sophie, why bring Bush's Lizzie on at all? If there's one thing This Is Us has perfected, it's the art of misdirection. With Sophie's phone call, some don't know what to believe. However, if you look at the show's track record, Kevin and Sophie would be too predictable, even if it's who Kevin should be with.
Luckily, there's one major clue that may have connected Kevin and Lizzie after all.
Why fans think Kevin will end up with Lizzie
In the coffee shop scene when Kevin and Lizzie meet, she drops her phone. The screen reveals her dog, who she named Adrian Balboa from the movie Rocky. Ventimiglia starred as Rocky Balboa Jr. in subsequent films. Some think her dog's ode to This Is Us alum proves she and Kevin are meant to be.
"Omg she named her dog after Adrian from Rocky, I already love her!" one fan tweeted. "Love This Is Us casually mentioning Rocky as though Jack Pearson is not IN IT," another said. "Kevin you have #Rocky in common" one fan added, noting Kevin's work alongside Sylvester Stallone in an earlier film project (which he curiously didn't mention to Lizzie).
While fans want more of Bush, there's still the question of Sophie's call. In an interview with Entertainment Weekly, Fogelman touched on whether she might be Kevin's future pregnant fiance.
"She definitely seems to have the right genes for the mother of that future child. That's a really exciting throw-forward for us," he said.
"It definitely feels like he would be very primed to let Sophie back into his life. He told his brother, 'I'm ready for a family. I'm ready to find the one. I'm ready for kids'. But if you remember the last time we saw Sophie, she is engaged to another man. So it's not quite so simple."
There you have it. Unfortunately, firm answers on who Kevin ultimately ends up with won't be answered in one episode. However, it's hard to ignore the mention of Lizzie's dog as some kind of kismet meetup.
This Is Us airs Tuesdays at 9 p.m. ET on NBC.