'This Is Us': Kate and Marc Have Fans Freaking Out Until the NBC Drama Returns in Two Weeks
The Big Three trilogy on This Is Us is about to come to a close with Kate's (Chrissy Metz) episode on Tuesday, Feb. 11. After watching the NBC drama delve into Kevin (Justin Hartley) and Randall's (Sterling K. Brown) storylines, fans are ready to see how Kate's will unfold. For now, everyone is worried about Kate and Toby's (Chris Sullivan) crumbling marriage as they care for baby Jack. However, both Kevin and Randall's episodes teased Kate's (Hannah Zeile) relationship with her boyfriend, Marc (Austin Abrams). And things may be far more sinister than This Is Us fans expect.
[Spoiler alert: This Is Us Season 4 Episode 12.]
What happened to Kate and Marc in the 'This Is Us' Season 4 trilogy episodes?
Throughout This Is Us Season 4, Kate and Marc's romance has shown viewers e multitude of red flags. After giving Kate a job at a record store, the two start dating. Marc also shows up unannounced at a Pearson family dinner and introduces himself as Kate's boyfriend.
In the present day, when Rebecca (Mandy Moore) and Kate stumble upon a photo from the family dinner, the Pearson matriarch tells her daughter she "didn't see what was happening" because she wanted to believe everyone was happy.
Fast-forward a few episodes and the Marc situation doesn't seem to get any better. Neither teen Kevin (Logan Shroyer) nor Randall (Niles Fitch) approve of Kate's boyfriend. Then in the Randall-centric trilogy episode, Kate gets into a fight with Marc over the phone.
"Why are you so mad? Did I do something wrong?" Kate pleads.
Later, Kevin calls Randall, who is in his college dorm. Something happened to Kate, but he doesn't give away any details. However, in the Kevin-centric episode, it's clear the situation has something to do with Marc.
"I'm worried about Kate," Rebecca tells Kevin after he finds his mom pacing in the house. "And she rode off with Marc to the cabin. She just called me crying. I think she's in trouble, Kev. We have to go get her."
'This Is Us' fans react to Kate and Marc during the trilogy episodes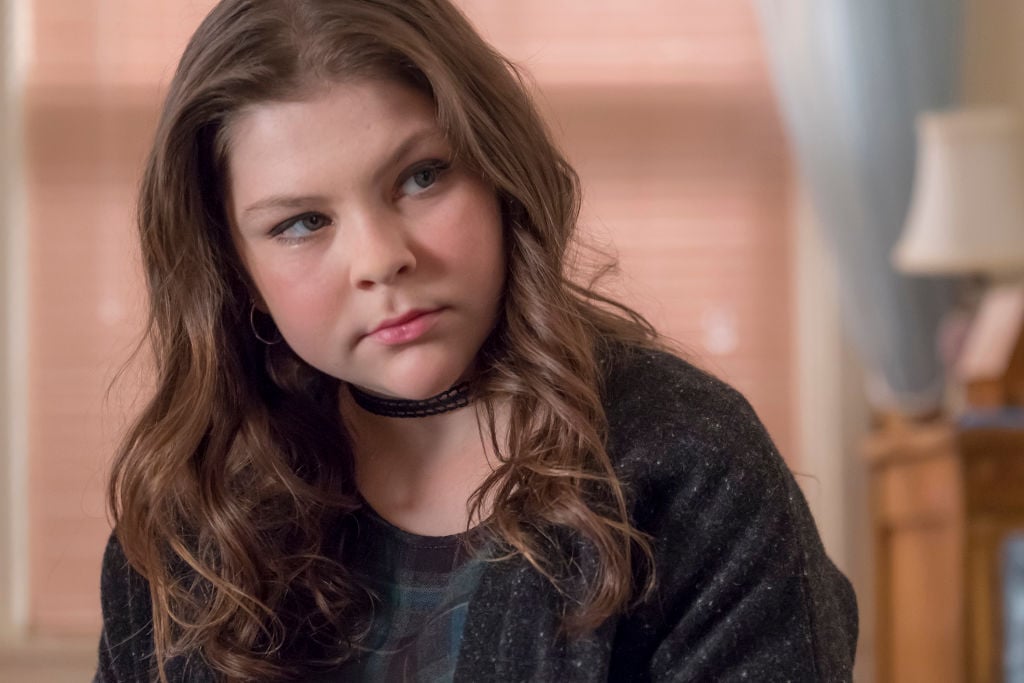 Each time Kate and Marc appeared on Kevin and Randall's trilogy episodes, This Is Us fans couldn't contain their fear.
"Something's up with Kate #ThisIsUs," one fan wrote on Twitter after Randall's episode.
"I'm already nervous for the kate episode #ThisIsUs," another fan tweeted.
Meanwhile, others are excited to see what happened between Kate and Marc after all the buildup throughout the fourth season.
"I'm so pumped for Kate's episode because we FINALLY get a look into this relationship they've been hinting at for so long," a fan wrote on Reddit.
Some fans also speculated how Kate and Marc's relationship will parallel Kate and Toby's marriage in the present day timeline. A fan wrote:
can we talk about the douche that leaves kate alone in the woods possibly unsure of where she is at and how scared she probably is? so she has abandonment trauma and its going to tie in with her feeling abandoned by toby…im just so sad because i agree i never ever saw toby being the bad guy..i didnt think they could make us hate him…so man.
The 'This Is Us' team explains Kate's trilogy episode in season 4
When speaking with Entertainment Weekly, This Is Us executive producers Isaac Aptaker and Elizabeth Berger revealed details about the Kate-centric episode coming on Feb. 11. And although baby Kate (Isabella Rose Landau) isn't in any real danger, fans should worry about adult and teen Kate.
"I think it's safe to say that little Kate, who just can't get to sleep for the first night in her big girl bed? Not that high stakes," Aptaker said. "I mean, both of the other Kates, they're pretty neck and neck. It's a really, really major episode for Chrissy and Hannah embodying this character."
Meanwhile, fans might be onto something, as Berger hinted Kate's past could affect her relationship with Toby in the present day.
"They are definitely two important relationships that have greatly informed this woman and her life," she said. "And I think all of those intense teenage relationships tend to stick with us and cause patterns to form and leave these impressions that never really go away."
Berger continued: "So, we will be seeing how some of Kate was formed through this relationship with Marc — and how that may impact her current relationship."
Read more: 'This Is Us': Kate and Toby Have More Problems to Worry About — And It Goes Deeper Than Lady Kryptonite