'This Is Us': Will Kate and Toby Die? Fans Think the Season 4 Finale Foreshadowed What's Happens in the Future
[Spoiler alert: This Is Us Season 4 finale.] When the This Is Us Season 4 finale wrapped on March 24, fans let out a sigh of relief for Kate (Chrissy Metz) and Toby (Chris Sullivan). The couple struggled through their first year as parents to raise baby Jack. But they came out the other end stronger than before and want to expand their family through adoption. Nevertheless, the reason why Kate and Toby want to adopt has some fans theorizing the pair will die in the future of This Is Us.
What happened to Kate, Toby, Jack, and Lucy in the 'This Is Us' Season 4 finale?
In the This Is Us Season 4 finale, Kate and Toby visit the neonatal intensive care unit (NICU) to celebrate baby Jack's first birthday. They attach a photo of their family on the NICU Wall of Fame. Then Toby shares how he sees them moving forward.
At first, Toby admits he hasn't been the best version of himself. However, he acknowleges progress and notes their family of three is still together. Then Toby reveals he wants another child. He says:
Your whole life has been defined by family. And I love that. I love watching you all together. Today I was watching Randall and his daughters. I was watching you with your brothers. I was watching all of you and I was thinking, 'Doesn't Jack deserve that?' Doesn't he deserve someone to spend his childhood with? To lean on long after you and I are gone?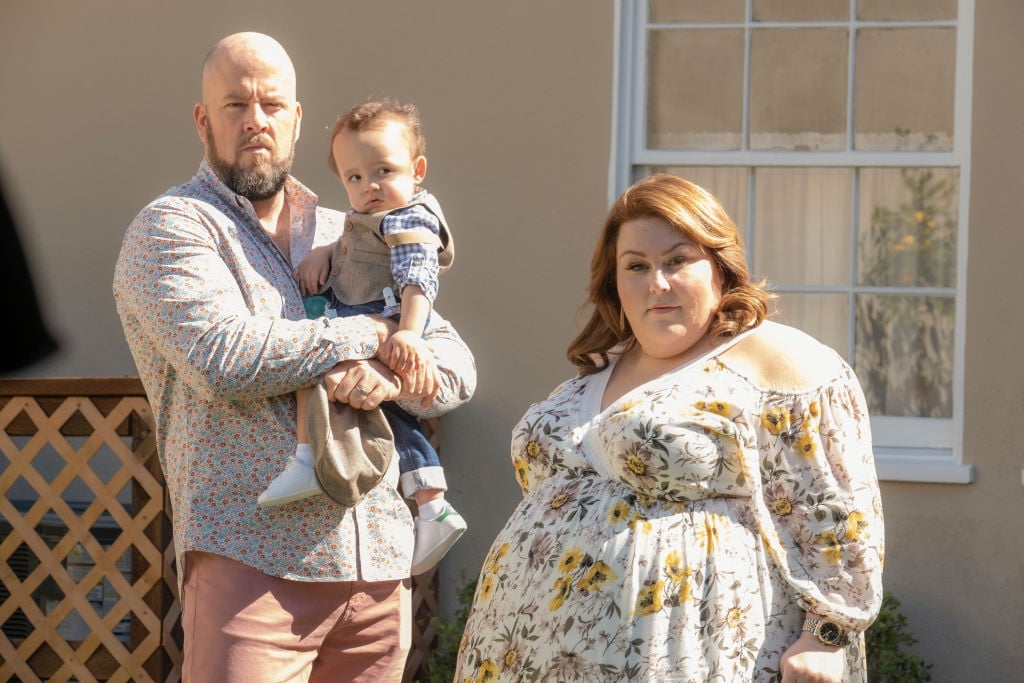 Initially, Kate doesn't seem to understand what Toby is getting at. So her husband clarifies. "I'm saying, don't you think our little man deserves a sibling?" he says.
Then Kate shares she can't get pregnant again because of the complications and risks when Jack was born. But Toby replies, "The Pearsons have a pretty good track record with adoption, don't they?"
After some time, Kate and Toby decide to adopt. Meanwhile, in the future timeline with adult Jack Damon (Blake Stadnik), viewers are introduced to the singer's sister, Hailey (Adelaide Kane). She arrives at the birth of Jack and Lucy's (Auden Thorton) newborn daughter, Hope. That said, Kate and Toby are notably absent.
Why 'This Is Us' fans think Kate and Toby die in the future
Even after the This Is Us Season 4 finale, we still don't know about Kate's whereabouts in the future. Out of the Big Three, we've only seen Kevin (Justin Hartley) and Randall (Sterling K. Brown) in the timeline where Rebecca (Mandy Moore) is on her deathbed. Toby is also alive and tells the Pearson family "they are coming." However, only Jack is the only confirmed individual in that detail.
Meanwhile, both Kate and Toby are missing in the future timeline with Jack Damon and Lucy. Of course, we haven't seen much from this timeline. But we know the scenes take place around the 2040s, which is long after the family gathering with Rebecca.
But regardless, This Is Us fans are still curious about Kate and Toby's future after the season 4 finale. "Where is kate in the future???" a fan wrote on Reddit.
Then other users predicted Kate's death, adding details learned in the finale. "Most likely either driving Jack and Art Gallery girl [Hailey] to Kevin's house. Or dead," a fan responded.
Another fan added, "I feel like she's dead. I doubt she'd miss the birth of her grandchild or her mothers last moments alive."
In a separate discussion on Reddit, a fan suggested Kate and Toby are dead in Jack Damon's future timeline after pointing out potential foreshadowing from the This Is Us Season 4 finale.
"Soo Kate and Toby are dead in jacks future timeline then right?" the fan wrote. "Cuz one of Tobys reasonings for having another child is so Jack has a sibling someone to lean on and have as family after Kate and Toby are gone. She's there and there not, assuming that's why."
While the theory breaks our hearts, it's still one of those full-circle moments the writers love to tell. In the end, Hailey and Jack are happily supportive of one another, which is exactly what Kate and Toby wanted. Nevertheless, the This Is Us team wants to keep Kate's whereabouts a mystery. And at the very least, we'll find out by the series finale.
"I can't tell you if it's going to happen this [coming] season or the season after, but it'll happen in one of those two seasons," creator Dan Fogelman said of Kate's future, per TVLine.
In all honesty, we don't want to think about Kate and Toby's deaths on This Is Us. But regardless of what happens next, the This Is Us team will unravel story in time. So stay tuned. The fifth season is just around the corner.
Read more: 'This Is Us': Will Rebecca Leave for the Clinical Trial? Fans Predict What Happens in Season 5