'This Is Us' Fans Have a Kevin and Randall Theory That Will Make You Rethink the Cabin Episode
This Is Us Season 4 keeps filling in the gaps, but fans are still anxious about the future. In the fall finale on Nov. 19, the NBC drama introduced a falling out between Randall (Sterling K. Brown) and Kevin (Justin Hartley) by the time the Pearson brothers reach their 40th birthday. Then after watching the Feb. 18 episode — titled "The Cabin" — This Is Us fans saw clues that could potentially foreshadow why Kevin and Randall aren't speaking in the future.
[Spoiler alert: This Is Us Season 4, Episode 14.]
'This Is Us' Season 4, Episode 14 hinted at Kevin and Randall's fallout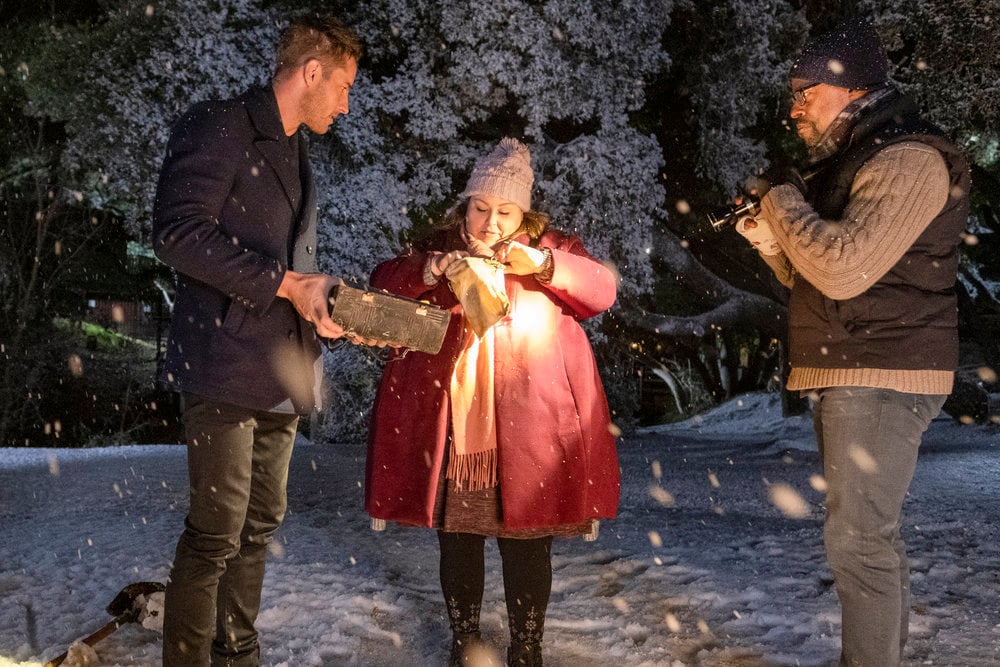 As mentioned, the This Is Us Season 4 fall finale introduced the rift between Kevin and Randall. In a flash-forward sequence to the Big Three's upcoming 40th birthday celebration, Randall's absence is noted by Rebecca (Mandy Moore), who is having trouble with her memory. When she asks Kevin about Randall's whereabouts, Kevin reveals they aren't speaking.
Then in the cabin episode, Kevin, Randall, and Kate (Chrissy Metz) get together in the present-day timeline to vent about their individual struggles. Secrets also come out and Kevin learns he is the last to know about Rebecca's memory.
At first, Kevin expresses concern over his mother's condition. He says he will find Rebecca the best doctors. Then Randall admits he already took care of the first step by taking Rebecca to a neurologist in Los Angeles.
"Randall, you came to L.A., the city that I live in, and you take our mother to a specialist? And you did it behind my back?" Kevin asks. He's livid.
Finally, it dawns on Kevin that his family doesn't believe he can "handle" the news, and he storms out of the cabin. But by the end of the episode, the Pearson siblings come together and dig up the time capsule. It's clear they need one another. Then as the episode concludes, Kevin, Randall, and Kate leave the family cabin in a good place.
A 'This Is Us' fan theorizes why Kevin and Randall aren't speaking
Following the episode on Feb. 18, fans swarmed social media with their theories about what's to come. Then in a thread on Reddit, one This Is Us viewer offered a theory about Randall and Kevin to explain why the brothers aren't speaking in the near future.
The viewer noted Kevin became defensive after Randall tried to "take the lead in Rebecca's healthcare." They also pointed out the This Is Us Season 4, Episode 15 promo included a scene from Randall's therapy session in which the councilman says he's the reason why the Pearson hasn't fallen apart yet.
Both of these instances made the Reddit user wonder whether Randall and Kevin's fight will be a result of "a showdown of the alpha males."
The fan wrote: "Kevin and Randall split on the proper way to proceed with Rebecca, undermining each other. And inevitably kevin will tell Randall he has 'less of a right' to be involved. I think he'll eject Randall from the family and it'll be the start of a huge fall out."
Later, another fan agreed with the theory. They also brought up Hartley's interview with Entertainment Tonight, where the actor hinted at the real reason for Randall and Kevin's feud. "It's more than a misunderstanding. I think it's a philosophy," Hartley said. "It's like, 'This is how you handle your life and this is how you deal with things and this is what you think. I go about my business a different way.'"
In response, the original poster suggested Rebecca's diagnosis could "trigger the blatant differences between them." And in the end, the rift may break down to how they care for their mother moving forward. The fan hypothesized Randall obsesses over "every little thing they do together," while Kevin tries to "keep things as normal as possible for as long as possible."
Meanwhile, other fans aren't sure the rift between Randall and Kevin is so clear cut. Another fan theorized:
I feel like it's going to end up being a multitude of things, all of the tension and complicated feelings that have built up between them over the past 40 year plus something big that causes it all to come to a head. I could see the different ways they want to deal with Rebecca being the inciting incident that causes them to draw their lines in the sand . Or something gets brought up while Randall is in therapy.
What the 'This Is Us' executive producers say about the feud
When speaking with Entertainment Weekly, This Is Us executive producers Isaac Aptaker and Elizabeth Berger hinted the tension between Randall and Kevin during the cabin episode will likely rise again. The publication specifically asked the co-showrunners about Kevin's anger towards Randall for the secret L.A. trip. Then they teased the issue "may bubble back up."
That said, the rift between Kevin and Randall has been a long time coming on This Is Us. And now, it seems the Rebecca situation may be one of many things that come up.
"The thing about Kevin and Randall's relationship, like many sibling relationships, is that you can move on from issues and you can be there for each other in the moment," Berger said. "But the past never really goes away. It kind of just lives underneath the surface."
She continued: "I think these brothers are definitely like that, where there's a history there that's extremely complicated and the same issues of the relationship play over and over again and come out at unexpected times. And then they're able to have smooth moments and smooth passages of time. But it is safe to say that those lingering issues always live inside of them and may be reemerging at some point, too."
Read more: 'This Is Us': Kevin Completes Jack's Dream Home in the Future and No, We're Not OK