'This Is Us': Who Is in Kevin's Bed? Fans Aren't Sure Whether Sophie Is the Woman Sleeping Beside Him
[Spoiler alert: This Is Us Season 4 Episode 11.] This Is Us Season 4 opened its Big Three trilogy with a powerful episode about Randall (Sterling K. Brown). Next up, we have an episode featuring Kevin (Justin Hartley). And of course, the writers couldn't help but tease what's coming next. At the end of Randall's This Is Us episode, there is a woman sleeping in Kevin's bed. As expected, her identity isn't disclosed. So who is in Kevin's bed? Fans are split about Sophie's (Alexandra Breckenridge) involvement with her ex-husband.
What happened to Kevin in 'This Is Us' Season 4 Episode 11?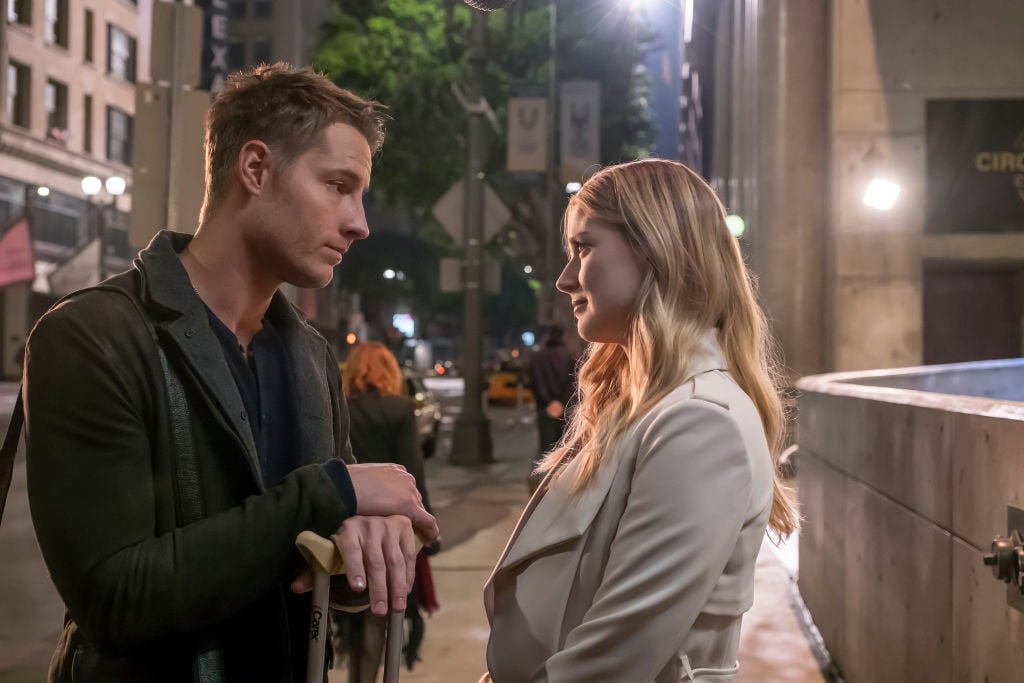 At the end of the This Is Us Season 4 winter premiere on Jan. 14, Kevin receives a phone call from Sophie. Then in the next episode, titled "A Hell of a Week: Part One," viewers discover the real reason behind the sudden contact.
Towards the start of the episode, Kevin calls Randall, who is struggling with his mental health. Randall tells his brother about the home intrusion. Meanwhile, Kevin is dealing with something big of his own — and he flew out of Los Angeles to do it.
When Randall asks Kevin about his whereabouts, Kevin answers, "Home. Or, well, what used to be home anyway. I'm in Pittsburg doing something totally stupid. But maybe not… maybe it's so crazy that it's actually sane."
Kevin then reveals he's in town for the funeral of Sophie's mom. And it seems the actor doesn't even know whether or not he's OK.
In the final moments of the episode, Randall calls Kevin, who gets up from bed, and breaks down. When he tries to calm his brother down, Kevin briefly mentions an update on his situation.
"You know, I'm kind of in the middle of a whole thing," Kevin says and sighs. "It's been a hell of a week."
Kevin then glances behind him and it appears someone with dirty blonde hair is sleeping next to him, wrapped in floral blankets and light from the morning sun.
Why 'This Is Us' fans think Sophie is sleeping next to Kevin
Naturally, the woman sleeping in Kevin's bed shocked the This Is Us fandom. For months, everyone has been theorizing who becomes Kevin's fiancée and the mother of his future child from the season 4 winter finale and the season 3 finale, respectively.
Now, given his past with Sophie and his arrival in Pittsburg for the funeral, many believe the woman in Kevin's bed is Sophie. A fan wrote on Reddit:
It has to be Sophie, right? It doesn't really make sense for it to be anyone else considering we know he's in town for her mom's funeral. Why would he sleep with anyone else but her? The episode takes place within one week, so I don't think he'd fly back to LA so soon and immediately sleep with someone else. I'm not necessarily saying Sophie is his pregnant fiancé, but I don't see how it could be anyone else in that bed but her.
Meanwhile, other This Is Us fans believe Sophie is the woman in bed with Kevin — but they didn't have sex. In a thread on Reddit, a fan noted how "terrible" it would be for Kevin to hook up with Sophie when she is in such a vulnerable state, considering his character growth.
But another fan offered another theory, suggesting Kevin and Sophie simply spend an innocent night together.
"Just thought maybe Sophie wanted someone to be with her and spend the night without them sleeping together," the fan wrote. "It could be the start of their relationship."
Why 'This Is Us' fans don't think Sophie is the woman in bed with Kevin
Nevertheless, some fans weren't quite as convinced. On Reddit, one fan wondered whether the This is Us writers are just trying to throw viewers off. They suggested the upcoming episode could be about the end of Kevin and Sophie's relationship, rather than the revival.
"So I think the girl in bed isn't Sophie," the fan wrote. "I actually feel like this episode is going to the final goodbye for Sophie and Kevin. It will show us everything that happened in their marriage and relationship and how they are better apart even though they have a great love for each other."
The fan also shot down Kevin's previous love interest, Cassidy (Jennifer Morrison), noting her desire to work out her marriage. That said, they believe the woman in Kevin's bed could be someone random, another "regrettable mistake."
"I don't think the girl in bed is the future mother of Kevin's baby," the fan wrote. "I think it was a regrettable mistake and just a hook to get you to the next episode like the burglar in Randall's."
What the 'This Is Us' team says about Kevin and Sophie's future
The 12th episode of This Is Us Season 4 continues the Big Three trilogy with Kevin's story in "I Gotta Go See About a Girl." And according to executive producer Elizabeth Berger in an interview with TVLine, the episode will feature "a really beautiful deep dive into Kevin's past with Sophie."
Then when speaking with Entertainment Weekly, executive producer Isaac Aptaker revealed fans will "get some insight into Sophie's family and her relationship with her mother."
Aptaker also confirmed fans will find out who Kevin is in bed with soon.
"Next week is Kevin's episode," he said. "And we're going to dive into this very same week in time from Kevin's point of view and see what he's been up to. So, answers on who that woman in that bed is are coming very quickly."
But even so, it'll be pretty tricky to figure out who it is beforehand, especially since so many of Kevin's love interests seem to have the same hair color.
"So that really leaves the door open to a lot of possibilities," Aptaker said.
Read more: 'This Is Us': Kate and Toby Have More Problems to Worry About — And It Goes Deeper Than Lady Kryptonite