'This Is Us': Kevin's Episode About 'Stupid Money' Will Cause More Family Issues Down the Road
'This Is Us': Kevin told Toby that he wanted to help out by using his 'stupid money' in the latest episode; however, it may come back to haunt him in the future.
In the March 16 episode of This Is Us, Kevin (Justin Hartley) engaged in a heated argument with his brother-in-law, Toby (Chris Sullivan). The disagreement was a common thing that families fight over — money. Although Kevin, Toby, and Kate (Chrissy Metz) reconciled at the end of This Is Us episode 10, the writers explained afterward that it would come up again.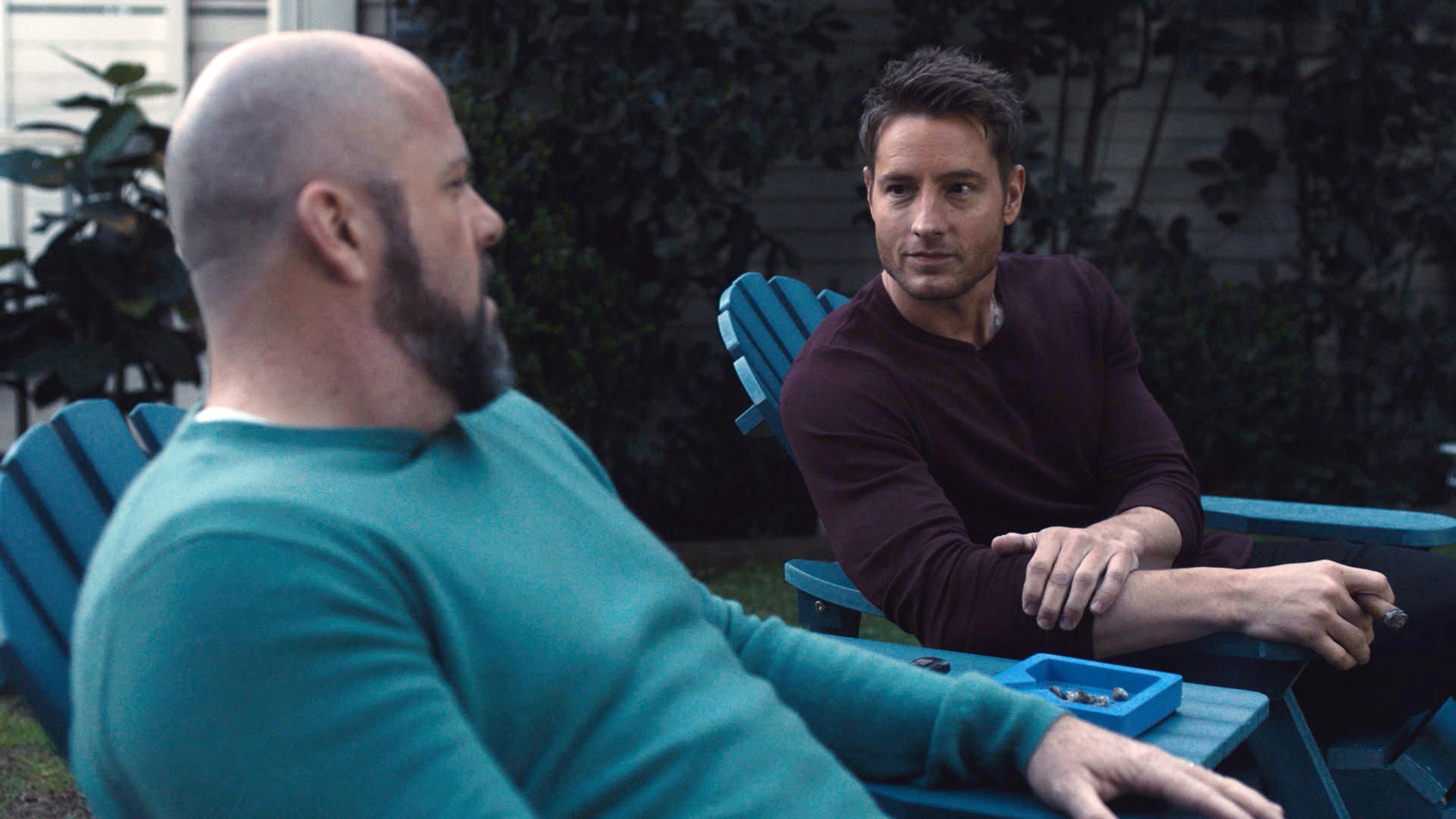 'This Is Us' Season 5, Episode 10: Kevin talks about his 'stupid money'
In a new episode of This Is Us, Kevin and Madison (Caitlin Thompson) invited Kate and Toby over for dinner. The two couples are exhausted because of their newborns, so it's a nice change from the sleepless nights. When they arrive, Kevin and Madison's nanny help with the children so the parents can sit down to a semi-relaxing dinner. 
During dinner, Toby accuses Kate of telling her brother that Toby lost his job because of the COVID-19 pandemic. She did not spill the beans, but now the secret is out. Kevin insists that he would love to help them get through their rough patch, but Toby is very defensive.
"I don't need you paying for my kids' lives, OK?" Toby tells Kevin in the heat of the argument.
"Toby, I wasn't trying to be disrespectful," Kevin responds. "I'm just saying, this job that I have, I make a ridiculous amount of money. It's stupid money, and if I could help you out with it, then it wouldn't be so stupid."
"You realize how condescending that sounds?" Toby raises his voice. "To make it seem like I'm doing you a favor taking your handout? Kevin, I have a career, 20 years of experience. I can take care of my own family."
Later in the episode, the couples make-up. However, when the siblings are alone, Kevin makes Kate promise to ask for help if they are struggling financially. 
'This Is Us' Kevin, and his 'stupid money' might come in to play in another episode
In an interview with This Is Us director Ken Olin, the episode about Kevin and his "stupid money" was a topic of discussion. 
"Certainly, many of us are in different economic places than our siblings and the rest of our family," the director explained to People. "Those are complicated dynamics. The issue of the economic disparity in the family, I love that we are just beginning to get into that. That's a real thing."
The director added that Toby struggles because of the pandemic, but Kevin doesn't have that financial hardship. 
"He and Kevin are in very different places," Olin continued. "It's going to call into question a number of things in the family. All of those things, which is the genius of the show, we're going to start to see a number of places where maybe things aren't as copacetic as they have been for a little while in their relationships."
Will Kate take financial help from Kevin this season on 'This Is Us'?
After the This Is Us episode about Kevin and money on March 16, fans are worried about Kate and Toby's relationship. The director mentioned that their marriage issues are very real. If Kate does ask for help from Kevin later on, what will that do to her marriage? Since viewers haven't seen Kate in a flash-forward yet, there is a fan theory that this is the beginning of Kate and Toby's end.
"Kate starts taking money from Kevin secretly which makes Toby angry," one fan theorized on Reddit. "It's clear he still does not like how close Kate/Kevin are and that he doesn't want Kate at all getting help from her brother. Kate isn't too prideful to accept help from them. I can also see Toby becoming more and more disgruntled and lashing out at people, and I don't think Kate will take that."
Other fans agreed that Kevin and his "stupid money" in a later episode of This Is Us could be the downfall of Kate and Toby's marriage. Fans will have to wait to find out if Kevin is the reason Kate isn't in the future timeline. This Is Us airs Tuesdays at 9 p.m. EST on NBC.