'This Is Us': Did Sterling K. Brown Just Drop a Clue About Kevin and Madison's Fate?
Did Sterling K. Brown drop a big clue about Madison and Kevin's future in 'This Is Us' Season 5 on Instagram and Twitter? Here's what fans think.
The This Is Us finale left fans itching for more information about Kevin (Justin Hartley) and Madison's (Caitlin Thompson) future. But did Sterling K. Brown, who plays Randall, just give away a major hint about the couple? Here's what fans think about Kevin and Madison as the This Is Us Season 5 premiere approaches.
Madison reveals she's the mother of Kevin's children on 'This Is Us'
Midway through This Is Us Season 4, Kevin and Madison hooked up. The couple briefly found comfort in one another after reaching new lows. But both parties didn't expect the relationship to go anywhere, especially since Madison was Kate's (Chrissy Metz) best friend. That said, one night eventually turned into something more.
In the This Is Us finale, the NBC drama dropped a major bomb. Not only was Madison pregnant with Kevin's child, but she was also expecting twins. Even so, it's possible the characters do not end up together.
"I want to be a father," Kevin told Madison in the TIU finale. "I think I'd be great at it. The love of my life will be my child."
'This Is Us' fans wonder whether Kevin and Madison will end up together after Sterling K. Brown's Twitter post
On Sept. 24, the This Is Us cast and crew started production for season 5. Some of the actors gifted fans with a few behind-the-scenes pics. Then Brown seemingly shared a teaser about Kevin and Madison for the new season.
On Instagram and Twitter, Brown posted four selfies in front of couples from the show. He then shared his thoughts on each match through his eyes.
"I hear people say, 'you can't tell if someone's smiling or reacting with these masks on,'" Brown wrote in the caption. "But lemme tell you. It's all in the eyes. Swipe through for my opinions on the Pearsons."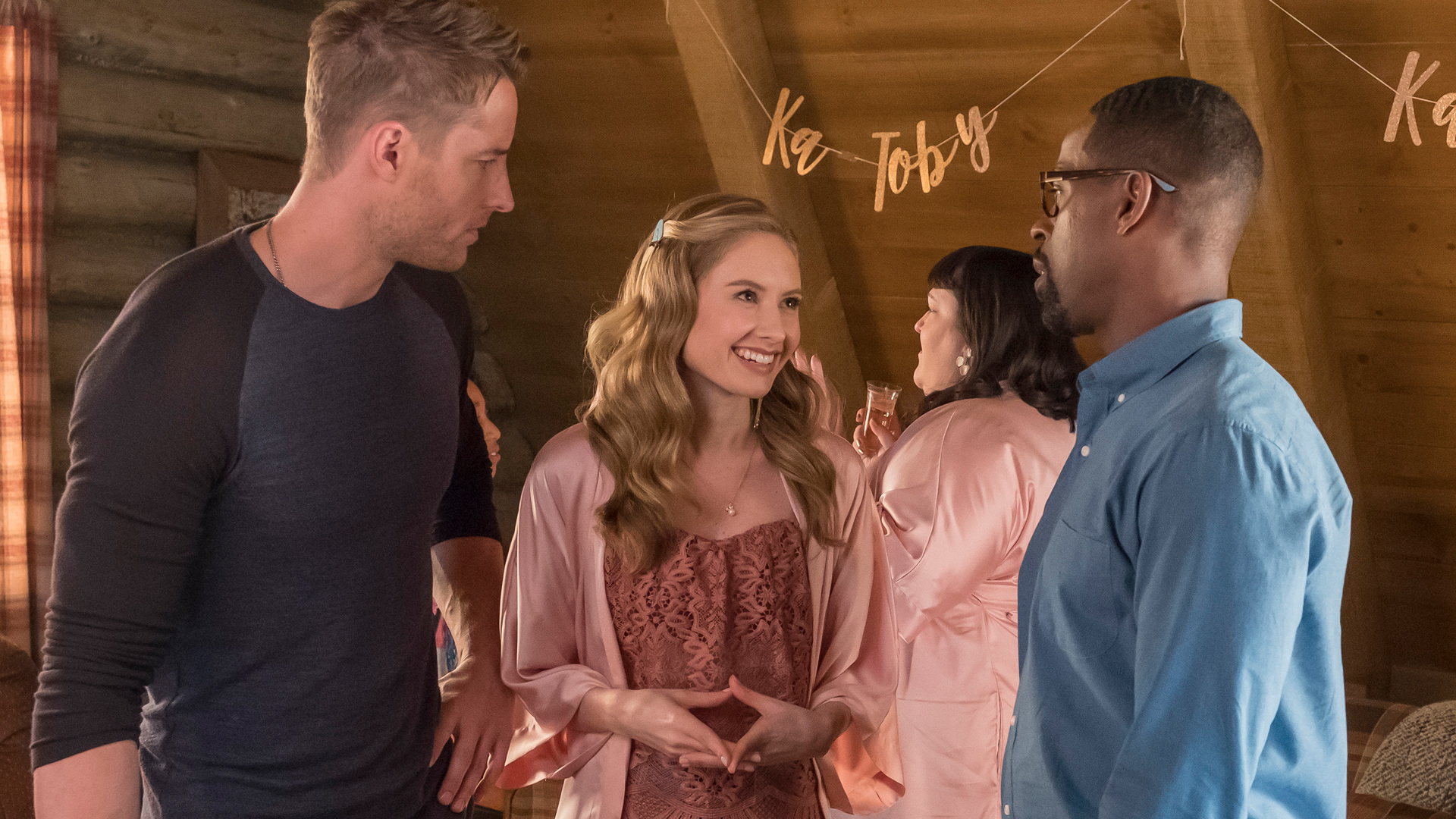 Brown's list included fan-favorites like Randall and Beth (Susan Kelechi Watson), Rebecca (Mandy Moore) and Jack  (Milo Ventimiglia), and Toby (Chris Sullivan) and Kate. He also included Kevin and Madison with a raised eyebrow. But of course, This Is Us fans began to speculate what Brown's social media post meant for the couple.
"Omg Kevin and Madison together," one fan wrote on Instagram. "For sure they're a thing in the next season. Can't wait!!!"
"I mean, Madison is the mother of his children so she's not going anywhere… like ever," another fan wrote on Reddit. "But this is the first time that Kevin gets a permanent name next to his on a trailer so as a couple, it's looking more and more like them."
Is Madison actually Kevin's fiancée on 'This Is Us'?
Despite Brown's teaser, This Is Us fans will just have to wait and see what happens to Madison and Kevin when the series returns. The new season will begin with a two-hour premiere on Tuesday, Oct. 27. But regardless, it seems viewers will get answers sooner than later.
In an interview with The Hollywood Reporter published in March 2020, creator Dan Fogelman revealed the identity of Kevin's fiancée has yet to be confirmed. So while Madison is pregnant with the character's twins, the couple may or may not start a relationship.
"There's an immediate answer coming to all of that," Fogelman said at the time. "But I think that there's basically many more chapters in Kevin's romantic story."
He later added, "Kevin has a journey ahead of him, and I don't want to get too far ahead of it just yet."
Nevertheless, Hartley seems to think there's hope for Kevin and Madison. 
"I think he's gonna really invest in the entire thing and try to get to know [Madison]," Hartley told The Wrap of his character. "Knowing Kevin, I think he'll probably try to do everything he can to fall in love with her and have a family with her."
Check out Showbiz Cheat Sheet on Facebook!