'This Is Us' Fans Say This Kevin and Madison Scene Gives Them 'Rebecca and Jack Energy'
This Is Us Season 5 is well underway and although the episodes are churning out slower than fans might like, the storylines are just as powerful as ever. Not only have fans of the hit drama gotten introduced to new characters, and even new couples, but they've also learned more about their favorite Pearson family. Lately, there's been a lot of talk about Madison, the newest mother to the Pearson clan, and her relationship with Kevin.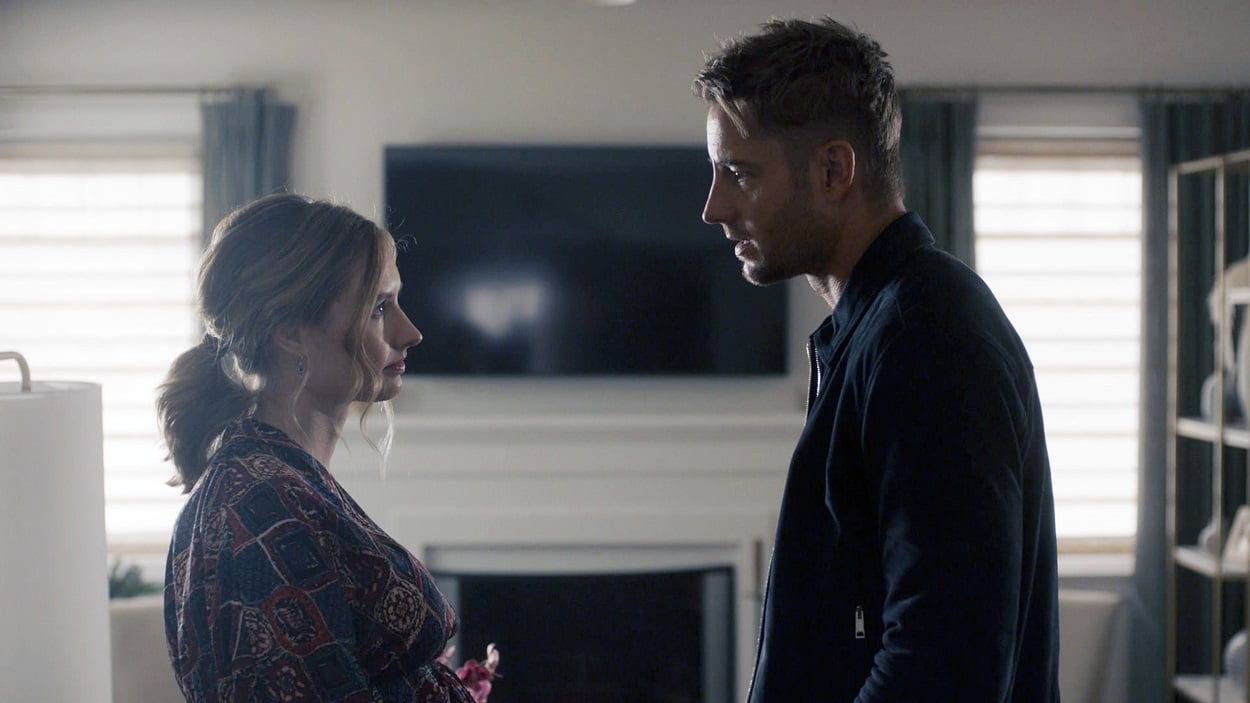 Madison's character has certainly experienced a lot of growth since she was first introduced in This Is Us. Fans will recall that prior to Season 5, she was best known for being Kate Pearson's neurotic friend. Prior to that, she was merely the annoying girl at Kate and Toby's support group. However, these days, she is Kevin's fiancée and also the mother of his twins.
'This Is Us' fans saw a new side of Madison in the most recent episode
Fans of This Is Us have certainly taken note of Madison's character arc. In fact, after watching the most recent episode of the show, many fans pointed out that Madison was beginning to remind them of Rebecca. While driving home from the hospital after giving birth, Madison and Kevin are followed by a relentless paparazzo. When Kevin gets out to confront the man, it is Madison who is eventually able to diffuse the situation and get them home safely.
When the official Instagram page for This Is Us posted the aforementioned scene, many fans couldn't help but to draw similarities between the relationship that Madison and Kevin have with the relationship that Rebecca and Jack had. Immediately, they began commenting about seeing a parallel between the characters.
Madison and Kevin's relationship remind some fans of Jack and Rebecca
"Am I the only one who feels like Madison handled that situation and Kevin in a way Rebecca would handle Jack when he would spaz out?" one This Is Us fan commented. "That's a lot of Rebecca and Jack energy right there," another person shared. "She's like Rebecca Jr," another person added. "Madison handling Kevin paralleled the same scene with Rebecca and Jack bringing home the Big 3 and Jack going at it at the gas station with the nasty driver," another person chimed in. "She's like a young version of Rebecca," yet another fan penned.
Other fans couldn't help but express just how much Madison had grown on them in Season 5 of This Is Us. Of course, not every fan was impressed by how Madison negotiated with the photographer in the scene. Some weren't impressed with how she diffused the situation and still hoping that she and Kevin aren't endgame.
What will Madison's arc be beyond Season 5 of 'This Is Us'?
"I thought she was ridiculous in here," one This Is Us fan penned about the scene on Instagram. "She didn't do anything to really help Kevin even though she won't let that guy know where he jogs. She didn't say don't post those photos. So it was pointless. Also, maybe that's how her character gets booted off, maybe paparazzi strikes her with car and bye-bye."
Clearly, not everyone is pleased with the fact that Madison is Kevin's current love interest. After all, some fans are still hoping that the actor ends up with his first love, Sophie. Only time will tell who Kevin will grow old with. But, if Season 5 has taught us anything it's that the writers of This Is Us are always a few steps ahead.