'This Is Us': Kevin and Randall's Fight Has Just Scratched the Surface, So Get Ready
The fracture between Kevin (Justin Hartley) and Randall (Sterling K. Brown) has been looming over fans since the This Is Us Season 4 fall finale. In the Nov. 19 episode — titled "So Long, Marianne" — the Pearson brothers aren't speaking nine months from Thanksgiving in the present day. Then by the March 10 episode — titled "New York, New York, New York" — the NBC drama highlighted an argument between Randall and Kevin. But now it seems the moment roughly touches what's to come in the future. And according to the This Is Us team in recent interviews, Kevin and Randall's fight will get much worse.
[Spoiler alert: This Is Us Season 4, Episode 16.]
What happened to Kevin and Randall in 'This Is Us' Season 4, Episode 16?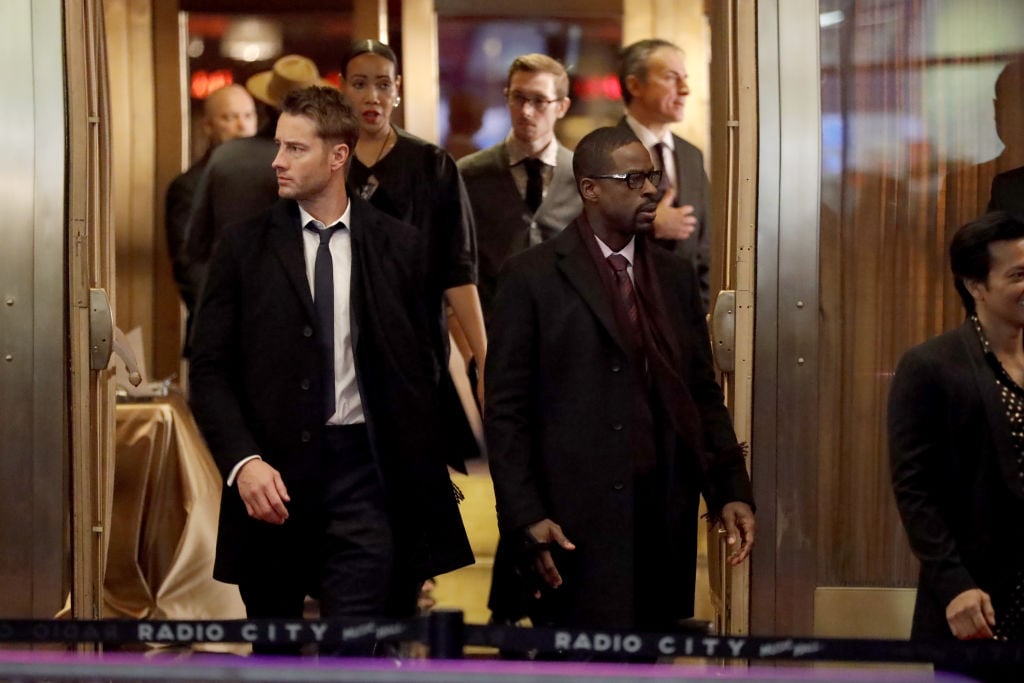 In This Is Us Season 4, Episode 16 on March 10, Randall discovers a nine-month clinical trial for Alzheimer's in St. Louis, Missouri. The City Councilman tells Kevin and Kate (Chrissy Metz) his idea for Rebecca (Mandy Moore). Kevin disagrees and doesn't want his mom to be away for so long. Kate goes along with the suggestion — sort of. 
Regardless, Randall believes this is the best solution. So he wants to present the trial to Rebecca with Kevin's support at the actor's movie premiere in New York City. But when the Pearsons arrive in the Big Apple, Kevin asks Randall not to tell their mom about the trail because he wants her to enjoy the day. Randall agrees, but he doesn't keep the promise.
When Randall tells Rebecca about the trail — subsequently breaking his word to Kevin — the brothers get in a fight. Randall doesn't think Kevin knows what's best for Rebecca. He brings up their history and believes he's been taking care of their mother by himself for 20 years.
Meanwhile, Kevin says Randall is the one who won't let anyone else help because of a superiority complex. Then when Randall adds Kevin's career as an actor makes him unreliable, Kevin reminds his brother the job pays for Rebecca's medical expenses. 
Eventually, Kevin and Randall come together when they realize Rebecca is missing. Of course, they're able to find her. But when they do, Rebecca says she doesn't want to do the clinical trial. She wants to live out her days with her family. The brothers accept her decision. Even so, Randall is upset.
At the end of "New York, New York, New York," Randall tells Kevin he has spent his life wondering if he could have saved their dad, Jack (Milo Ventimiglia). And with the clinical trial, Randall believes he had a chance to save their mom — but Kevin blew it.
'This Is Us' Season 4 executive producers discuss Randall and Kevin's fight
Clearly, Kevin and Randall are on opposite sides when it comes to Rebecca's care on This Is Us. However, when speaking with Entertainment Weekly, executive producers Isaac Aptaker and Elizabeth Berger revealed this isn't the big fight between Kevin and Randall that causes the rift. So prepared — something else is coming by the Big Three's 40th birthday.
"Oh, it's going to get worse. That fight that you saw wasn't quite an 'Oh, we're not talking months from now' fight," Aptaker said. "But I promise they will get there. It is quite upsetting."
That said, the executive producers hinted what was brought up in "New York, New York, New York" may continue to show up as the storyline moves forward. In the episode, Randall explained his frustration with becoming the "man of the family" when Jack died while "Kevin was extremely absent during this period." So when Kevin seemed to "suddenly have very strong opinions" about Rebecca's health, Randall lashed out. 
"It's definitely wearing at [Randall] and he's definitely finding it kind of maddening, which is definitely adding to the simmering tension here," Berger said.
Meanwhile, Aptaker and Berger mentioned another layer to Kevin and Randall's rift that could make the situation even more heartwrenching. Remember Kevin has been Randall's rock through his mental health struggles. Finally, Randall made the first step and went to therapy. However, it's possible the fight could derail some of the progress. Berger said:
Randall has been in a fragile emotional state as of late and it feels like he is on a good path, that he's finally started the therapy. But he is still under a tremendous amount of stress. He's obviously still devastated about what's going on with his mom, and he and Kevin have really come to rely on each other over the last couple years. It would be heartbreaking for both of them if a real distance was to occur here.
Justin Hartley teases what will happen with Kevin and Randall on 'This Is Us'
In an interview with People, Hartley delved deeper into what happens with Kevin and Randall as This Is Us itches closer to the Pearson brother feud. And although he wasn't able to give away too many details, Hartley warned fans where the fight stems from — and ultimately why everyone should be worried. 
"These two are constantly bickering back and forth," Hartley told People. "They've been arguing their whole lives, and they'll continue to argue their whole lives. But there is this one thing that happens where it's a stalemate. I'm taking a hard line and you're taking a hard line. I'm not budging and he's certainly not budging."
The actor continued: "It turns into one of these things where it's like, 'Look if this is the way it's going to be, you're not going to be in my life.' It's brutal. They come to a point where it's like, 'These are the choices I make and this is how I live my life.' And the other brother is like, 'Well Jesus man, I don't [know] what to tell you. I can't have that in my life.'"
Not going to lie, our hearts are already broken for Randall and Kevin's fight on This Is Us. The brothers have a complicated history. But at the end of the day, we know they always come back together as a family. And now, with Rebecca's health starting to decline, it's difficult to imagine Kevin and Randall reaching their breaking point. So stay tuned. This Is Us Season 4 continues Tuesday at 9 p.m. EST on NBC.
Read more: The 'This Is Us' Season 4 Finale Title Has Fans Theorizing Cassidy's Return