'This Is Us': Mandy Moore Called Rebecca the 'Ultimate Guide' to Motherhood
This Is Us Season 6 is bringing Mandy Moore's run as Rebecca Pearson to an emotional end. But even if Moore won't be playing the Pearson family matriarch much longer, she'll still be able to embrace the lessons she's learned from the character. The 38-year-old star recently reflected on how her time as Rebecca has impacted her own approach to motherhood. Apparently, her This Is Us character served as the "ultimate guide."
'This Is Us' star Mandy Moore welcomed a child in 2021
RELATED: 'This Is Us': Alexandra Breckenridge Says Sophie Will Become a 'Support System' for the Pearsons
This Is Us star Mandy Moore became a mother in February 2021, when she welcomed her first child with her husband, Taylor Goldsmith. Moore gave birth to a baby boy named August Harrison Goldsmith. On Instagram, she posted a photo, expressing her excitement about the newest addition to her family.
"Gus is here. Our sweet boy, August Harrison Goldsmith. He was punctual and arrived right on his due date, much to the delight of his parents. We were prepared to fall in love in all sorts of brand new ways, but it goes beyond anything we could have ever imagined."
It's now been over a year since Moore became a mom, and she continues to play one on This Is Us. During a recent interview, she spoke about motherhood and her career — and, in the case of playing Rebecca, how those things have intersected.
Rebecca Pearson was the 'ultimate guide' for parenting, says Mandy Moore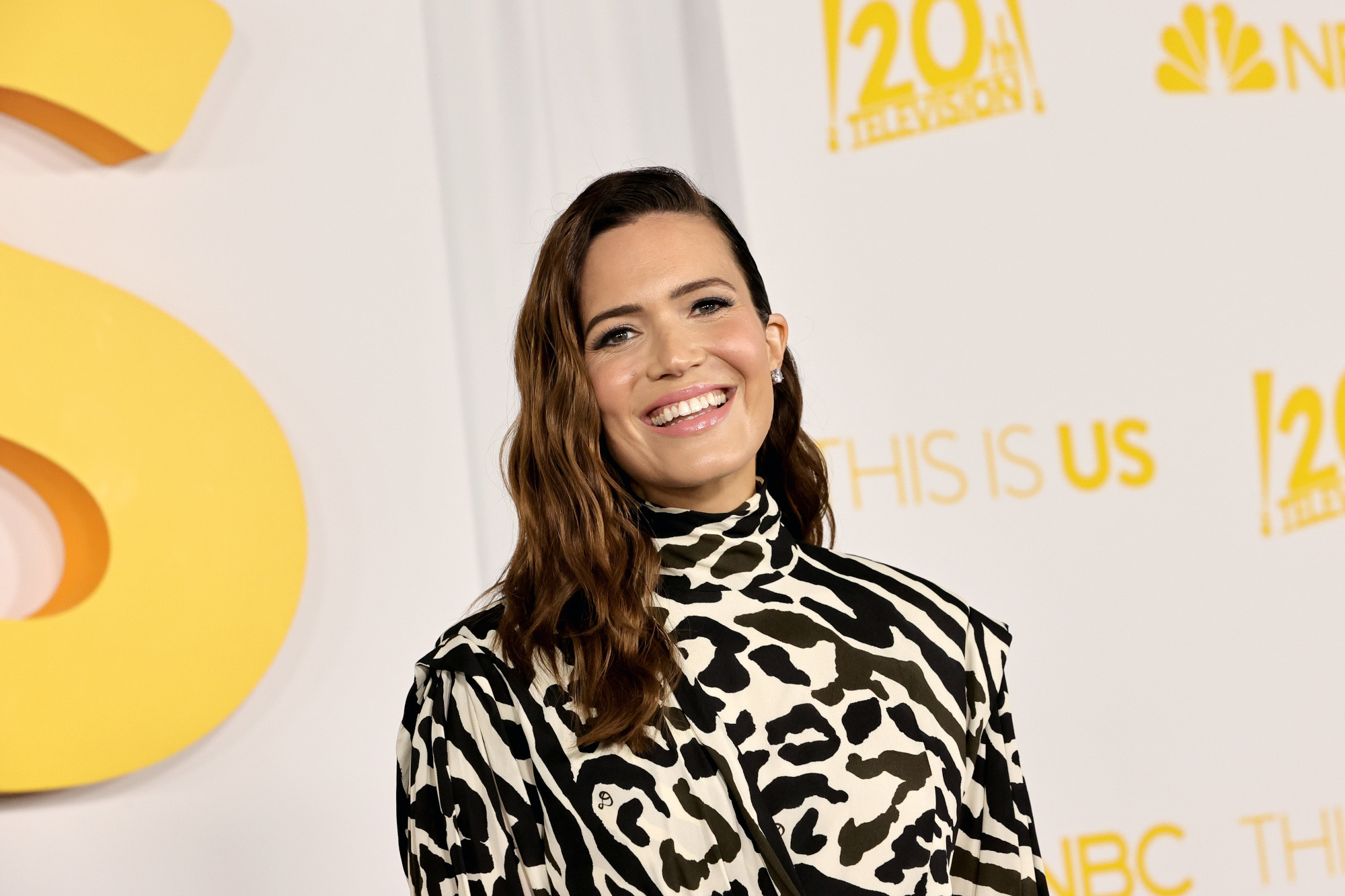 RELATED: 'This Is Us': Alexandra Breckenridge 'Cried a Little' After Sophie and Kevin's Reunion
Mandy Moore spent years playing a parent through Rebecca Pearson, and now the This Is Us star is learning the ropes in real life. The two experiences are no doubt incredibly different. But it seems Moore found a role model in her character. Chatting with People about Gus, the actor admitted that Rebecca's parenting inspires her.
"I've been so lucky to have the ultimate guide with Rebecca," Moore said. "She's human and fallible, but her family and being a mother are always her top priority."
Rebecca certainly proves herself a parental figure to look up to. Sadly, both Moore and fans of the show will bid farewell to her soon. The NBC series only has two episodes left, and they'll likely leave viewers in their feelings when they air.
The Rebecca Pearson actor teased an emotional 'This Is Us' finale
Mandy Moore's motherhood journey may just be beginning, but her time playing Rebecca Pearson on This Is Us is approaching its end. The actor recently teased the NBC show's big finale, and it sounds like it will send fans on an emotional roller coaster. During an appearance on Today, Moore even joked that they'd "need to take a day off from work."
Of course, that might be an exaggeration — although given how heart-wrenching recent episodes have been, you just never know. Whatever happens, saying goodbye to the Pearsons will prove a difficult experience for many. Hopefully, they can continue looking up to them in real life, just as Moore has.
This Is Us airs on NBC on Tuesdays at 9 p.m. EST.
RELATED: 'This Is Us': Justin Hartley Says It Would Be a 'Tragedy' If Sophie and Kevin Didn't Stay Together