'This Is Us': Mandy Moore Doubles Down on Claim That There Isn't a 'Bad Apple' in Cast
Mandy Moore pushed back against actor Dax Shepard concerning whether there was a bad apple on the set of 'This Is Us,' taking a different view on what it's like to work with difficult actors.  
Channeling her lovable character on This Is Us, Mandy Moore insists there has never been a bad apple on the set of the Emmy-winning NBC series. With This Is Us set for its series finale in late May, Moore dished with Dax Shepard on the Armchair Expert podcast about the joys of getting to know the cast of a long-running series.
Moore even pushed back against Shepard about whether there was a bad apple on the set. They had opposite views on what it's like to work with difficult actors, especially on family ensemble TV shows.  
It's no surprise that Mandy Moore loves spending time with the 'This is Us' cast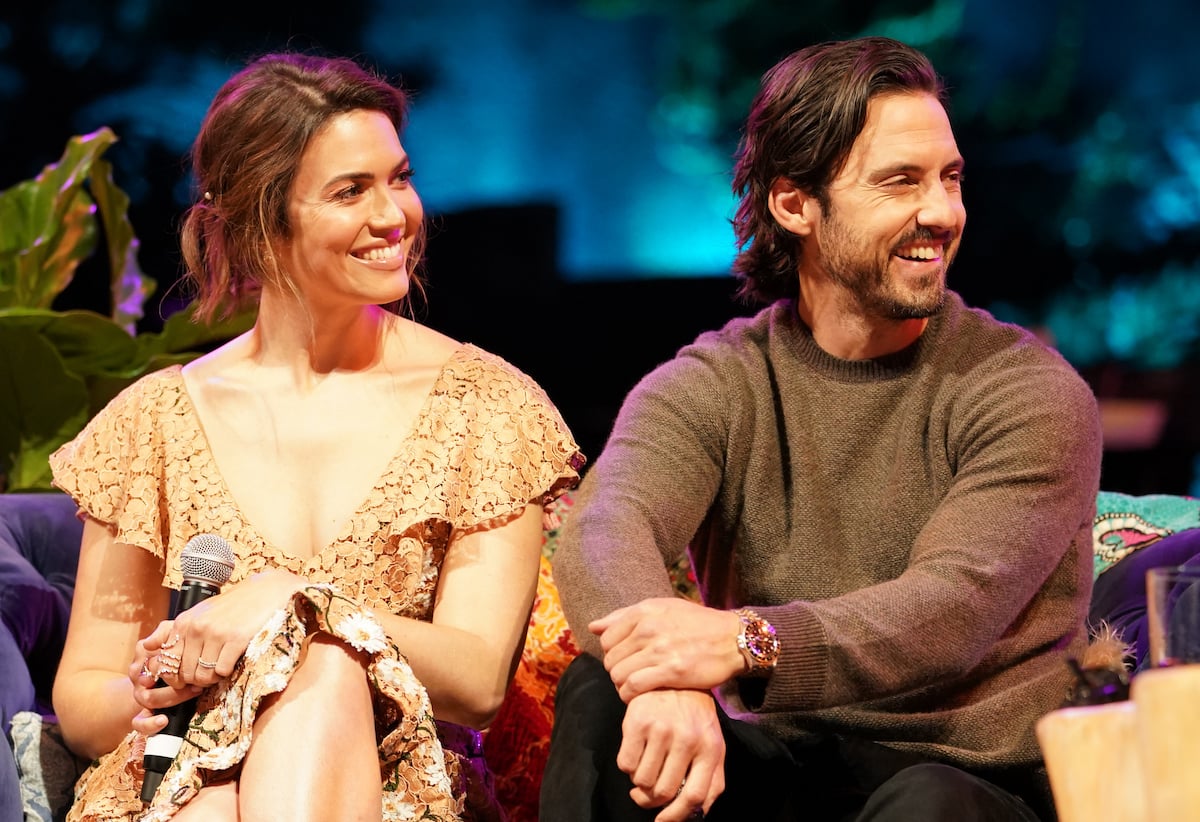 Having starred in many movie and TV roles, Moore has done just about everything in Hollywood. But while she talked to Shepard on his Armchair Expert podcast, she agreed that it's often a much better social experience to film a TV show as opposed to a movie. While actors spend years on a TV set together, both Moore and Shepard lamented that you might not see a fellow actor from a movie production for many years.
But Moore and Shepard also have some opposing views. This is especially true when it comes to the presence of a bad apple on a TV set. When pressed by Shepard about the This Is Us cast, Moore was magnanimous. The mother of one said, "They're all just genuinely lovely people."
Previously, Moore told Jimmy Kimmel there wasn't a bad apple on the set of This Is Us. The 38-year-old even said that the gift of filming This Is Us is that "you have friends for life."
As one of the stars of This Is Us, Moore portrays matriarch Rebecca Pearson, who is seen both in flashbacks as a young mother and again in old age. While her character tries to hold the family together through drama and tragedy within two timelines, Moore interacts with nearly the whole cast.
She admitted it's exhausting to be involved in everything. But the "Candy" singer made it clear she loves the experience of working every day with so many actors.
Dax Shepard didn't really believe Mandy Moore
Even while Moore strongly supported the entire cast, Shepard simply wasn't buying it. "I don't believe it. I just don't believe it," the Without a Paddle star said. With big roles on TV shows like Bless this Mess and Parenthood, Shepard has been around the block and made it clear he's familiar with bad apples in a cast.
Pushing back, Moore playfully insisted that bad apples at least know that they are the bad apples of a cast. But Shepard expressed skepticism, saying, "I think they think other people are the bad apple, but they're not in on the secret that they're the bad apple." Going further, Shepard laughed and said, "I bet the bad apple on my show, if they were asked, 'Is there a bad apple?' They'd be like, 'Yeah, Dax.' But they would've been wrong because collectively it was like 13 [cast members] against one."
Though Shepard insinuated quite a bit of experience with difficult cast members, he stopped short of naming names. Attentive listeners looking to put two and two together might realize he's likely talking about Parenthood, the comedy-drama that lasted for six seasons from 2010-15.
Shepard starred in all 103 episodes of the series alongside other headliners like Lauren Graham, Peter Krause, and Monica Potter. Not wanting to give anything away, Shepard wrapped it up by adding, "I've said too much already."
Famous 'bad apples' have caused plenty of drama on TV sets
There is a long tradition of problematic cast members in TV casts, including some outright icons like William Shatner and Chevy Chase. Shatner had troublesome relationships with a variety of Star Trek cast members, including Leonard Nimoy and George Takei. Apparently, Shatner was jealous enough of Nimoy that he started stealing Nimoy's lines and even hid his bike on the set.
While Nimoy and Shatner seem to have gotten over any animosity, Takei and Shatner still don't seem to like each other very much, with Takei publicly ripping Shatner as recently as last year for his Blue Origins spaceflight, according to Page Six.
But Shatner might be nothing compared to Chase, who has a long history of being problematic on set. Due to creative differences and grumbling from the cast of Community, Chase left the show early. The comedic actor previously made a similar move with Saturday Night Live in the '70s. Chase was asked about problems with the Community cast in a recent CBS Sunday Morning interview with Jim Axelrod. "I guess you'd have to ask them," he said with a laugh. "I don't give a crap!"
As for Moore, she has no immediate plans to join another TV cast. Instead, she's heading back to her roots. Moore will release a solo album In Real Life on May 13. Then, she'll head out on her first full-fledged tour since 2009, per Concert Archives.