'This Is Us': Mandy Moore Says Filming Season 6 Has Caused Nothing but Tears
This Is Us has become one of the most riveting and talked about drama series on TV. Now, the NBC show is coming to an end with its sixth and final season. This Is Us chronicles the lives and legacies of the Pearson family. Beginning with Rebecca (Mandy Moore) and Jack Pearson (Milo Ventimiglia), we chronicle their lives and love stories eventually expanded out to their three children.
Kevin (Justin Hartley), Randall (Sterling K. Brown), and Kate (Chrissy Metz), also known as the Big Three, have their own trials and tribulations that run the gamut. The series opens on the day of their birth and presses forward until they are in their 50s, examining all of the life experiences that they've had in between.
Now that This Is Us Season 6 is underway, Moore has explained that there has been nothing but tears.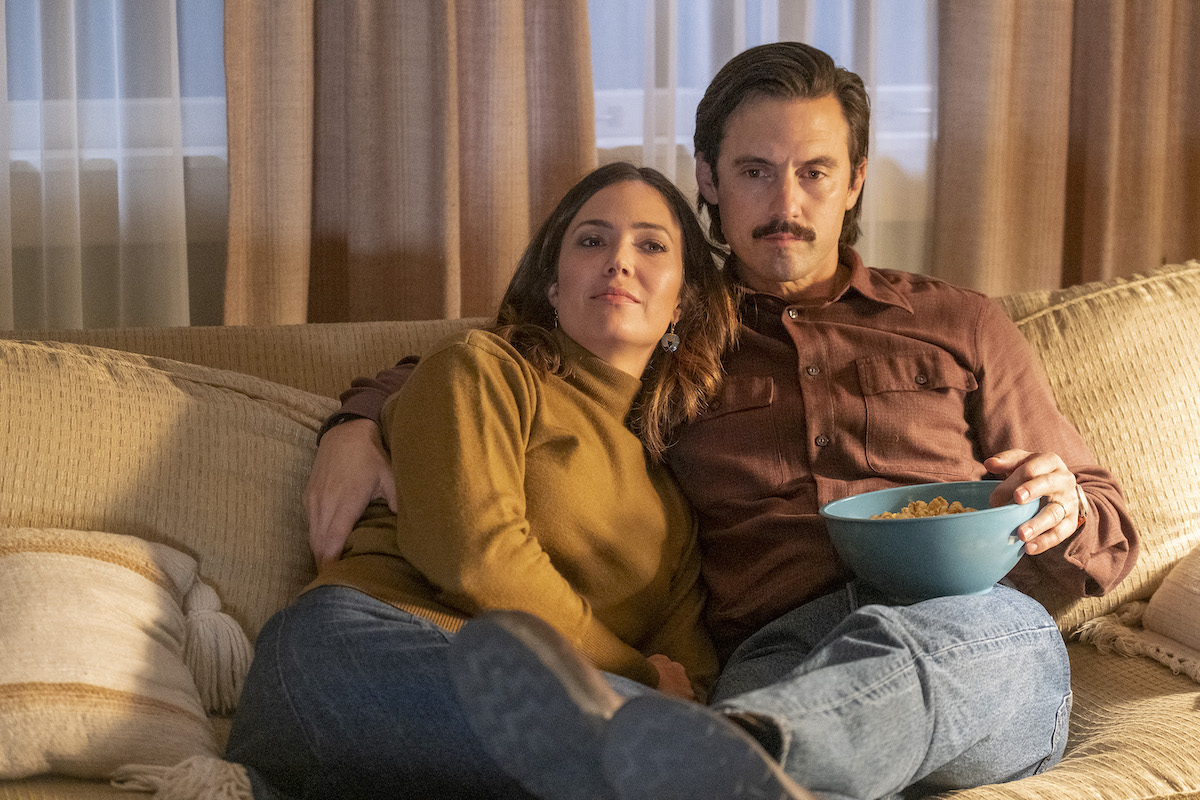 'This Is Us' Season 6 has been delayed until 2022
Typically, the fall is when This Is Us fans begin preparing to reunite with the Pearsons. However, the sixth and final season of the acclaimed drama series has been delayed. New episodes won't air until 2022. As we know the coronavirus (COVID-19) pandemic threw most TV and film schedules off balance. Therefore, the NBC executive made a decision to move This Is Us into a slot for the midseason.
"By putting it at midseason, we'll have the least interruptions possible," Susan Rovner, NBC Universal Television's Chairman of Entertainment said via Parade. "I think it'll be a great event for the fans to enjoy this incredible show."
Mandy Moore says filming 'This Is Us' Season 6 has caused nothing but tears
The final season of This Is Us has just begun filming in Los Angeles, and Moore who portrays Rebecca says it's been an emotional rollercoaster already.  "It's already tears," she told Entertainment Tonight on the Emmys 2021 red carpet. "Tears for the material and tears for the fact that we're leaving this family. This family is disbanding. But we have many, many months and episodes to shoot."
Already we know that this final season will change everything for the Pearsons. Toby (Chris Sullivan) and Kate are going to divorce, leaving room for a new romance to blossom between Kate and her colleague Phillip (Chris Geere). Kevin will finally find true love and we will all say goodbye to Rebecca in 2031 when the Big Three meet at her death bed.
This Is Us creator Dan Fogelman explained that when he went through the season 6 outline with NBC executives, people began weeping on Zoom. "People were crying to the point that I wasn't sure if I should keep going or not. Cameras were shutting off, and I thought I'd lost people," he explained to Deadline.
Will there be a spinoff series?
Though This Is Us Season 6 might be the end of the Pearson family as we know them, we might not actually be saying goodbye forever. As we know, with shows like Black-ish, Game of Thrones, and the Power Universe, networks and creators have found ways to keep their most popular shows alive. Now, Ventimiglia has hinted that a This Is Us spinoff could be on the horizon.
"I've got an idea of how I would want it to end, but I also know how it does end," the actor told US Weekly. "My version is completely shadowed by how great of an ending [creator Dan] Fogelman has come up with." He also explained that a spinoff series seemed like the right next step. "I'm sure there will be," he said. "I don't know who it will be [about]."
As long as the possible new series is as good as this one, then we're sure fans will race to watch it.