Why Isn't 'This Is Us' On Tonight, Feb. 4? The NBC Drama Returns Soon
Is 'This Is Us' on tonight, Feb. 4? Plus when season 4 episode 13 returns and what happens in the Big Three trilogy episode about Kate (Chrissy Metz).
It's been one hell of a week for the Pearson siblings on This Is Us Season 4. But it looks like fans will have to hold on a little longer to find out what happens next. On Jan. 21 and 28, the NBC drama delved into storylines for Randall (Sterling K. Brown) and Kevin (Justin Hartley). Now, Kate (Chrissy Metz) will finally get her turn. However, This Is Us isn't on tonight, Feb. 4, with a new episode. So here's everything viewers need to know about the show's return and what to expect when the Pearson trilogy comes to an end.
Is 'This Is Us' Season 4 on tonight, Feb. 4?
According to the This Is Us Season 4 Episode 13 promo, the series will return "in two weeks" from the Jan. 28 episode. This means the Kate-centric episode will air on Tuesday, Feb. 11 at 9 p.m. ET. 
So why isn't the conclusion of the Big Three trilogy on This Is Us on tonight, Feb. 4? As you may or may not know, the State of the Union Address will begin at 9 p.m. ET. So the new episode was delayed a week for the annual message, per the NBC schedule.
Where did the 'This Is Us' trilogy episodes leave Kate?
Throughout the Kevin and Randall-centric episodes in This Is Us Season 4, Kate made a few brief appearances, hinting at what's to come. In the past, teenage Kate (Hannah Zeile) gets in a fight with her boyfriend, Marc (Austin Abrams), over the phone ahead of Rebecca's (Mandy Moore) birthday dinner.
Kate asks Marc what she did wrong in a panic. But when Rebecca, Kevin (Logan Shroyer), and Randall (Niles Fitch) appear concerned for Kate, she shuts them out. Later, Kevin returns to the Pearson household and finds his mother pacing around frantically. 
"I'm worried about Kate," Rebecca tells Kevin. "And she rode off with Marc to the cabin. She just called me crying. I think she's in trouble, Kev. We have to go get her."
Meanwhile, in the present day, Kevin calls Kate to arrange a sibling trip to the cabin, along with Randall. However, things aren't going well with Toby (Chris Sullivan).
"I'm about two seconds away from my marriage completely imploding," Kate says. And now, the sad three are headed back to Pittsburgh. 
What will happen in 'This is Us' Season 4 Episode 13?
When speaking with TVLine, Hartley — who directed the Feb. 4 episode of This Is Us — revealed the new episode will dive deeper into Kate and Mark's relationship. It will also include quite a bit of drama between the Pearson siblings.
"We finish out the trilogy with Kate. There's definitely some back story there," Hartley said. "You start to see her relationship with her boyfriend and what all that means and how that influenced and affected who she is now and all of that stuff. That's really great."
He continued: "The cabin stuff, it is interesting. Trying to be there for other people when you're going through a lot of stuff is difficult. But they're all connected. They're family. And some sh*t comes out. There's a minor blow-up. Different ways of handling important situations … There's a problem between Kevin and Randall."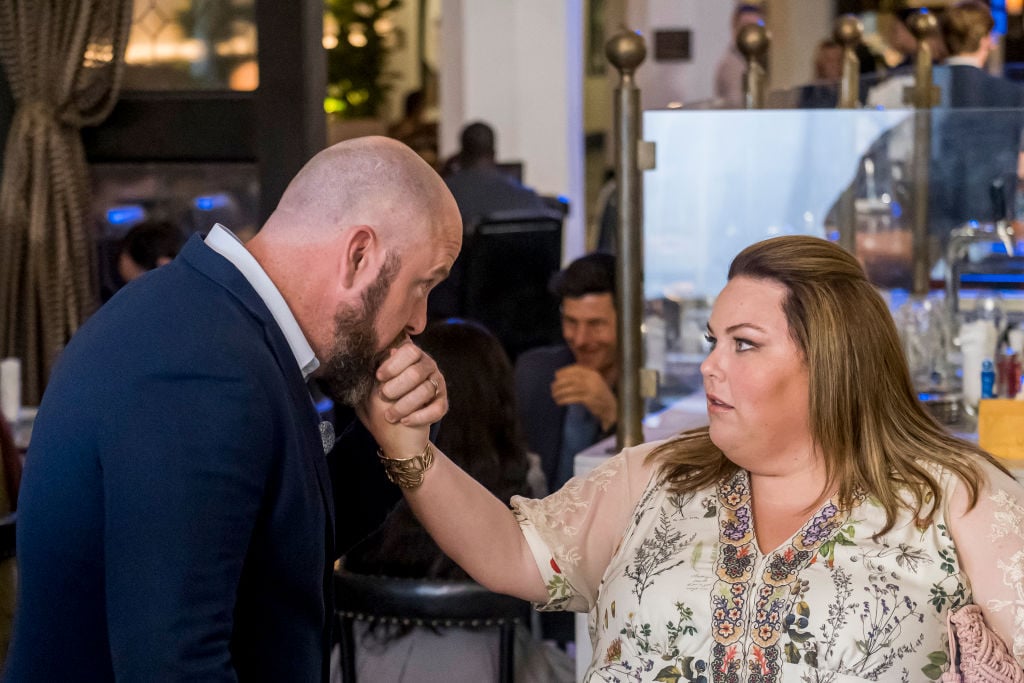 Meanwhile, in an interview with Entertainment Weekly, executive producers Isaac Aptaker and Elizabeth Berger teased Kate's past will affect her relationship with Toby. Berger said:
They are definitely two important relationships that have greatly informed this woman and her life. And I think all of those intense teenage relationships tend to stick with us and cause patterns to form and leave these impressions that never really go away. So, we will be seeing how some of Kate was formed through this relationship with Marc — and how that may impact her current relationship.
Then the executive producers echoed Hartley's remarks about the Pearson sibling drama at the cabin, sharing Kate, Kevin, and Randall will get together "away from service" and "in the snow." 
"So we can expect that feelings may boil over under these circumstances. Isaac and I got to write this one, and we can't wait for everyone to see it," Berger said.
Read more: 'This Is Us': Will Randall Tell Kate and Kevin About Rebecca? Fans Predict How the Pearson Siblings Find Out About Their Mom's Condition