'This Is Us' Producer Spills Randall Episode Is a 'Pivot Point' of What's to Come
The executive producer of "This Is Us" revealed that the final episode in the "Big Three" trilogy is a "pivot point" of what's to come.
This Is Us' 10th episode of its final season ended teased fans with storylines to come that will wrap up the story of the Pearson clan. The show's Executive Producer Kay Oyegun revealed what's next for Randall and Rebecca and shared that the Big Three finale titled "Every Version of You" is a "pivot point" of what's to come during the remaining eight weeks of the television drama.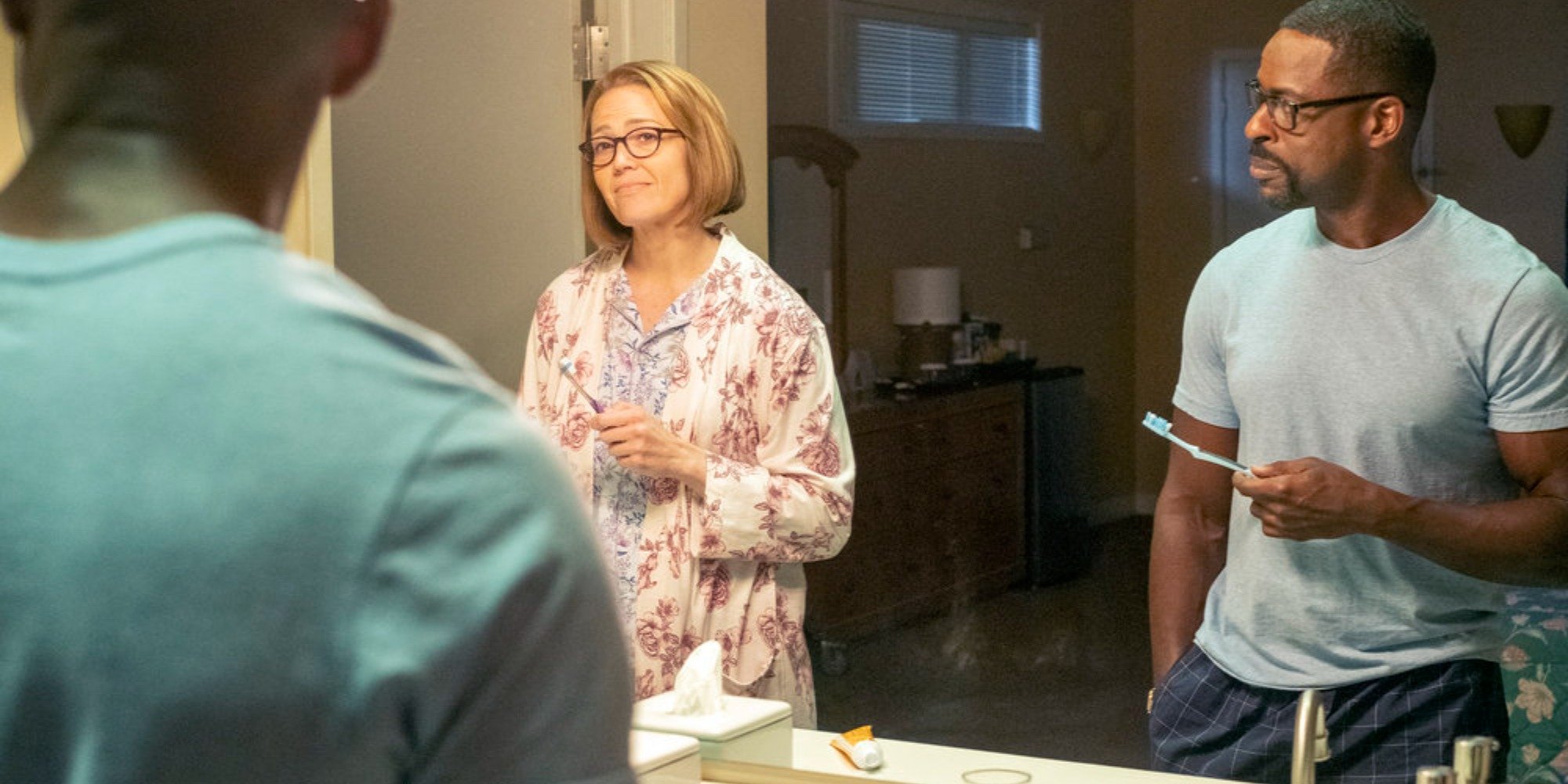 Rebecca allows Randall to be free to explore his dreams, finally
For the better part of his life, Randall (Sterling K. Brown) pivoted his life to make his mother, Rebecca (Mandy Moore), happy.
When Randall realized his daughter Deja (Lyric Ross) ran away from the family cabin to rush to boyfriend Malik's (Asante Blackk) side, he knew he had to go after her. Rebecca joined her son for the long ride to Boston, and they shared 24 hours of uninterrupted time.
Rebecca addressed why she did not choose Randall to handle her affairs if her husband Miguel (Jon Huertas) could not. Instead, she called on her daughter Kate (Chrissy Metz) in the series Thanksgiving episode to take on that role.
The Pearson matriarch explained to her son that she chose Kate over him because she didn't want him to stop his life for her anymore. She then listed all the times he did so, including attending a local college so he could live near their family home. Rebecca told Randall that he needed to be free from the responsibility of taking care of her so he could accomplish all the things he needed to.
Randall later admitted to his mother that he dodged phone calls from a retiring United States Senator from Philadelphia who wanted to speak to him about running for his seat. After Randall admitted that he would win if he ran, Rebecca told him to chase his political dreams.
'This Is Us' executive producer talks about the 'pivot point' of the episode
Oyegun spoke to Entertainment Weekly and revealed This Is Us' final season has an air of "foreboding."
"We wanted to pepper the entire season with this foreboding. But the big question that Dan [Fogelman, the show's creator] always asks: It's that notion of like, 'What do you do when you know?'" Oyegun explained.
"We want to make sure that this was a woman [Rebecca] who is aware of what's coming and [is] as prepared as humanly possible. And so even her decision to go with Randall on this trip, knowing that her choice of Kate may have affected him, this is a mother's love on display, hardcore. Everything that she's got while she's still got it, she's going to give to her kids. And part of the reason why this episode is a pivot point is that it's a not long time coming."
The titular episode was directed by Justin Hartley who plays adult Kevin on This Is Us.
What's next for Randall?
Oyegun spoke of the way the character of Randall has evolved since the series' first episode. This growth will finally allow him to achieve the perfect version as he steps into the limelight as a political power player.
"The beautiful thing about Randall, his identity as an adopted baby, growing up in this family, has formed him in an authentic way," said the executive producer.
"It has been the puzzle pieces he's trying to put together. Now that he has a complete picture of his entire personhood, there are no lingering past questions. I think this particular season it's a combination of that. Randall is racing toward this big, beautiful future that all of his parents have said he would have. And now he's ready, finally, to feel like he is in the right place — mentally, emotionally — to attain it."
This Is Us will air its finale episode on May 24.
This Is Us airs Tuesdays at 9 p.m. EST on NBC.