'This Is Us': Randall and Kevin's Fight Hurt More Than Fans Expected
How fans reacted to Kevin and Randall's fight in the 'This Is Us' Season 4 finale and where we go from here in the season 5 premiere.
We knew the This Is Us Season 4 finale would reveal why Randall (Sterling K. Brown) and Kevin (Justin Hartley) aren't speaking by their 40th birthday, but we didn't think it would go down like this. An argument about Rebecca's (Mandy Moore) care turned into years of resentment rearing its ugly head. Of course, This Is Us fans had plenty of thoughts about Randall and Kevin's fight. But quite frankly, neither Pearson brother won and we're all just here, heartbroken until the fifth season returns.
[Spoiler alert: This Is Us Season 4, Episode 18.]
Kevin and Randall argue about Rebecca's care in 'This Is Us' Season 4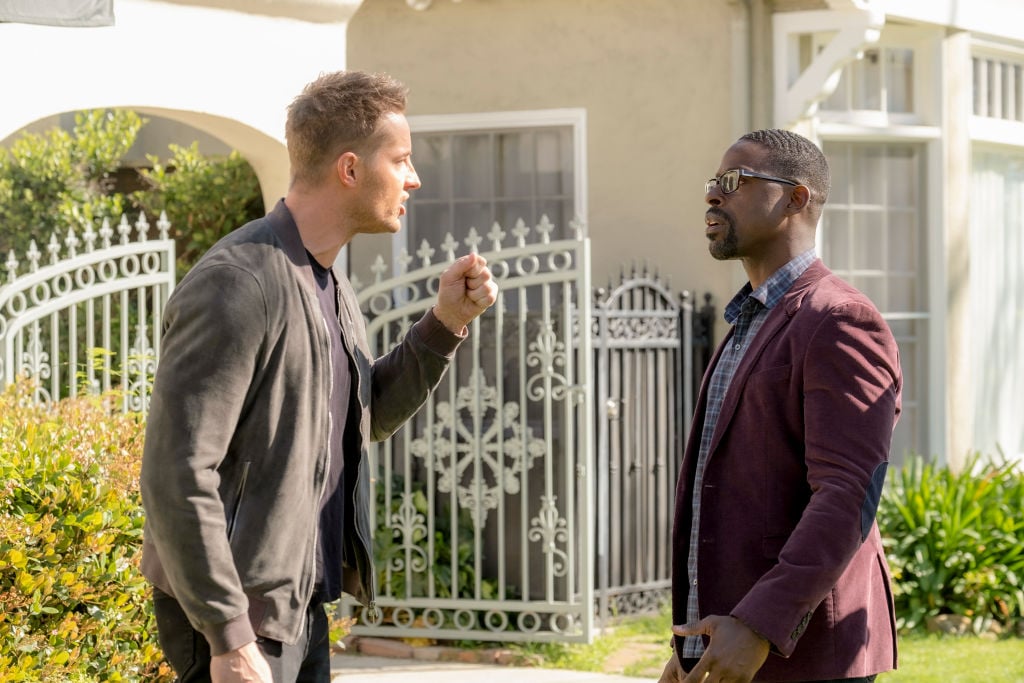 In the second half of This Is Us Season 4, Randall discovers an Alzheimer's clinical trial in St. Louis, Missouri. When the City Councilman tells his siblings, Kevin is strongly opposed to the idea. But in the end, Rebecca decides she doesn't want to partake in the trail because she wants to spend the rest of her good years with her family.
Then one episode later, Randall calls his mom and asks her to do the trail anyway, using whatever means possible. He cries and tells her he has been a "good son" and hasn't asked her for anything in the past. Then Rebecca agrees. 
Finally, in the This Is Us Season 4 finale — titled "Strangers: Part Two" — the Pearson clan gathers for baby Jack's birthday. Rebecca tells everyone the big news — she changed her mind and wants to do the trial. But even so, Kevin is suspicious and eventually finds out she was pressured by Randall. Everything goes downhill from here.
Kevin demands to know what Randall said to Rebecca to convince her to move to St. Louis for the trial. Randall says he wants to give Rebecca the "best possible chance" at survival. But Kevin refutes the claims, reminding his brother that Rebecca already told them what she wants and needs herself. Meanwhile, Randall stands firm on his choice and says everyone will regret not fighting harder before it's too late. 
In the middle of their fight, Kevin and Randall are interrupted by Madison (Caitlin Thompson). The pair have a moment and viewers find out she is pregnant from their one-night stand. But when Kevin goes out for air, Randall returns and they resume their argument. 
Randall asks why Kevin thinks he knows what's best for Rebecca. "I think I know what's best for her because she told us, Randall," Kevin says. "And you took that from her."
Then Randall gets upset and is reminded of Kevin's past behavior. "How dare you waltz into here after 40 years … How dare you pretend that you give a rat's a** about what anybody else wants other than you?" Randall says. "You want mom to spend more time with the family because you want to spend more time with her. You want mom to decide with you."
Kevin goes off. "This is about me? This isn't about me, Randall, this is about you," he says. "It's not about mom, it's about you wanting to save mom. That's what this is about."
What did Kevin and Randall say in the 'This Is Us' Season 4 finale?
At this point, the argument starts to steer away from Rebecca's care, delving deeper into issues from the past. Ultimately, Randall is still angry at Kevin for leaving the family after their dad died. Meanwhile, Kevin is frustrated with Randall's need to play the hero. But then one more layer is unveiled.
When Randall says he stayed behind to take care of the family, Kevin lashes out. "Well, you did a good job of taking care of dad, didn't you?" he says. "This whole narrative that you keep spinning, this narrative that you took care of the family, where the hell did that come from? 'Cause all I know is if I'd have been there, I would've walked through literal fire and I would've pulled that man out."
And to put it simply, Randall's response is brutal. He says:
Well, Kev, I guess you'll never know because you weren't there. And he died ashamed of you. I think that's the part that really gets you, isn't it? The shame he felt for you and the pride he felt for me. You're not even chasing dad's shadow, Kevin. You're chasing mine. But you'll never be him and you'll never be me. Because you'll never know what it's like to devote yourself to anyone other than yourself. You'll pretend but it'll just be a performance. A tired, stale performance. Like all your performances. 
But it doesn't end there. Just as we thought it couldn't get worse, Kevin also hits below the belt. "You know, I used to think the worst thing that happened to me was the day that dad died. It's the day they brought you home," he says. "Hand to God, Randall. The worst thing that ever happened to me was the day they brought you home."
Randall walks away in silence. 
'This Is Us' fans react to Randall and Kevin's fight
When This Is Us aired the fight between Randall and Kevin in the March 24 finale, fans were devastated, noting how difficult the showdown was to watch.
"Randall and Kevin fight was the most awful, disgusting and vile scene I have ever seen on the show," a fan wrote on Twitter. " I'm crying."
"Randall and Kevin right now," another fan wrote. "I'm  surprised no one threw a punch 'cause every SECOND of that argument was laced with fighting words. Every bit of that was hurtful good god."
Of course, a few individuals took sides after the argument played out on-screen. But for the most part, the This Is Us fandom was disappointed in both Pearson men.
"Randall and Kevin both are showing their behinds right now," a fan wrote. "Jack wouldn't have approved of any of this."
Meanwhile, other viewers were simply in shock by the words Randall and Kevin spewed out.
"I can't believe Kevin and Randall said that to each other," a fan tweeted. Then some fans wondered how the brothers will ever be able to recover from this one. 
So where do we go from here? We know in the far future of This Is Us, Kevin and Randall have healed enough to reunite for Rebecca. That said, we have no idea how much time has passed and when the pair made up. 
Then in an interview with Entertainment Weekly after the finale, Hartley admitted he doesn't "totally know" what happens between Randall and Kevin between their fight until the flash-forward sequence. However, Kevin's hand on Randall's shoulder signifies a strong bond between the two.
"I took [the scene] to mean that the idea is that they always come back together as a family, and it might take a while, it might take a bit," Hartley said. "But they're brothers this is not going to divide them until their deathbeds and they don't speak. That's how I took it to mean. But I think it's going to take a while."
Read more: When Does 'This Is Us' Season 5 Start? The Next Premiere Date Will Hopefully Come Soon