'This Is Us': Can Randall and Kevin's Relationship Be Repaired? Justin Hartley Says the Brothers Lost 'All the Respect and Love' for Each Other
This Is Us fans were torn apart when Randall (Sterling K. Brown) and Kevin (Justin Hartley) had their explosive fight in the fourth season finale. The NBC drama hinted a rift between the brothers early on in the season. But when the two went at it, both Pearsons exchanged harsh words they may not be able to come back from. So can Randall and Kevin's relationship be repaired on This Is Us? Recently, Hartley hinted at what viewers can expect as we move toward season 5.
What happened to Randall and Kevin in 'This Is Us' Season 4?
RELATED: When Will 'This Is Us' Season 5 Return? NBC Announces the Fall 2020 Schedule
In the This Is Us Season 4 fall finale — titled "So, Long Marianne" — fans learned Randall and Kevin aren't speaking by the Big Three's 40th birthday. Then the season finale revealed what happened to the two brothers.
Throughout the back half of This Is Us Season 4, Randall and Kevin disagreed when it came to Rebecca's (Mandy Moore) medical care. The Pearson matriarch was diagnosed with mild cognitive impairment. 
Randall was the first to notice his mother's symptoms. He also went into immediate action and wanted to do everything in his power to find a cure. This included a medical trial in St. Louis, Missouri. Meanwhile, Kevin wanted Rebecca to live out the rest of her days with her family, as this is what she chose to do. 
Nevertheless, Randall pushed Rebecca to do the trial. Then in the This Is Us Season 4 finale, Rebecca told the family, claiming it was her decision. But Kevin knew Randall meddled and confronted his brother.
Eventually, Randall and Kevin's fight diverted from Rebecca's medical care. Randall told Kevin that Jack (Milo Ventimiglia) died ashamed of him and he knew nothing but selfishness. Then Kevin told Randall their father's death wasn't the worst thing to happen to him, but rather, it was the day they brought Randall home. 
Justin Hartley discusses where Randall and Kevin are after their fight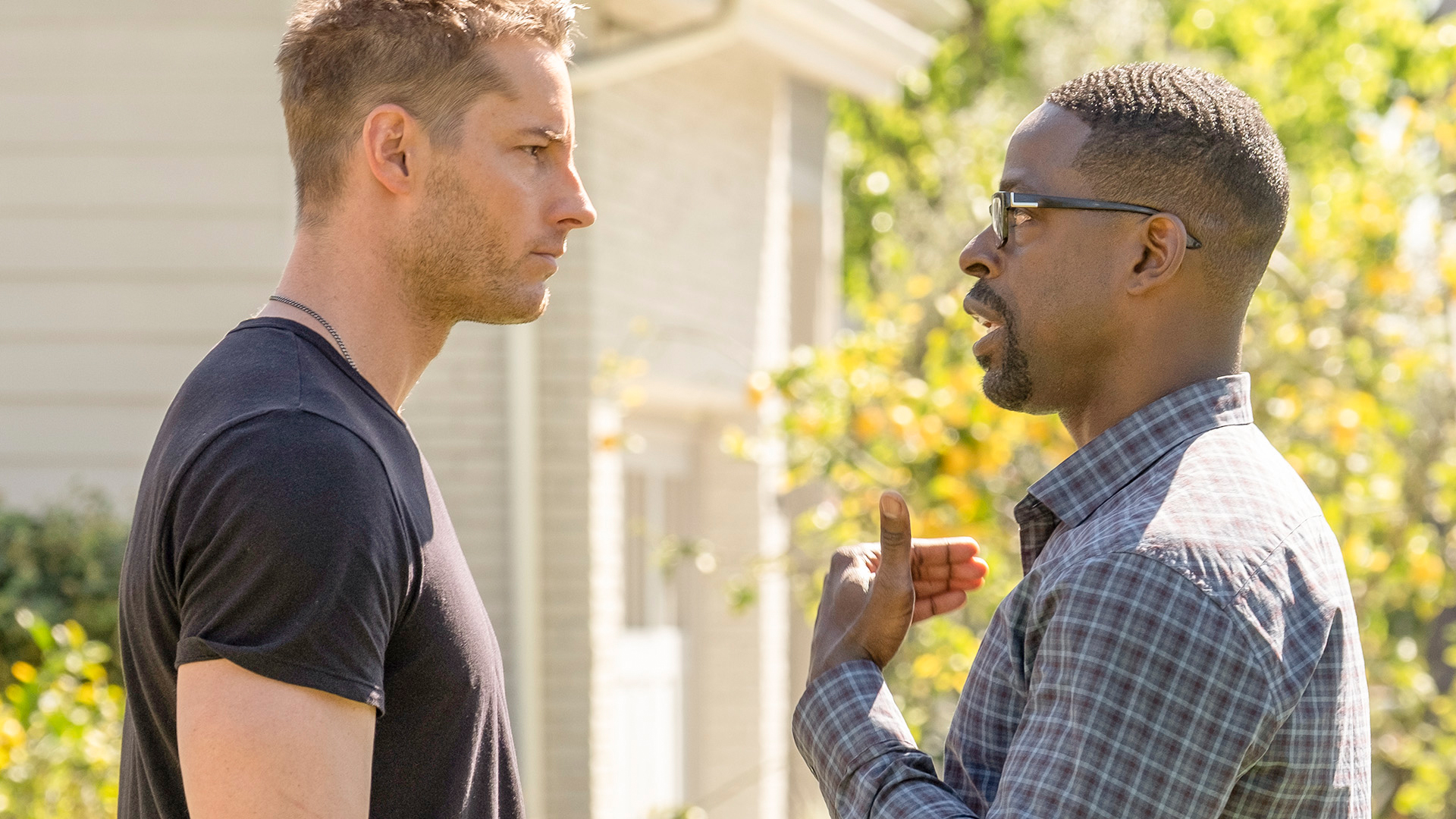 RELATED: 'This Is Us': Justin Hartley Says the Season 5 Premiere Will Pick Up Where We Left Off
In an interview with Awards Daily published in June 2020, Hartley opened up about Randall and Kevin's fight in the This Is Us Season 4 finale. The actor touched on the complicated nature of the argument. But ultimately, both characters were honest with their words.
"In a weird way, it was designed to hurt the other person. But also like a sweet release, right? It's like an exhale," Hartley said. "And I think on both sides, that's when it becomes really painful — when it's true. And when it's honest."
He continued, "When you're like, 'I'm thinking about what I'm saying, I know this is going to be painful, but it needs to be said.' And then you just drop it. They both did that. It's the honesty of the words that makes them even more hurtful than just the words."
Hartley also shared what fans can expect from Randall and Kevin when This Is Us returns for season 5.
"The rip between Kevin and Randall is very, very real," he said. "They're dealing with their mom and they're on opposite ends of the world, as far as how you deal with it. I think they've lost all the respect and love that they've built up for one another in seasons three and four. It's kind of faded away."
Hartley then hinted there is still hope for Randall and Kevin moving forward. But it's likely something significant will have to happen first.
"Hopefully, there's something that happens that brings them back together," Hartley said. "It would have to be pretty big. So maybe we look forward to that."
Sterling K. Brown shares what to expect from Kevin and Randall in season 5
RELATED: 'This Is Us': Did Sterling K. Brown Just Drop a Gigantic Clue About Season 5?
For now, This Is Us fans must wait and see what the team has planned for Kevin and Randall moving forward. But whether it's a major life event or just time that brings the two brothers together again, viewers already know both Kevin and Randall reunite in the far future when Rebecca is in her deathbed.
"We know in the ultimate future we are at Kevin's house when we see Rebecca and we see Kevin's son," Brown told People in February 2020. "So we know that, while there's going to be tough times ahead, this family, whatever happens in the future, finds its way back to one another."
He added, "In the course of the show, you will see the light and the dark. But you will always finish in the light, always."
That said, This Is Us fans still don't know how long it will take Randall and Kevin to forgive each other. So it's possible the brothers will forgive each other next season. But at this point, it's just as likely the rift will last until the flash-forward scenes play out in the present day.
"It's something that will get filled in over the course of the next two seasons," Brown told Vulture in March 2020. "So you'll see how it unfolds."
Check out Showbiz Cheat Sheet on Facebook!